Wanna Play? Chucky Series Gets Third Season At SyFy
NBCUniversal Syndication Studios
"Child's Play" started the Chucky craze that continues to possess more than just the infamous Good Guy Doll occupied by serial killer Charles Lee Ray (Brad Dourif). In 1988, the franchise found fruition when Chucky's creator Don Mancini collaborated with director Tom Holland ("Fright Night," "Fatal Beauty," "Thinner") to kickstart one of horror's most memorable franchises. 35 years after the seminal film's release, and with an entire franchise dedicated to everyone's favorite "friend to the end," Mancini has once more resurrected interest in the killer doll with his successful streaming and television series, "Chucky."
Mancini points to nostalgia as an ingredient bolstering the success of "Chucky," and, surprisingly, the showrunner also admits that the COVID-19 pandemic played its own part in fanning those nostalgic flames. "Nostalgia is always a very powerful impulse, particularly when, you know, we're going through difficult times," Mancini said during an interview with Evolution of Horror. "And, of course, the whole world in the last couple of years has gone through unprecedentedly difficult times."
In addition, Mancini did the series a huge favor by meaningfully incorporating the "Child's Play" franchise's mainstays into the mix with the series' newest characters. After two successful seasons, "Chucky" fans just can't seem to get enough of the pint-sized killing machine. And diehard devotees won't have to wait long to see more of the murderous monster's misadventures.
Season 3 promises to be the 'scariest'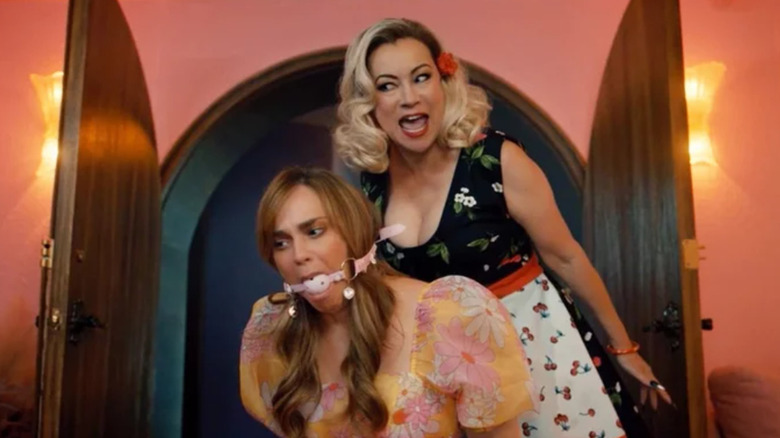 NBCUniversal Syndication Studios
Chucky (Brad Dourif) is slashing his way to renewed popularity with tried-and-true enthusiasts who helped the "Child's Play" film franchise thrive, and now a new generation of fans is tuning in for the diabolical doll's antics on television and streaming. An average of 256,000 viewers watched Season 1 of USA Network's airings of "Chucky," according to live and same-day ratings provided by TV Series Finale, and 288,000 spectators watched via Syfy. Faithful fanatics were rightly rewarded with Season 2 in 2022, and "Chucky" showrunner Don Mancini officially announced that Season 3 is coming later this year.
"The cast and crew of Chucky would like to thank fans and critics alike for their overwhelming response to Season 2, which we're delighted to announce has now spurred the official greenlight on Season 3," Mancini said (via Deadline). "This news has made Chucky very happy. Thank Damballa for that because otherwise, Chucky would have been frankly impossible to deal with."
"Many thanks also to our partners at SYFY, USA, and UCP for helping us keep Chucky busy," Mancini continued. "See you in 2023 for what Chucky himself promises will be his scariest season ever." Season 2 of "Chucky" didn't experience a lull — quite the contrary. The horror series maintained its 91% rating with critics (per Rotten Tomatoes) but audiences enjoyed the latest set of episodes even more than Season 1, with an audience score that increased from 84% to 88%.