Star Wars Actor Peter Mayhew Could Only Stand To Wear His Chewbacca Costume One Hour At A Time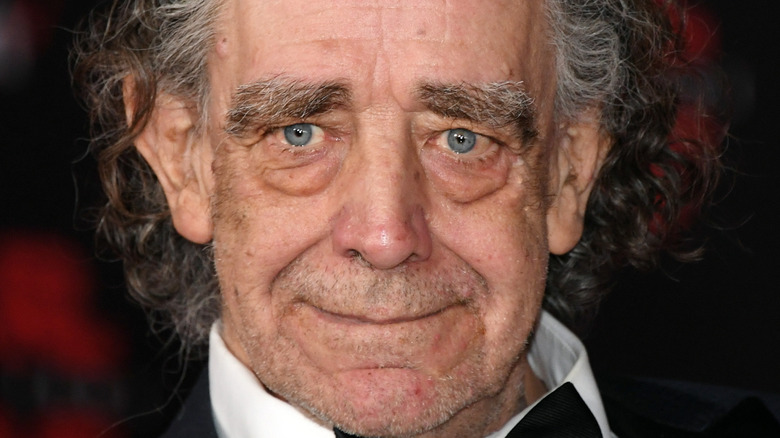 Ethan Miller/Getty Images
Peter Mayhew is unquestionably best-known as everyone's favorite "big, walking carpet" from the "Star Wars" franchise, but Mayhew's career didn't begin when he donned Chewbacca's iconic costume. Rather, Mayhew's first silver screen appearance came as the Minoton in 1977's "Sinbad and the Eye of the Tiger," even though Mayhew wasn't credited for playing the part. However, Mayhew made connections on the set of "Sinbad" which led to his big break.
"Someone had said, 'Would you like to do more movies?' I said, 'Yes, I loved it,'" Mayhew explained during an interview on "The Sissy Gamache Show." Mayhew revealed that 20th Century Fox reached out just six months after the actor had completed his work on "Sinbad," and the film company invited him to audition for "Star Wars." He later met with director George Lucas and producer Gary Kurtz, and, during the audition, Mayhew stood up to show off his impressive height and physique.
Lucas stared at the Englishman and knew immediately which part Mayhew was going to play. "'I think we found him [Chewbacca],'" Mayhew recalled Lucas telling Kurtz. That moment led to Mayhew's portrayal of the Millennium Falcon's co-pilot and friend to Han Solo (Harrison Ford) for the better part of the next 40 years. However, slipping in and out of Chewbacca's intricate costume all those years wasn't an easy feat.
Mayhew limited his time in the Chewbacca costume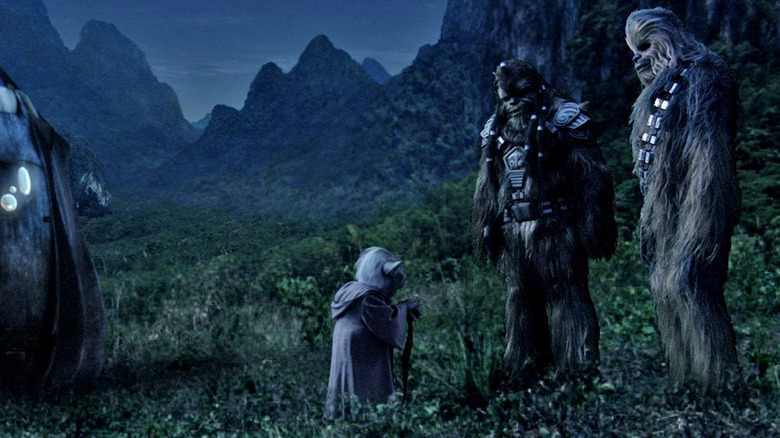 Walt Disney Studios Motion Pictures
Decades after the original trilogy, Peter Mayhew returned to the role of Chewbacca in "Star Wars: Episode III — Revenge of the Sith." During the prequel, Chewie and the Wookiees warred to end General Grievous' secret stay on Kashyyyk. But for the actors portraying the Wookiees, the real battle was waged in those cumbersome costumes. In fact, Mayhew had to limit his time in Chewie's garb.
"An hour only at a time," Mayhew posted on Reddit. "Stinky, itchy and lumpy were the other Wookiees..." According to a "Revenge of the Sith" featurette, creatures supervisor Dave Elsey revealed that Mayhew and the other performers suiting up had to endure the painstaking task of life casting to create the Wookiees' costumes. "And they're basically being built exactly the same as the original Chewie [costume]," Elsey said.
"I had an under suit that stopped a lot of the itching," Mayhew wrote during a discussion on Reddit. After spending the better part of four decades in the uncomfortable yet indubitable Chewbacca costume, Mayhew came to the realization that he wasn't recognized in public like his "Star Wars" co-stars Harrison Ford, Mark Hamill, and Carrie Fisher. And when fans did notice Mayhew without his outfit, it wasn't as everyone's favorite Wookiee from a galaxy far, far away. Mayhew revealed that he often had to say, "Yes, I am Howard Stern..." (via Reddit).