Seinfeld Fans Can Thank Larry David For Sidra's Infamous 'They're Real And They're Spectacular' Line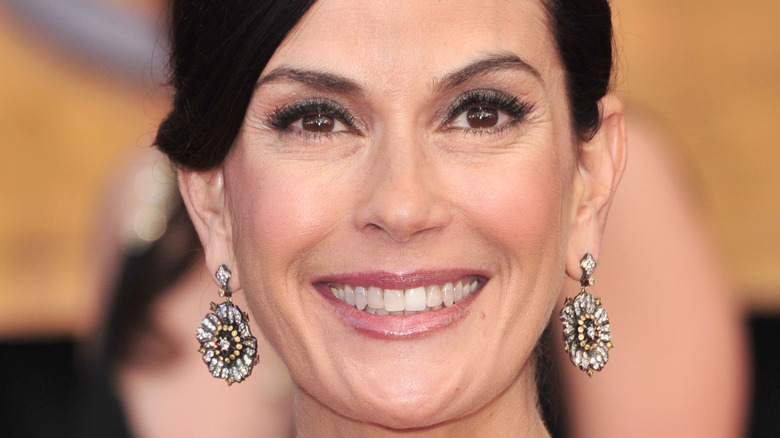 Featureflash Photo Agency/Shutterstock
Just like any hit TV series, "Seinfeld" had its fair share of iconic moments. For some fans, there's actually too many to count. You've got the Junior Mint candy falling into the surgery patient, the Soup Nazi screaming, "no soup for you," and, of course, Elaine's (Julia Louis Dreyfus) infamous dancing. However, the majority of classic "Seinfeld" moments usually came from one of the four stars of the show. However, every now and then, one of these everlasting classics come from a guest star.
It's no secret to "Seinfeld" fans that over the nine seasons, we saw Jerry dump plenty of women for some of the most ridiculous reasons. His character can zero in on any quirk or flaw and become obsessed about it to a point where he can no longer be in the relationship. Whether it's for using his toothbrush or refusing to take a bite of his pie, most of his new romantic connections end before they can start. And, at first, Teri Hatcher's guest star appearance as one of these women was no exception to that pattern.
In Season 4, Episode 19 ("The Implant"), Hatcher played the character Sidra Holland, a health club member that Jerry began dating. Once Elaine expressed her belief that Sidra had breast implants, one of Jerry's picky quirks kicked in, and he ended the relationship. After Elaine accidentally touches Sidra's breasts in the sauna, she reveals to Jerry that she was wrong with her initial assessment. This all leads to one of the most iconic lines ever spoken by a "Seinfeld" guest star, and Hatcher explains that it was all Larry David to thank for it.
The famous line was not in the script
During the "Seinfeld" heyday, when she wasn't starring as Lois Lane in "Lois & Clark: The New Adventures of Superman," Teri Hatcher found herself popping up as a guest in shows like "Frasier" and "Two and a Half Men" before snagging a new iconic role as Susan on "Desperate Housewives." But for "Seinfeld" fans, she will be remembered for the character that caught wind of Jerry's secret breast scrutinization and let him know about it. When Hatcher's Sidra thought he forced Elaine to touch her in the sauna, she stormed out of Jerry's apartment, delivering her line, "They're real and they're spectacular."
In an interview with Rolling Stone, Hatcher explained that the line was what co-creator Larry David came up with on the fly (via Vanity Fair). "When you were taping in front of a live audience, Larry would feed you lines," she revealed. "He'd say, 'Okay, go through the door, turn this way, and say this.' I remember that being one of the lines he fed me when, after I'd said it, it just stuck." She went on, "I don't think it was the original script; I'm pretty sure he just came up with it on the spot. Larry David deserves all the credit for the joke working so wonderfully."
Hatcher popped up two more times in later episodes, playing the same character. However, she believes it is that moment from that first episode that will stay with her till the end of her days. With fans still screaming that famous line to her on the streets, Hatcher said,"I swear to you, those five words will probably be what ends up on my tombstone. 'Teri Hatcher: She Was a Great Mom, and They're Real and They're Spectacular!'"