Seinfeld's Writers Were Afraid This Elaine Scene Would Be A Big Mistake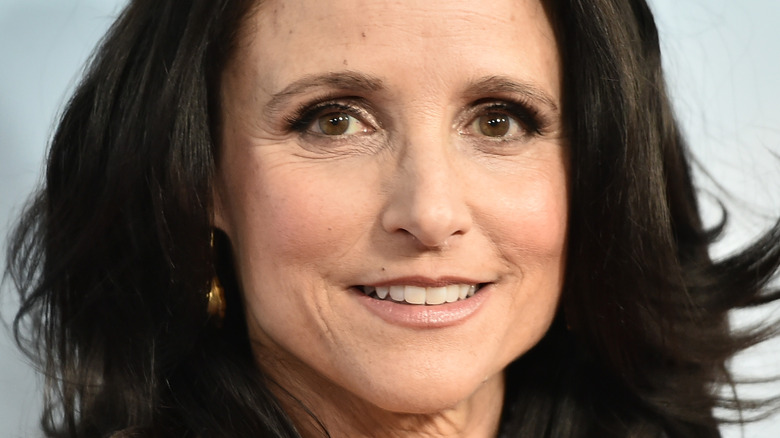 Steven Ferdman/Getty Images
Out of the four main actors on "Seinfeld," Julia Louis-Dreyfus has had the most on-screen success since the series ended in 1998. Sure, Jerry Seinfeld still tours and is one of the world's most successful comics, but he hasn't starred in a scripted series since "Seinfeld" departed NBC. Michael Richards also faded away, especially after his on-stage outburst in 2006. Jason Alexander has done one-off appearances in dozens and dozens of TV series but hasn't been featured in a lead role since "Seinfeld" — at least not a memorable one.
After "Seinfeld" concluded, Louis-Dreyfus went on to win seven outstanding lead actress in a comedy series Emmy's, for her work on "The New Adventures of Old Christine," and "Veep." She was also awarded the Mark Twain Prize for American Humor in 2018 and also has seven Golden Globe nominations that followed "Seinfeld." It's safe to say Louis-Dreyfus has one of the most successful television careers of any working actor today, thanks to her tremendous talent.
There was a moment, however, while "Seinfeld" was filming its eighth season when worries arose about an Elaine storyline. One of the show's producers and writers feared this particular scene could ruin Louis-Dreyfus' career. Ironically, the scene turned out to be one of the show's most hilarious moments and a fantastic Elaine scene.
Seinfeld writers were fearful of Elaine's little kicks dance running Julia Louis-Dreyfus's career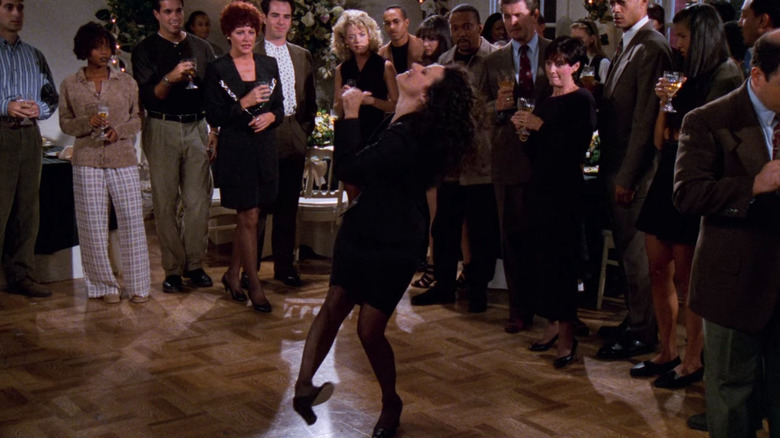 NBC
"The Little Kicks" (Season 8, Episode 4) sees Elaine unknowingly embarrass herself at a company party when she dances alone in front of her employees in an effort to get everyone on the dance floor. In what George describes as "a full body dry heave set to music," Elaine kicks her feet awkwardly while also sporting two thumbs up.
Spike Feresten, who wore many hats on "Seinfeld" including writer and producer, told HuffPost Entertainment in 2015 that there was serious concern about Elaine's dance in "The Little Kicks." "I remember walking through at rehearsal," Feresten remembered. "[Story Editor and Writer] Jennifer Crittenden pulled me aside after Julia did the dance for the first time and said, 'Are you sure about this? Are you sure you're not ruining Julia Louis-Dreyfus' career?' 'No, I'm not.' That's the year she won an Emmy." Crittenden also served as a writer and producer on "Seinfeld" and would go on to work with Louis-Dreyfus on "The New Adventures of Old Christine" and "Veep."
But Crittenden wasn't the only one concerned with Elaine's storyline on "The Little Kicks." Feresten said "Seinfeld" co-creator Larry David never wanted to develop the story, and it had been pitched earlier on in the series. It wasn't until David left the sitcom after the Season 7 finale that Feresten got to bring Elaine's dance to life.