Who Plays Jesse Erickson On Law & Order?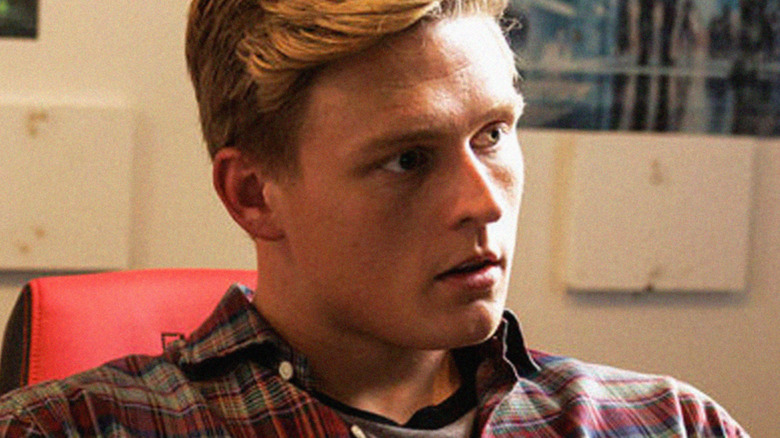 Peter Kramer/NBC
While "Law & Order: Special Victims Unit" has remained a staple of cable TV for decades now, the original "Law & Order" series that spawned it went off the air in 2010 before returning for its 21st season in February of 2022.
That said, after the conclusion of Season 21, the "Law & Order" revival lost star Anthony Anderson, who began playing Detective Kevin Bernard in 2008, just prior to the show's lengthy hiatus. Moving forward from Anderson's departure, "Law & Order" Season 22 locked down an important lead in Sam Waterston, who became a major player in Season 5 as Jack McCoy, and effectively remained so for the rest of the series' tenure.
Of course, its heroes are only one side of the "Law & Order" equation — the "Law & Order" revival has likewise introduced both new and familiar faces to its ever-growing contingent of villains. For instance, perhaps the worst criminal in "Law & Order" Season 22 is familiar to longtime fans of the series as a murderous 10-year-old who first appeared in Season 14. Meanwhile, Season 22, Episode 11, which premiered on January 12, 2023, spotlights a villain named Jesse Erickson, whose murder isn't necessarily gruesome by the show's usual standards, but rather draws attention to his privilege. For those interested in the man behind Jesse Erickson, here's who plays this character in "Law & Order" Season 22, Episode 11.
Brandon Tyler Moore plays Jesse Erickson on Law & Order
On "Law & Order" Season 22, Episode 11, an actor named Brandon Tyler Moore plays villain Jesse Erickson. Moore's debut acting role was as a character simply named Muscle Man in the 2017 feature "Back to the Goode Life." Since then he's showed up in single episodes of a couple different TV shows as well as another film, titled "Just What the Doctor Ordered." Moore will also appear in the second season of "Yellowstone" creator Taylor Sheridan's Paramount+ thriller "Mayor of Kingstown."
Tuscaloosa News, which largely covers news local to Tuscaloosa, Alabama, profiled Moore shortly before his "Law & Order" episode first aired. As it turns out, Moore is also a football player, and at one point dreamed of an NFL career. In college, Moore played for the football powerhouse University of Alabama, though at first he was assigned to the school's scout team, meaning he was typically limited to practices against the gameday squad as opposed to playing on game days himself. Eventually, however, he worked his way up to Alabama's special teams. In fact, Moore's athletic background may soon pay off in Hollywood, as he's credited with a role as a stunt double in an upcoming college football movie called "The Senior."
Moore's meaty "Law & Order" role, then, may just be the start of big things to come for the young athlete currently living out his newfound Hollywood dream.