Mel Brooks' History Of The World Part 2 Debuts Its Trailer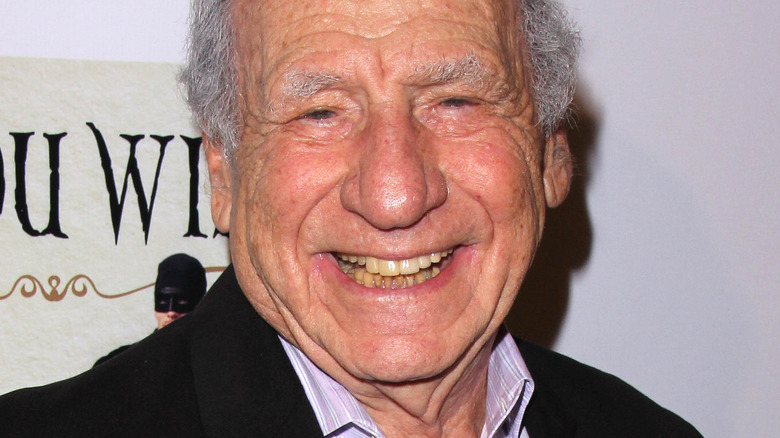 Kathy Hutchins/Shutterstock
It's been over 40 years since Mel Brooks' classic comedy film "History of the World Part 1" retold history in the most irreverent way possible. An anthology-style movie with vignettes spoofing various figures from all throughout human history, the 1981 film attained cult classic status in the years following its debut. However, despite the "Part 1" tagline in its title, a sequel never materialized — that is, until now.
Mel Brooks has finally seen to it that "History of the World Part 2" isn't just a gag anymore, as the creative is collaborating with Hulu to bring the long-awaited project to life. It'll be looking a little bit different from how fans may have expected it though, with the sequel taking the form of a four-part miniseries rather than a film. While the announcement of the show may have excited fans, some are no doubt holding fears about whether this new iteration can live up to the original. Thankfully, the first trailer for "History of the World Part 2" is finally here, and viewers can get a taste of what exactly the show has in store.
The History of the World Part 2 trailer is stuffed
On January 13, Mel Brooks tweeted out the first trailer for "History of the World Part 2," and there proved to be a lot worth unpacking. The trailer introduces a couple of the major figures that "History of the World Part 2" will touch upon throughout its run. There's Noah from the Bible, Princess Anastasia, Sigmund Freud, Amelia Earhart, Harriet Tubman, and many more faces that even those with only a passing knowledge of world history will recognize.
This new production doesn't seem to be skimping on the trademark Brooks humor either, as the trailer tosses in a few spicy gags. In one scene, Jesus Christ enthusiastically introduces himself, saying "Some call me Jesus Christ, son of God." One of the characters then sardonically responds: "Some call him broke and corny."
Perhaps the only thing more impressive than the amount of historical figures and jokes in the trailer is the eye-watering cast list, which is stacked with notable actors. In addition to headliners Brooks, Ike Barinholtz, Nick Kroll, and Wanda Sykes, the series features names like Danny DeVito, Dove Cameron, Emily Ratajkowski, Seth Rogen, Taika Waititi, and many, many more. Sheesh.
All in all, the first trailer for "History of the World Part 2" suggests that the miniseries has a decent shot at living up to the original's legendary status. Viewers can find out how the show pans out for themselves when it debuts on Hulu on March 6.