Mel Brooks' History Of The World Part II Isn't Just A Gag Anymore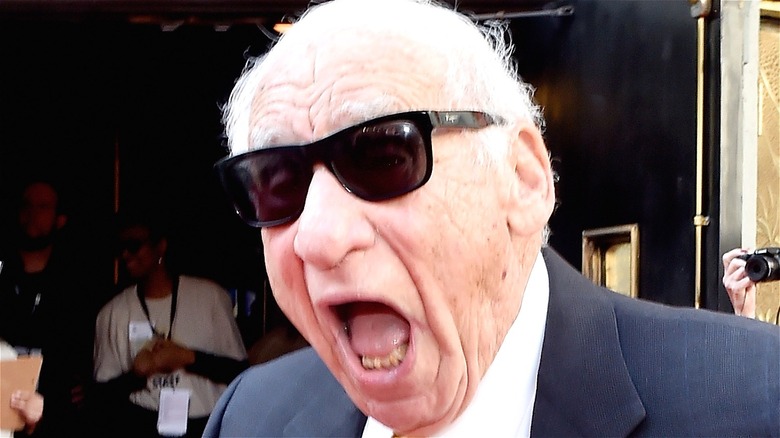 Stefanie Keenan/Getty Images for TCM
In 1987, Mel Brooks released his classic "Star Wars" send-up "Spaceballs." In addition to poking fun at Darth Vader's helmet, the entire concept of the force, and "Star Wars" merchandising, the film also had a lot of fun parodying the concept of sequels. While "Spaceballs 2: The Search for More Money" may never have come to pass, 20 years after "Spaceballs," audiences did get "Spaceballs: The Animated Series" — proving that even jokes about sequels can eventually turn into actual sequels.
"Spaceballs," notably, isn't the only Mel Brooks movie that has the concept of a follow-up baked into its very DNA. In 1981, Brooks unleashed "History of the World, Part I," a film comprised of comical, short narratives set in different time periods — ranging from the Stone Age to the French Revolution. Although the title of the movie wasn't a bid for a sequel at the time of its release either, it's well-known that, if a title ends with "Part I," there's always the chance a "Part II" will be made. That's especially true nowadays when seemingly every classic property is getting a follow-up movie or TV series made for it decades after its initial release.
Now, 40 years after the first "History of the World," audiences are, believe it or not, actually getting "History of the World, Part II."
Mel Brooks has a whole new team to explore history with
According to Variety, "History of the World, Part II" will utilize the short-form storytelling of its film predecessor, and will be released as an eight-episode Hulu series. As of now, it's unclear which eras from human history the series will take on, but Brooks seems to be very excited to return to the property. "I can't wait to once more tell the real truth about all the phony baloney stories the world has been conned into believing are History," Brooks said in a playful new statement.
In addition to being written and directed by Mel Brooks, "History of the World, Part I" also has the benefit of starring the likes of Madeline Kahn, Gregory Hines, Cloris Leachman, and Sid Caesar. The only problem about that list of stars is that, other than Brooks himself, the rest are no longer living. While none of the sequel's cast members have been announced yet either, it has been revealed that Brooks won't be writing or producing the project alone. Instead, he'll be joined by the incredibly talented Nick Kroll, Wanda Sykes, Ike Barinholtz, David Stassen, and Kevin Salter.
Right now, the plan is for writing to begin on "History of the World, Part II" in October, with production set to start sometime in spring 2022.