Ideas For George & Tammy Started Coming Together More Than A Decade Ago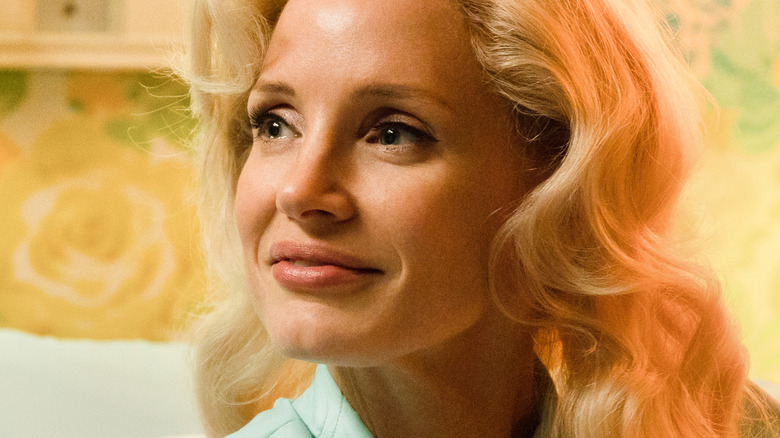 Dana Hawley/Showtime
Biopics have become a bread-and-butter sort of genre in Hollywood, with studios cranking out dramas based on the lives of famous artists, musicians, and historical figures on an almost weekly basis. The latest entry to the cinematic biopic-sphere is the six-part Showtime miniseries, "George & Tammy," which documents the legendary, and often tumultuous romance between country music icons, George Jones and Tammy Wynette.
Created by film and television vet Abe Sylvia, the series debuted to rave reviews in December of 2022 (per Rotten Tomatoes) and wrapped its run with a beautifully bittersweet finale. Every step of the way, critics and viewers alike have shamelessly gushed over the towering performances of stars Jessica Chastain and Michael Shannon, with many claiming their turns as the titular stars elevate "George & Tammy" above standard, formulaic biopic fare. That's hardly surprising as Chastain and Shannon are two of the more renowned actors of the modern era. And if you've seen even a second of "George & Tammy," you know they were pretty much born to play their respective roles.
It seems, however, that Chastain was particularly keen to play Tammy. According to Sylvia, the Oscar-winning actress actually waited more than a decade to play the "Stand By Your Man" crooner in "George & Tammy."  
Jessica Chastain played the long game in order to play country legend Tammy Wynette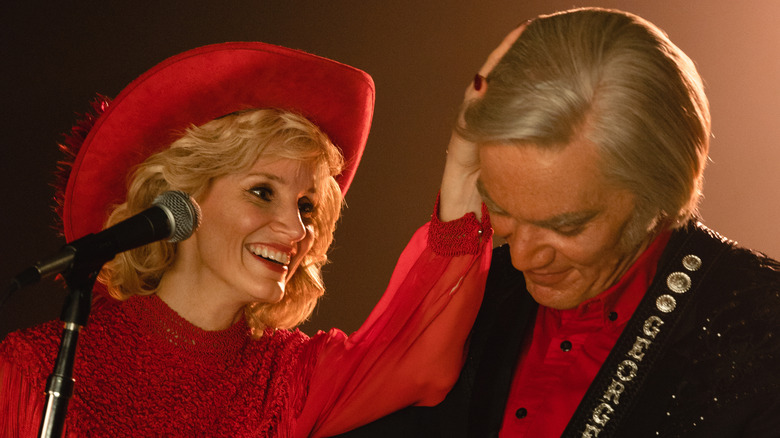 Dana Hawley/Showtime
In a January 2023 interview with Variety, Abe Sylvia revealed that Jessica Chastain first attached herself to "George & Tammy" 11 years ago. Ironically, Chastain won her first Academy Award in 2022 for her performance in the Sylvia-penned "The Eyes of Tammy Faye," which she also produced. Turns out the pair first met when discussing "George & Tammy" many years prior.
As it was, the screenwriter apparently first reached out to Chastain about the role before he even finished a script, claiming, "My producers and I approached her about playing Tammy Wynette even before there was a script in 2011. I had just seen [Terrence Malick's] 'The Tree of Life' and I thought she would be a wonderful Tammy." In another ironic twist, "The Tree of Life" happened to be released the very same year Chastain appeared in "Take Shelter" with Michael Shannon, so make of that what you will.
Sylvia went on to praise Chastain for staying attached to "George & Tammy" through countless changes, adding that she was so high on his original script for the project, it led her to hire him for "The Eyes of Tammy Faye." As Sylvia noted, "Here we are 11 years later, and both projects are in the can." With a "Tammy Faye" Oscar already in hand, it's not at all far-fetched to think Sylvia might also help Chastain win an Emmy for her turn as Tammy Wynette.