The Grey's Anatomy Episode That Was Based On The Real-Life Death Of Writer Krista Vernoff's Dad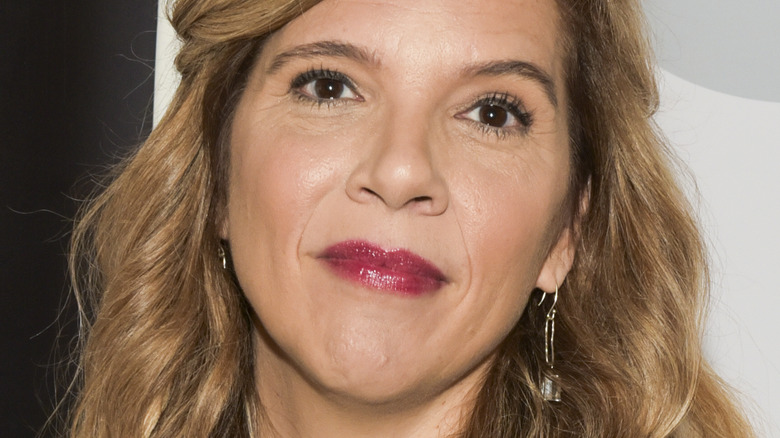 Rodin Eckenroth/Getty Images
Since 2005, the masses have been tuning in to Shonda Rhimes' hit medical drama "Grey's Anatomy." From interhospital romances to heart-wrenching patient stories, there's never a dull moment. Of course, Ellen Pompeo and the rest of the cast bring these stories to life on screen, but the talented writers penning the plotlines must also be applauded.
In most medical dramas, patients are written in for one episode. Audiences quickly learn about their background and health history, and an outcome — good or bad — is seen by the show's end. While these individuals certainly tug at the heartstrings, fans likely evoke stronger emotions when the patient isn't a stranger.
A prime example comes in Season 3, Episodes 11 and 12 ("Six Days: Parts 1 and 2"), when Harold O'Malley (George Dzundza), the father of surgical resident George O'Malley (T.R. Knight), is admitted to Seattle Grace Hospital after passing out and breaking his clavicle. The team discovers that Harold has esophageal cancer that has spread to his stomach. This father and son have a rather rocky relationship, but both are scared that their time together is nearing the end.
Harold insists on surgery, though the team can only remove some of the spreading tumor. Afterward, George keeps a diligent eye on his father's urine output — a sign of whether or not his kidneys are failing. Eventually, his kidneys, followed by other organs, begin to shut down, and Harold is taken off life support.
It's a tear-jerking storyline, one that longtime "Grey's Anatomy" writer Krista Vernoff holds particularly close to her heart because it's based on the loss of her own dad.
Krista Vernoff's dad Bob Verne also died from esophageal cancer
When asked to name her favorite "Grey's Anatomy" episode in an interview with Variety, Krista Vernoff didn't hesitate to say "Six Days." In fact, she had so much content written that there was no choice but to expand it into a two-parter. After all, Harold's fate was largely inspired by the death of her own father, Bob Verne, whose name is memorialized at the end of the second part.
"It was very much my story and it's the thing I'm most proud of," she said.
Verne passed away at 56 due to the same diagnosis — esophageal cancer (via TV Fanatic). At first, he was convinced he had the flu, but that was far from the case. Still, just like Harold, Vernoff reflected on how her dad was upbeat and surrounded by loved ones: "He had a profoundly positive attitude." And just like George, Vernoff became "absolutely obsessed" with her dad's kidney function. She said, "I checked that urine bag like 50 times a day."
Many other aspects of "Six Days" are identical to Vernoff's devastating final days with Verne, from the horrifying kink in his breathing tube to the surgical team proceeding with tumor-removal surgery despite the patient being too far gone. Vernoff was livid that they performed the procedure at Verne's request, but she didn't shout at them like George.
"Writing and shooting that scene was wish fulfillment for me," she said. "What happened in my life is, we went into my dad's ICU and put our hands on his body and sang him Beatles songs while the nurses turned off the machines."