Grey's Anatomy Season 19 Has A Very Specific Purpose According To EP Krista Vernoff
Nino Muñoz/ABC
Every TV drama series has a sell-by date, but "Grey's Anatomy" keeps on keeping on. The show's going to enter its 19th Season on October 6, and it's still as successful as it was in its early days. It's lost memorable characters and weathered a lot of tragedies — local, personal, and national alike. And yet, it continues to draw a solid and loyal audience.
The show's latest season is set to bring on many changes. There will be a team of five new interns who will be front and center for its duration. That's a change mandated by the fact that Ellen Pompeo, who's been playing Dr. Meredith Grey since the show's inception, has decided to skip the majority of the season and will only be physically appearing in eight episodes. But what's the purpose of all of these changes? It turns out that they have something of a higher purpose, according to the show's co-executive producer, Krista Vernoff. 
This is a return to basics for Grey's Anatomy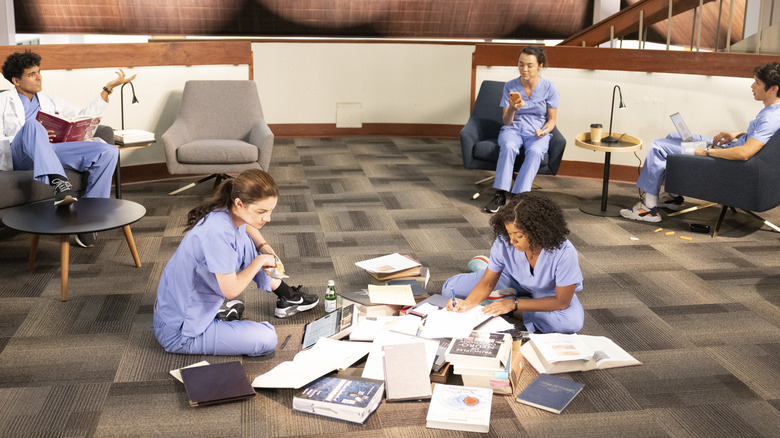 Liliane Lathan/ABC
An interview with Krista Vernoff published by TV Line in October of 2022 indicates that this season is set to send "Grey's Anatomy" right back to its roots. " "What can you do when you have five series-regular interns the way that we did in those early years? [Back then] we wanted to focus on what it is to try and become a surgeon when you don't know anything — how frightening and life-and-death everything is," she explained. "This new class allows us to get back to that."
It's been decades since Mere, Derek "McDreamy" Shepherd (Patrick Dempsey), and the show's first batch of interns did their rounds at Grey Sloan Memorial. That's long enough, in Vernoff's opinion — ergo, it's time to focus on the horrors and triumphs of surgical and emergency medicine. For fans worried that these new characters might throw their groove off, Vernoff explains that the newbies were carefully crafted and introduced. "I love all five of the actors and all five of the characters, and that's a really exciting place to start from," she said.
For those who aren't wowed by the new kids, they can be assured that an older face — Kate Walsh's Addison Montgomery, the subject of the first "Grey's Anatomy" spin-off, "Private Practice" — will be back in a few guest spots.