The Nostalgia On Set Of That '90s Show Had That '70s Show Co-Creator In Tears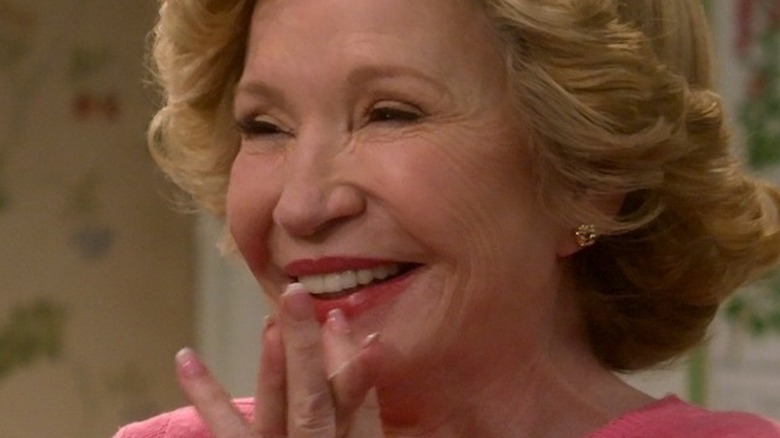 Courtesy of Netflix
"That '70s Show" — the Fox sitcom about a group of teens passing the time in their small town by hanging out and, often, smoking marijuana — ran for eight seasons from 1998 to 2006 and has remained a beloved show. The series is so special that a sequel spinoff show, aptly titled "That '90s Show," has begun and is rapidly approaching its release date of January 19, 2023.
"That '90s Show" — which was helmed by the original creators Bonnie and Terry Turner, as well as their daughter Lindsay Turner — follows Leia Forman (who fans are predicting will be a highlight), played by Callie Haverda. She is the daughter of Eric Forman (Topher Grace) and Donna Pinciotti (Laura Prepon) and stays with her grandparents, Kitty (Debra Jo Rupp) and Red Forman (Kurtwood Smith), for the summer. While there, Leia finds a group of friends to pass the time with: feminist rebel Gwen Runck (Ashley Aufderheide), Gwen's fun-loving brother Nate (Maxwell Acee Donovan), charming Jay Kelso (Mace Coronel) (who is, notably, the son of the original show's Kelso and Jackie, played by the now-married couple Ashton Kutcher and Mila Kunis), the insightful Ozzie (Reyn Doi) and the intelligent Nikki (Sam Morelos).
While Rupp and Smith are the only actors from the original show to be series regulars on the reboot, almost all of the original stars — Grace, Prepon, Kutcher, Kunis, and Wilmer Valderrama — are set to appear as guest stars. With the return of former cast members and the return of the set of the Forman house, there is a lot of room for nostalgia when it comes to "That '90s Show" — here's why it had co-creator Terry Turner in tears.
Turner loved seeing the old and new cast together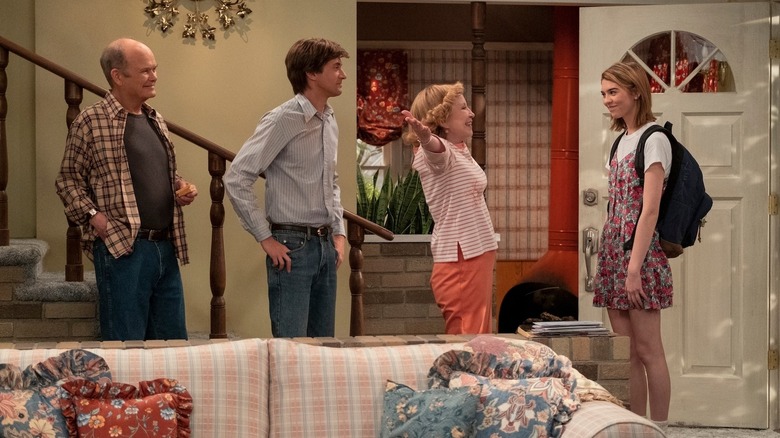 Courtesy of Netflix
In a December 2022 interview with Netflix Queue, the co-creator of "That '90s Show" Terry Turner, opened up about feeling emotional on the set of the reboot — namely, because of the familiar location and the return of the original cast.
Turner said, "There was a point where some of the original cast, some of the new kids, and some of the original crew were sitting around the kitchen, and I literally burst into tears."
Turner wasn't alone in feeling emotional and nostalgic about returning to the set of "That '70s Show" for a new chapter. Co-creator Gregg Mettler, who worked as a writer on the original series, told Netflix Queue, "I never imagined I'd have the opportunity to revisit the world of 'That '70s Show.' It was one of my favorite experiences as a writer." And Turner's wife, Bonnie, agreed, noting that the new series was a much-needed comfort. Bonnie Turner said, "It's a wonderful time to go home. The world is so chaotic, and there's so much noise, and we want to be somewhere peaceful, some place that's familiar. We need comfort food right now more than ever, and I think the show delivers that."
The cast also got emotional returning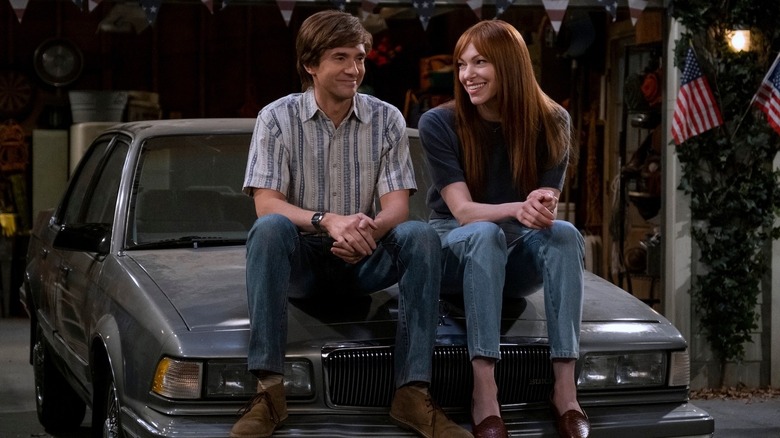 Courtesy of Netflix
The showrunners are not the only ones who got emotional — the cast did as well. In a January 2023 interview with Today, Kitty-portrayer Debra Jo Rupp opened up about what it was like to return to the set, admitting that she, too, got emotional. When asked what it was like to reunite with her former cast members, all of whom are now adults, Rupp said, "Well, I cried. I just cried ... They did [their guest arcs in the reboot] for us, too, you know. They're really generous people. I really feel like everybody fell back into their place, you know, like we're the mom and dad, you're the kids."
And Rupp isn't the only cast member who has admitted to crying during the reunion. Laura Prepon, who played girl-next-door Donna, spoke to Us Weekly in June of 2022 and said, "When I first went there, I cried. I'm just like, 'The nostalgia is so strong, and it was such an incredible time in my life.' I can't wait for people to see it."
Further, Topher Grace, who starred in the original series as Eric, also described his experience on "That '90s Show" as emotional. While speaking to Entertainment Tonight in September of 2022, Grace said, "It was like going home for Christmas to see your whole family. It really was like Christmas. It was a gift. They are all such amazing, amazing people who are so influential in my life and who I became."