Fans Are Predicting Leia Forman Will Be The Highlight Of That '90s Show
Now that 16 years have passed since viewers said goodbye to Donna (Laura Prepon) and Eric (Topher Grace) on "That '70s Show," fans are finally ready to meet the couple's child. Deadline reported in February that Callie Haverda had been cast as Eric and Donna's daughter, appropriately named Leia Forman, on the sequel series "That '90s Show." According to Deadline, Leia has qualities like both her parents which fans of "That '70s Show" should be able to pinpoint. 
According to an interview with Texas Lifestyle & Travel Magazine, Haverda has been acting since she was six years old, starting out with commercials. "I actually wasn't allowed to act until I was old enough to decide for myself this was what I really wanted to do," she noted. "After working for the first time, I just fell in love with the whole experience and knew I couldn't stop!" Her acting credits include the short film "Paper Memories," the film "The Adventures of Pepper and Paula," Hulu series "Shut Eye," and the film "The Lost Husband."
Now that the first trailer has dropped for Netflix's "That '90s Show," fans of "That '70s Show" have a lot to be excited about, and Leia Forman is looking to be one of the highlights of the new spin-off.
She's Eric and Donna's kid alright!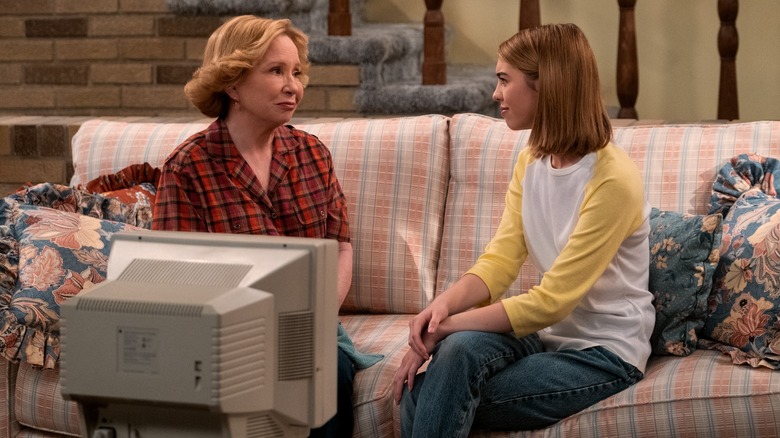 Patrick Wymore/Netflix
Following the release of the trailer for "That '90s Show," some fans were more excited than others, but those who enjoyed the trailer pointed out that Leia Forman looks like she's going to be one of the best parts of the series. In the "That '90s Show" subreddit, a popular thread highlighted the teaser trailer. Comments about Leia were flying, as u/upstatedreaming2816 said, "She's like a mini eric." Redditor u/Shadow_Boxer1987 agreed, saying, "She'll probably be a bit of Donna and a bit of Eric. If I had to guess I'd say she'll probably wanna be a writer like her mom but she'll have Eric's witty yet reticent sense of humor. Edit: Is it funnier if she loves or hates Star Wars?" Then u/DMcFadin responded hilariously, "Make her a trekkie and I'd be happy."
Fans seemed a little less convinced about the new crop of teenagers, with u/Zdradimir writing, "Red and Kitty great as always, but the kids still have some convincing to do. Cautiously optimistic." Then u/aubor pointed out, "I was wondering if I'm too old now to relate to teenagers. The cast looks so young..." This is a bit of a change over "That '70s Show," which mostly cast adults as teenagers. In an appearance on "The Tonight Show with Jay Leno" in 2012, Mila Kunis explained that she misled the producers about her age when she started on the show, making them think she was almost 18 when, in fact, she was 14. She told them she was going to be 18 but didn't specify in which year. There's nothing wrong with the actors being so young in the new series, but fans of the original show might have to adjust to seeing actual teenagers play these newcomers.