The Prop Eve Best Wishes She Could Have Taken From The House Of The Dragon Set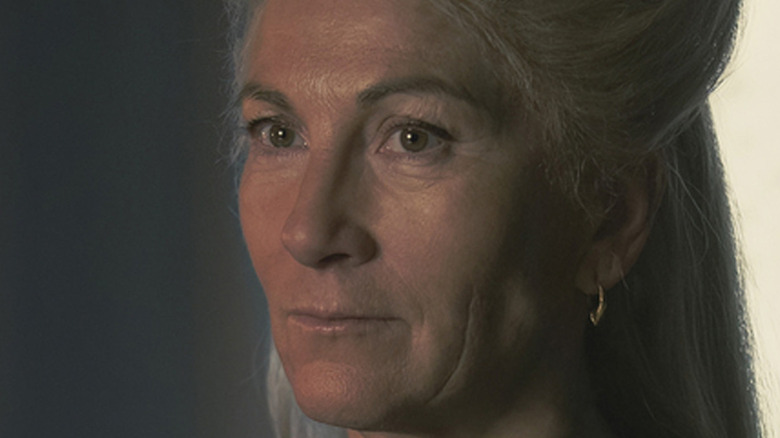 Ollie Upton/HBO
Articles about which props the actors on "Game of Thrones" and "House of the Dragon" stole from the set have become their own cottage industry–like the one about the sword Matt Smith pilfered from his character's wardrobe, or the marble bowls Olivia Cooke wanted to swipe from the Small Council chamber. For the record, Liam Cunningham, who played Ser Davos Seaworth on "Game of Thrones," is the worst prop-stealer. According to Vulture, he made off with "a U-Haul truck full of stuff," including Dothraki swords, lumps of obsidian, and Bravosi coins. Pretty much every performer on these two shows has a fun answer to this question, so these articles are just going to keep coming. 
Take Eve Best. She played Princess Rhaenys Targaryen on the first season of "House of the Dragon." Rhaneys is the aunt of the main character Princess Rhaneyra (Emma D'Arcy), and one of the most important characters on the show. She's the eldest granddaughter of the former king Jaehaerys I. When her father Aemon predeceased her, this should have made Rhaneys next in line to inherit Jaehaerys' throne. Instead, Jaehaerys named his second son and Rhaneys' uncle, Baelon, as his heir. This gave Rhaeneys the unfortunate nickname "The Queen That Never Was." So, when Princess Rhaneyra is herself deprived of inheriting the throne during Season 1 of "House of the Dragon," Aunt Rhaenys becomes an important ally. 
Recently, Eve Best and her co-star Steve Toussaint interviewed each other in a YouTube video for HBO Max. Toussaint asked Best which prop she wanted to lift from the set, and she had a doozy of an answer.
Eve Best wanted to keep Princess Rhaneys' custom-made whip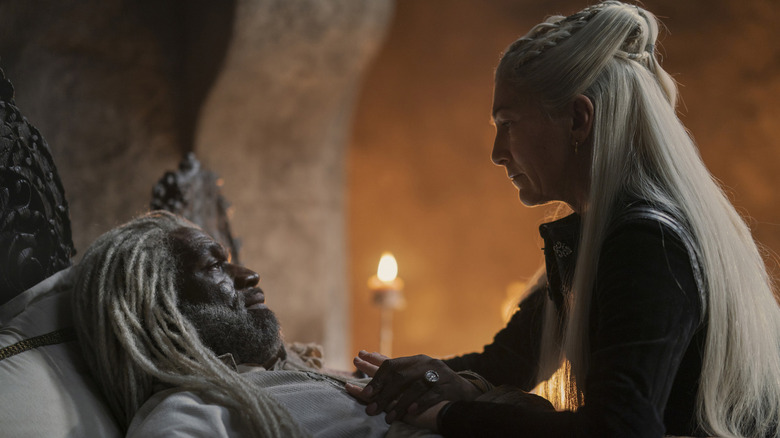 Ollie Upton/HBO
On "House of the Dragon," Toussaint plays Lord Corlys Velaryon, Princess Rhaneys' husband and the wealthiest man in Westeros thanks to his massive trading fleet. When Toussaint asked Best about which prop she coveted most, she recalled the time when "House of the Dragon's" prop masters presented Toussaint with his character's sword. Jealous, Best went to co-showrunner Miguel Sapochnik and asked for her own signature weapon, specifically a whip.
"The next day they brought in this amazing red whip. I was like a little girl in a sweet shop. I was so excited," Best said. "It was quite a sexy whip. If I could have knicked anything, it would have been that."
The whip didn't actually make an appearance onscreen during Season 1, but it's likely that it will show up in the future. Rhaneys is a dragonrider who commands the dragon Melys. In George R. R. Martin's book "Fire & Blood," which "House of the Dragon" is based on, Rhaneys is mentioned using a whip to urge Melys into battle (via Course Hero). If "House of the Dragon" does send Rhaneys and Melys into combat, we should be seeing the red whip in all its glory–assuming Best doesn't run off with it.