Chicago Fire Fans Are Adamant That Brett's Paramedicine Program Stays
None of the "Chicago Fire" characters are doing it quite like Kara Killmer's Sylvie Brett. Not only is she still valiantly carrying out her duties as a paramedic even eight seasons beyond when she joined the Firehouse 51 team, but she's still trying to find more ways to help people. She's even taken the initiative to start a brand-new program: paramedicine. A reaction to receiving emergency calls that prove to be low-priority, Brett's paramedicine program ensures that patients in need of assistance have dedicated teams ready to help them, no matter how small the issue may be.
Brett's paramedicine project has been going strong since she brainstormed it back in Season 10. Unfortunately, a new episode of "Chicago Fire" has indicated that, despite its success, the whole thing might be at risk of finally crashing down. With the future of the program looking uncertain, some fans have become vocal in their belief that it needs to survive.
Fans are confident that Brett's program works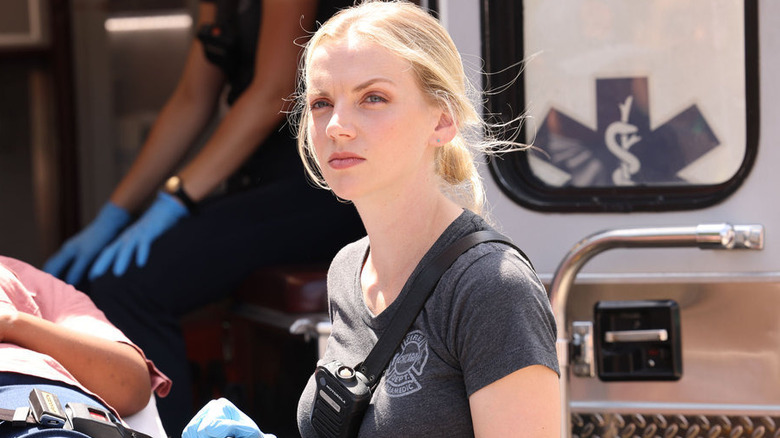 George Burns Jr/NBC
Season 11, Episode 9 of "Chicago Fire," titled "A Guy I Used to Know," focuses on Sylvie Brett and her paramedicine program. However, not all is well, as Brett learns that her program is getting audited and may be completely dissolved. Of course, it's not long after that Brett ends up saving the day by using paramedicine to identify and resolve a crisis regarding a woman named Nora who has an improper medical prescription. The incident ends up reaffirming Brett's belief that the program is necessary.
Brett wasn't the only one convinced of her project's effectiveness, as fans who watched the episode also saw the value in keeping it around. "This proves right here why Brett's paramedicine project is so important and cannot be taken away!!!" @BrettseyDaily tweeted. Some fans like @it_carley413 felt like Nora's line at the end of the pair's interaction summed up the value of the program: "Thank you, Sylvie. You're always there to help."
Brett's involvement with the paramedicine program has proven to be her dominant arc for Season 11. "She has this passion project of paramedicine that is really making a difference," Kara Killmer said in an interview with Survived the Shows. "That is how she's trying to impact the city." It's clear that the fans believe it to be far from a useless Brett storyline as well, so hopefully the paramedic can pull through and keep the program going.