Steven Spielberg Beams With Happiness Over Ke Huy Quan's Golden Globe Win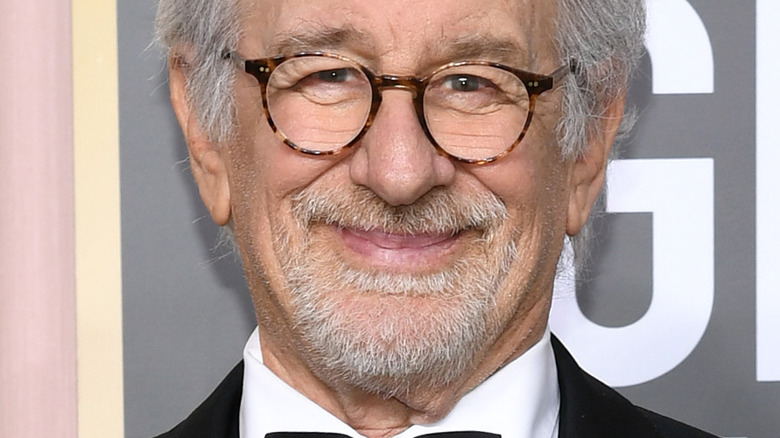 Jon Kopaloff/Getty Images
At this year's Golden Globe Awards, which had lower viewership than last year's (via Looper), Ke Huy Quan received the perfect bow to wrap up his incredible comeback year, winning the award for Best Supporting Actor in a Motion Picture for his performance in "Everything Everywhere All at Once." The beloved actor took the stage at the ceremony to accept his award, giving an emotional speech that left many in the room and those watching at home with tears in their eyes. 
Quan thanked legendary director Steven Spielberg, who gave him his start in the industry in "Indiana Jones and the Temple of Doom." Even though Quan gushed over working on "Temple of Doom" and was then cast in "The Goonies," he couldn't find roles afterward, resulting in his early retirement from acting. In his speech, Quan said that, for a long time, he questioned if he had achieved everything he could as an actor. Thankfully, thirty years later, The Daniels took a shot with him, giving him the opportunity to star in "Everything Everywhere All at Once." 
"Everything that has happened since has been unbelievable," a teary-eyed Quan said to enormous applause from the Golden Globes audience.
While Quan's win at the Golden Globes doesn't come as a surprise — he's won an unbelievable amount of awards for the performance (via IMDb) — it's another very deserved win and one that everyone is happy to see the actor take home. Even Spielberg couldn't contain his excitement over Quan's big night.
Spielberg was overjoyed when Ke Huy Quan won at the Golden Globes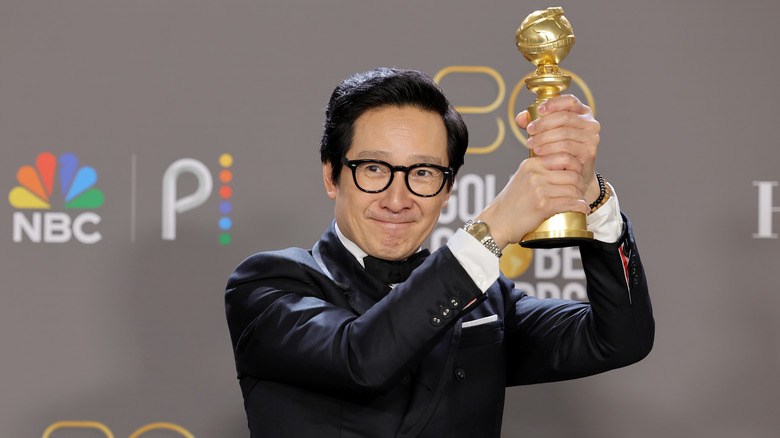 Amy Sussman/Getty Images
The Golden Globes were a big night for Steven Spielberg and Ke Huy Quan, who both took home awards during the 2023 ceremony. Although audiences didn't get to see the "Temple of Doom" reunion on-screen during the ceremony, the two shared a heartfelt moment together behind the scenes (via Twitter). Afterward, Access Hollywood caught up with the legendary director, where he revealed his unbridled happiness for Quan's win. 
"Tonight blew me away," Spielberg said. "When [Quan] got the Golden Globe for Best Supporting Actor, my heart just leapt out of my chest." The filmmaker couldn't be happier seeing the once-child star he introduced on the big screen succeed at this level. He admires Quan's determination that earned him the award, saying he's still just as positive as he once was, even after his struggles. 
"When I met him, he took the room by storm," Spielberg said. "He has a positive energy. So full of positive love. He just reaches out with his heart, and that's the way he was as a kid auditioning for the movie."
In the same interview, Spielberg also admitted to not understanding the level of responsibility that comes with bringing someone as young as Quan into the movie industry. When he cast Quan in "Temple of Doom" and "The Goonies," he chose him because he fit the roles perfectly, not to give someone a big break. However, he eventually learned that responsibility, saying that Quan would meet him on-set throughout the years to talk. It seems like Spielberg couldn't be more proud of the actor Quan has become.