The Last Of Us' Nico Parker Describes Hanging Out With Corpses On The Set Of Westworld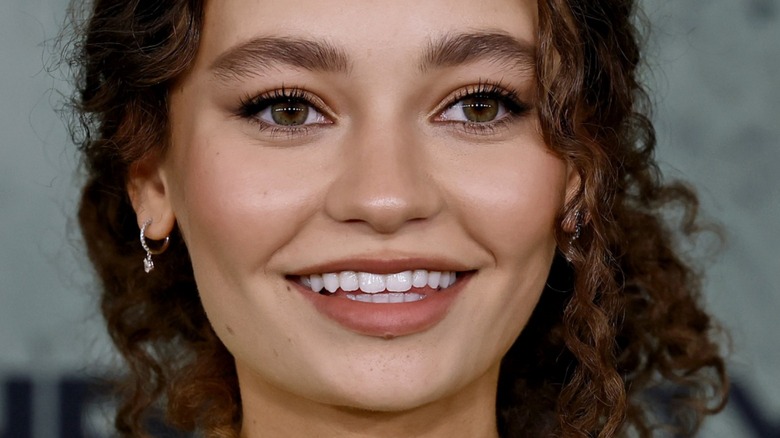 Frazer Harrison/Getty Images
Contains spoilers for "The Last of Us"
Not even 20 years old, actor Nico Parker is already making a name for herself. The talented daughter of Thandiwe Newton and Ol Parker started young, appearing in 2019's live-action "Dumbo" (via IMDb). Now the actor will play a short-lived but integral part in HBO's most anticipated release this year. Adapted from Neil Druckmann's post-apocalyptic video game of the same name, "The Last of Us" tells a heart-wrenching story about the cycle of revenge. Starring Pedro Pascal as the morally gray Joel, the reviews all say the same thing about the upcoming television series. While "Game of Thrones" alum Bella Ramsey is set to play Joel's surrogate daughter Ellie, that leaves Parker in the role of Joel's tragic original daughter, Sarah.
Only credited for two episodes, players of "The Last of Us" game know what happens to poor Sarah. But for the "Reminiscence" actor, being around dead bodies on HBO isn't too much of a change of pace. Parker has had experience with death when visiting her mother on the set of "Westworld."
Parker had a shock seeing this side of her mother
Raised in a family steeped in the entertainment industry, Nico Parker has had a lot of exposure to filmmaking. Ol Parker is a director responsible for "The Best Exotic Marigold Hotel" and "Mamma Mia! Here We Go Again" (via IMDb). But her mother, Thandiwe Newton, may be more recognizable to fans of HBO. Newton plays the strong-willed host Maeve in "Westworld."
While on Late Night With Seth Meyers, Parker described the monumental differences between her visiting her parents at their respective sets. "Mamma Mia" has many film and musical stars, but visiting the "Westworld" set was quite a different experience altogether. Instead of the happy-go-lucky musical numbers that Parker may have witnessed, she and her sister explored the world of prosthetic dead bodies that litter "Westworld." Bored by the constant waiting on set, Parker recalled that she and her sister asked her father to leave.
"My dad's like 'go over there and play with that dead body,'" Parker told Meyers. "So we see this kind of corpse on a stretcher with a sheet over it. Me and my sister go over and peel it back and it's my mom. A prosthetic version of my mother." As a visual aid for the anecdote, Meyers pulled up a bleak photo of Maeve in a body bag. Though certainly a shock to witness, it may have prepared her for death in "The Last of Us."