This Look At Miles Teller As Nova Has Our Imaginations Running Wild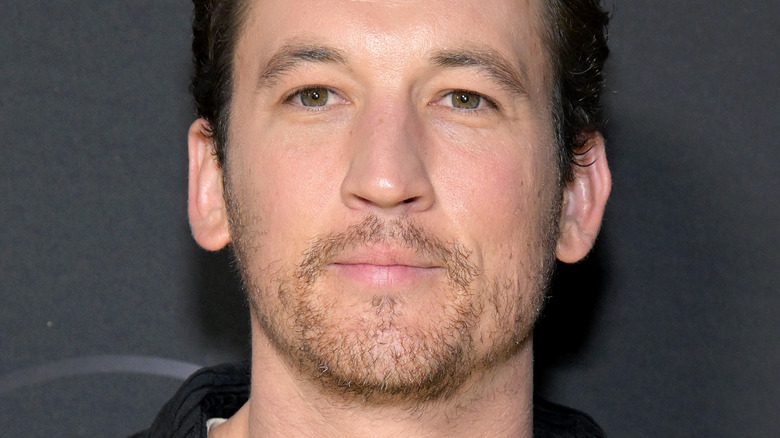 Michael Tullberg/Getty Images
One of the biggest Marvel Comics superheroes yet to make the leap from the page to the screen is Nova, aka Richard Rider (although other characters have used the moniker as well), a human being who becomes a member of the intergalactic security force known as the Nova Corps after one of its dying members, Rhomann Dey, bestows his suit and the superhuman powers of the Nova Force upon him.
Ever since Dey (played by John C. Reilly) and the Nova Corps were introduced back in 2014's "Guardians of the Galaxy," fans have wondered when Nova would make his first appearance in the MCU. Marvel Chief Creative Officer Kevin Feige revealed that Nova showed up in early drafts of "Guardians" (via Screencrush) and has hinted at the eventual debut of the Nova Centurion at some point in the next few years.
Nova's arrival in the MCU came closer to reality in March 2022, when it was announced that Marvel had recruited "Moon Knight" writer Sabir Pirzada to pen a "Nova" project, although it remains unclear whether this will be a feature film, a series, or possibly a one-time "Marvel Special Presentation" like "Werewolf by Night" or "The Guardians of the Galaxy Holiday Special."
One thing we do know is that the casting of the role has been and will continue to be a subject of heavy conjecture among Marvel fans, and one artist has already come up with an idea of who they'd like to see in the part.
Can Miles Teller overcome his Fantastic Four stigma and play Nova?
An artist tagged as subi.ozil on Instagram, going with the same concept, has come up with an image of Miles Teller as the character which looks very strong. The actor certainly fits the part physically, and he has done his share of action movies, including 2022's "Top Gun: Maverick." While a number of fans have envisioned Ryan Gosling as Nova, we kind of like Teller's range better for the part.
Teller, of course, has been in a Marvel (not MCU) movie before — the ill-fated 2015 reboot of "Fantastic Four," in which he played a young Reed Richards. But just as the mid-2000s iteration of "Fantastic Four" didn't prevent Chris Evans from becoming the MCU's Captain America, after he played the Human Torch in those films, we don't think fans should hold a different "FF" disaster against Teller.
According to a 2022 Looper poll, fans are fine with Teller joining the MCU – but as other heroes. Some 28.02% would like to see him as Cyclops, while 27.05% were up for him rebooting Iron Fist. Unfortunately, Nova was fifth on the list, with just 11.43% of support — surprisingly even lower than the 21.58% willing to give him another chance as Mr. Fantastic. Perhaps if this image gets around, those numbers will go up.