Matt Reeves's Penguin Series Will Be Closely Connected With The Batman 2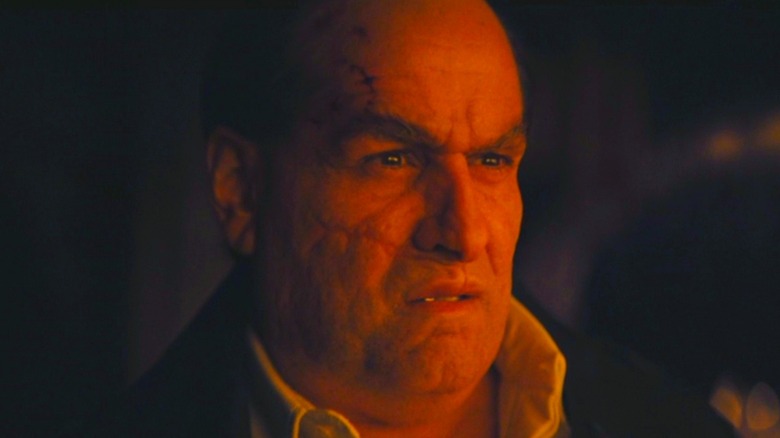 Warner Bros. Pictures
While things over at DC constantly seem chaotic, one shining light from 2022 will remain in the studio's plans, regardless of James Gunn and Peter Safran's new leadership. Matt Reeves's "The Batman" proved that audiences want to see a dark, noir-style thriller about the World's Greatest Detective, having earned an incredible 700 million at the worldwide box office.
It hasn't even been a year since Warner Bros. released "The Batman," yet there are many plans for the franchise's future. DC greenlit a sequel to the Robert Pattinson-led movie, with plans to establish a new Batman universe. The Riddler actor Paul Dano is working on a prequel comic series for his character. Colin Farrell is returning to his scene-stealing role as The Penguin in his own HBO Max series, showing Penguin taking advantage of Gotham's disarray in his rise to power. Reeves and his team are also developing another series focusing on Arkham Asylum that the director describes as "a horror movie." There's also a third spin-off, which focuses on Gotham's Police Department, that is still in the works despite reports saying it evolved into the "Arkham" series (via Variety).
Reeves plans to keep all of his "The Batman" spin-offs and sequels connected. In a recent interview, the director revealed that The Penguin series will be a must-watch leading up to "The Batman 2."
The Penguin series will lead directly into The Batman 2
Warner Bros. Pictures
It looks like Matt Reeves will take a page out of Marvel Studios' book, telling his "Batman" story across film and television. Speaking to Collider, the director of "The Batman" revealed that the upcoming HBO Max series focusing on Colin Farrell's Penguin will directly set up the sequel, saying, "There's actually a whole little fabric of things we're wanting to do, the way we're doing with [the] Penguin and how that comes back into how that will lead into the sequel, and what that sequel is going to be."
While Reeves is keeping plot details under wraps, we know that the HBO Max series will focus on Penguin taking advantage of Gotham's vulnerability during his rise to power. In "The Batman," Penguin (Farrell) was the right-hand man of Carmine Falcone (John Turturro). By the movie's end, Falcone is dead, and The Riddler's plans have destroyed the city, setting up the opportunity for Penguin to swoop in and take control.
In an interview with Variety, Farrell expressed his excitement to return to Gotham, saying his performance in "The Batman" was "just the tip of the iceberg." He praised the film's makeup department for their incredible work transforming him into Oswald Cobblepot, and he can't wait to further explore the character on HBO Max.