No Limit Is The Steamy Sports Drama That Might Be Too Much For Netflix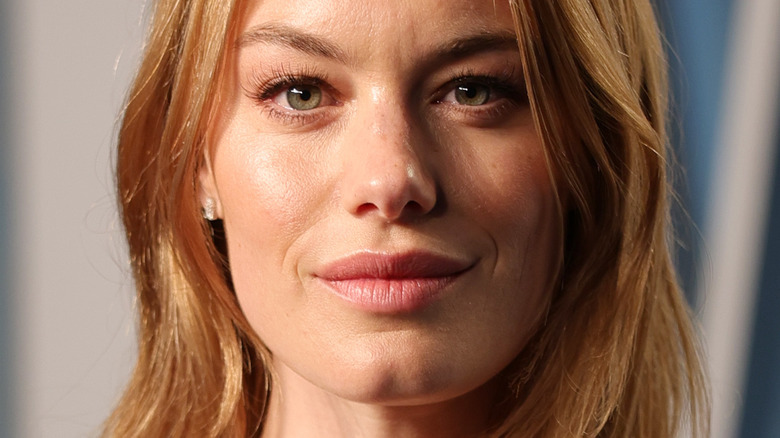 Rich Fury/vf22/Getty Images
"No Limit" is one of the steamiest movies on Netflix right now. However, while the film contains several sexy scenes, the story that reportedly inspired it is tragic. This 2022 French-language Netflix original is apparently loosely based on the real-life case of freediver Audrey Mestre, who died during a world record attempt. While Mestre was seemingly driven by the adrenaline rush of freediving, the character in the film, Roxana (Camille Rowe), is more compelled by her lust for her instructor Pascal (Sofiane Zermani).
In the film, Roxana is a college-age swimmer and diver with a tragic past who is drawn to the peace and serenity of the water. She was raised by her grandfather after her father died by suicide. This led to her attempting to take her own life as well, but she finds solace in watersports and decides to leave Paris for the South of France. She signs up for a freediving class taught by Pascal and is immediately attracted to her cocky instructor. Pascal spends most of the movie wet and shirtless, so the filmmakers intentions for the character are quite clear. Is this steamy sports drama too much for Netflix? Read on to find out more. Spoilers ahead.
If you or anyone you know is having suicidal thoughts, please call the National Suicide Prevention Lifeline​ at​ 1-800-273-TALK (8255)​.
Roxana and Pascal begin a toxic love affair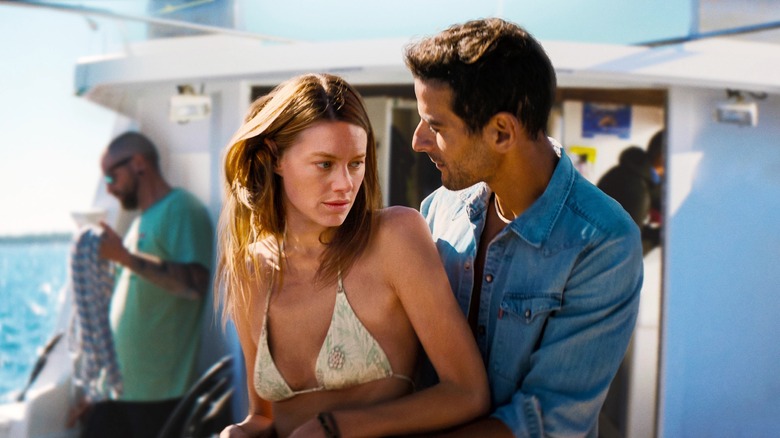 Netflix
Viewers learn pretty quickly that Pascal is a womanizer. He hooks up with Roxana after their first big group lesson while his current girlfriend is with the rest of his students. Smitten, Roxana becomes truly entrenched in his world. During one steamy sex scene, an eerie bit of foreshadowing is played out when Roxana refuses to let Pascal put his hand on her throat during the heat of passion. While the move is definitely deliberate by the filmmakers, it still feels a bit exploitative.
Just as Roxana and Pascal's passions heat up, so does her interest in freediving. Pascal breaks a record for depth, but a member of his crew dies underwater, making it clear just how dangerous an activity it is. Roxana understands the risks that come with freediving, but she is seduced by it all the same. Eventually, Roxana breaks a record as well and she becomes a member of Pascal's diving crew. While he's happy for her at first, he soon becomes jealous of the attention Roxana begins to receive.
After Pascal cheats on Roxana, she retaliates by hooking up with a member of his crew that she initially felt some attraction to when she first joined the class. She decides to leave Pascal, and his jealousy goes into overdrive.
Viewers are split on this steamy French flick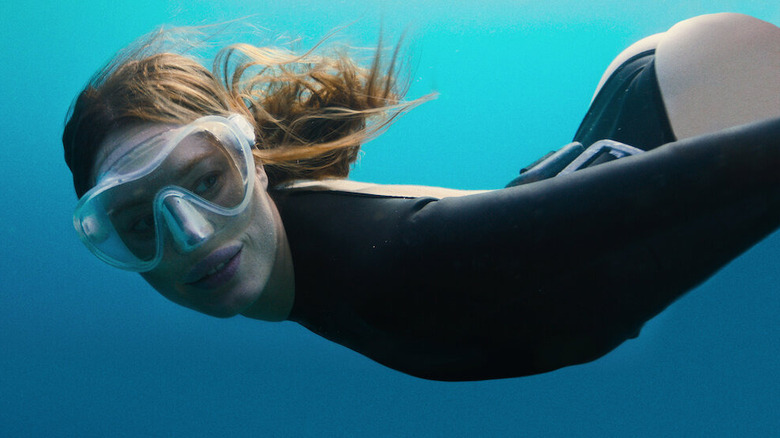 Netflix
Those familiar with the real-life case of Audrey Mestre will no doubt know where "No Limit" is heading before it gets there. In a tragic turn of events, Roxana dies while trying to break Pascal's record for depth in freediving. Taking a real-life tragedy and turning it into a steamy movie about a toxic relationship came across as a little exploitative for many, but critics and audiences were actually pretty split on how the film turned out.
Co-stars Camille Rowe and Sofiane Zermani were praised by Common Sense Media, which said that they "have a lot of screen magnetism" in a four-star review. This opinion was not shared by Decider, which dubbed the film "a long, slow descent into mostly empty waters." The French flick has an audience score of 53% on Rotten Tomatoes at the time of this writing, which goes to show just how split viewers are. "The passion at the beginning and the tragedy at the end is excellent," said one reviewer, "although, I found the love drama that fills the film boring."
One common theme present throughout the reviews is that the cinematography is fantastic. If you're a fan of watersports, particularly freediving, there's a lot to like here. However, most people seem to think that the steamy parts of the movie are too much. "What we can see is just people having sex when above the water," gabriele83 said in a two-star Letterboxd review, "it's nearly the only thing they do, and with people they just met."