Golden Globes Pianist Chloe Flower Vows She Wasn't Playing Off Winners' Speeches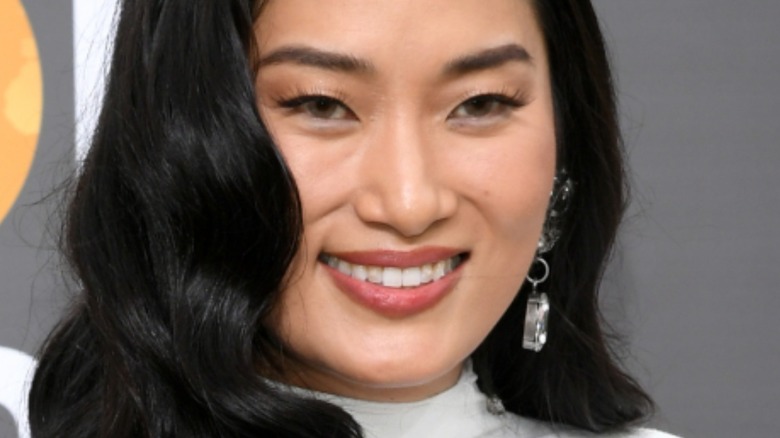 Jon Kopaloff/Getty Images
The Golden Globes had some pretty unforgettable highlights this year, including a hilarious "shut up, please" moment from "Everything Everywhere All At Once" star Michelle Yeoh, who issued the verbal order to the show's piano player, Chloe Flower — along with a now-viral threat. "I can beat you up, okay?" said the Best Actress winner, as Golden Globes producers tried to shoo Yeoh off stage with some classic award show piano music.
"Shut up, please," Yeoh shouted, as the music began to pour in. The legendary screen star had been discussing her time in the business and being just the second Asian ever to win Best Actress in a Movie – Musical or Comedy at the Golden Globes when the scene unfolded Tuesday night, January 10.
"DON'T YOU DARE PLAY THE PIANO WHILE THE QUEEN MICHELLE YEOH IS BEING CROWNED," wrote @TylerCWhitmore on Twitter. "Michelle Yeoh openly threatening to beat up the piano player trying to play her off is what cinema is all about," joked @brfreed. There's just one problem, though: Flower wasn't playing the piano during Yeoh's speech — or any winners' speeches, for that matter. And she never has.
'That's someone else doing that'
According to pianist Chloe Flower, there isn't actually a person next to the stage playing music to get award-winners to finish their speeches. The music is coming from a different place entirely. "That's someone else doing that," explained Flower in an interview with The Hollywood Reporter. "I have no control. That's not anything that they discussed with me or was discussed with me at all because that's beyond my role." 
While it's not entirely clear where the recorded piano music comes from exactly during the Golden Globes, Flower wants people to know for certain that she had nothing to do with it — especially in the case of Michelle Yeoh. "It's really important for Asian women — especially Asian women today, especially in Hollywood – [to unite]," Flower said. "I'm a huge fan of Michelle Yeoh. I didn't know [Michelle] was coming and when I saw that she was there, I was at the piano in real time. I was like, 'Oh my God, she's here.'" 
When the piano music began playing and Yeoh called her out, Flower said she was completely taken aback. Later on, Golden Globes producers reportedly apologized to Flower and got host Jerrod Carmichael to try and explain things to viewers during the show. "[The producers] were so apologetic and so nice, and they were coming up to me at the piano," Flower told THR. "They're like, 'We're going to fix this.'" 
Fortunately, Yeoh and Flower have since hashed things out. "I saw Michelle, and she embraced me," the pianist revealed. "She reached out and grabbed my hand, and I was like, 'I would never play during your speech.' We talked for a minute, so it was really nice."