Nicolas Cage Shockingly Admits That He's Never Seen Either True Grit Film - Exclusive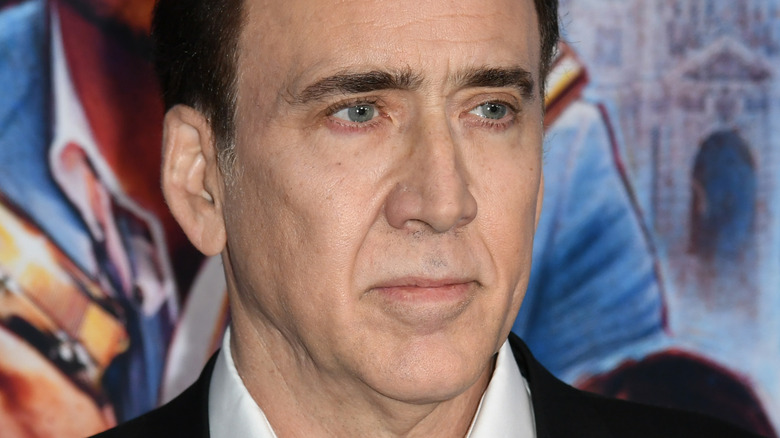 Jc Olivera/Getty Images
The Western is one of cinema's most revered genres, defined by the work of such screen giants as Gary Cooper, John Wayne, and Clint Eastwood. Not surprisingly, among the most beloved films in the genre are Cooper's "High Noon," Eastwood's "The Good, the Bad and the Ugly," and Wayne's "True Grit" — a story made even more legendary with its remake by filmmaking brothers Joel and Ethan Coen and starring Jeff Bridges.
Now, after more than 100 films throughout his esteemed career, Oscar-winning actor Nicolas Cage has finally saddled up for his first-ever Western with "The Old Way," which is amazing considering that he's long been a fan of the genre. Playing in theaters and debuting January 13 on premium video on demand and premium digital, "The Old Way" stars Cage as Colton Briggs, who, 20 years after walking away from his life as a ruthless gunslinger, is targeted for revenge by James McCallister (Noah Le Gros). James, as it turns out, was in Colton's crosshairs after the gunman shot his father to death two decades before, but James was spared a similar fate because he was a young boy.
Together with his posse of outlaws, James begins his assault on Colton — who has turned a new leaf as a family man — by targeting the love of his life. Enraged by the heinous crime, Colton resorts to his old ways and hits the trail to make James and his men pay the ultimate price. However, Colton is forced to bring along his 12-year-old daughter, Brooke (Ryan Kiera Armstrong), because there is no one to care for her; he discovers along the way how vital of an ally she can be.
While the premise of a legendary gunslinger and a pre-teen teaming up on the trail seems to echo "True Grit," Cage explained in an exclusive interview with Looper why the film — and its remake — didn't factor into his approach to "The Old Way."
Cage says he's 'almost embarrassed' that he hasn't seen either version of True Grit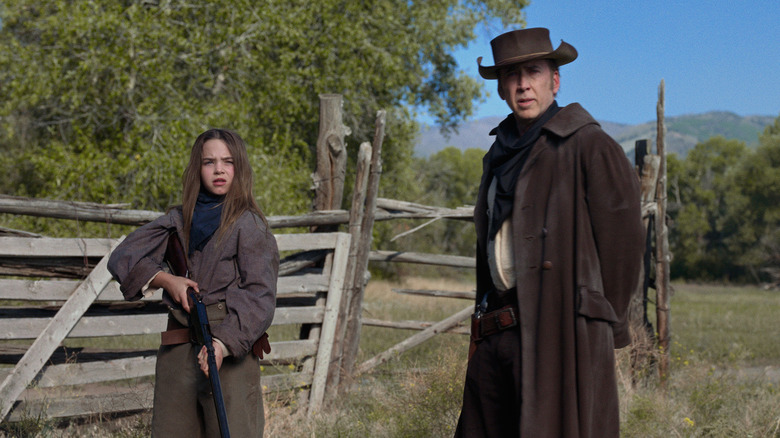 Saban Films
Discussing the elements of "The Old Way" that inspired him to join the Brent Donowho-directed Western, Nicolas Cage said the similarity to "True Grit" wasn't among them — for one simple reason. "I'm almost embarrassed to say this — I've never seen John Wayne's 'True Grit' or Jeff Bridges' 'True Grit,' so I don't know those movies, which is remiss on my part," Cage told Looper. "But that is exactly what compelled me to be in this movie, because yes, it's framed in the Old West, it's the same wardrobe, it's the same location, [and] it's the same time period."
Instead, Cage added, he likened the father-daughter dynamic in "The Old Way" to the family grifters Ryan and Tatum O'Neal played in the 1973 depression-era crime caper "Paper Moon."
Next up for Cage is a film that's rooted in another cinematic classic, where he dons the cape and a set of fangs to play the time-honored role of Dracula in the horror-comedy "Renfield." The film, which is being made by the home of the original movie monsters — Universal Pictures — will definitely have elements that Dracula fans will be familiar with while Cage also gives the character his own spin.
"There's an opening sequence [in 'Renfield'] which homages the original film with Bela Lugosi," Cage said. "I was trying to find other things to bring to the character, because it's been done a lot — it's been done well and it's been done not so well — and I had to figure out what I could contribute to the legacy of Dracula, especially [because] it's a Universal film."
Written by Carl W. Lucas and also starring Kerry Knuppe, Nick Searcy, Shiloh Fernandez, and Clint Howard, "The Old Way" is new in theaters, premium video on demand, and premium digital.