Pierce Brosnan Once Saved Halle Berry From Choking During A Disastrous Bond Scene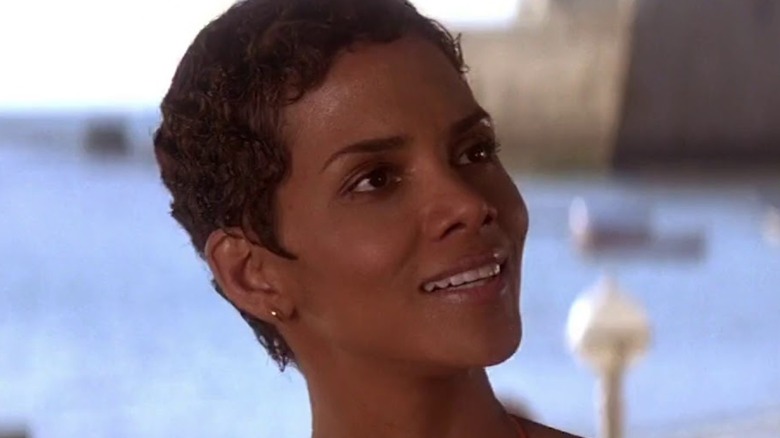 MGM
Few people can play a class act like Pierce Brosnan. While he's been known to play against type on occasion, the vast majority of his acting résumé is a laundry list of cool and suave heroes — including his role as sorcerer Kent "Doctor Fate" Nelson in "Black Adam," and, of course, his four-movie stint as James Bond. While only "Goldeneye" manages to crack the Top 10 in Looper's ranking of James Bond movies, Brosnan himself makes an extremely charming Bond ... and, as one of his most prominent co-stars can attest, he can be an absolute lifesaver when the cameras aren't rolling, as well. 
In 2002, Halle Berry was arguably at the height of her career, and quite possibly the most high-profile actor to pick up the mantle of a Bond girl. In fact, she appeared as NSA agent Giacinta "Jinx" Johnson fresh off her best actress Academy Award win for "Monster's Ball." In 2021, Berry told Vanity Fair (via YouTube) that she chose to accept the role because of the movie's more proactive take on the concept of the Bond girl, as well as the chance to recreate a version of Ursula Andress' iconic bikini scene from 1962's "Dr. No." However, on one almost-fateful day, the thrill of filming a Bond movie nearly took a grim turn for her.
Lee Tamahori's "Die Another Day" features plenty of interaction between Bond and Jinx, and as Berry has revealed, one particular scene almost had terrifying consequences when she started choking after a mishap. Fortunately, Brosnan turned out to be every bit as dashing a hero as the character he played. Here's what Berry has revealed about the worrisome on-set incident, and how the James Bond actor stepped in to save her from choking. 
An attempt to seductively eat a fig went terribly wrong, but Pierce Brosnan knew what to do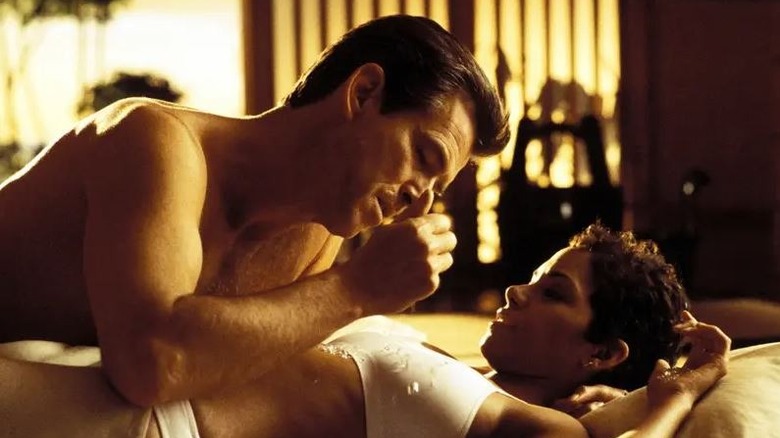 MGM
Halle Berry recounted the incident — which took place while shooting a love scene, no less — during a 2020 appearance on "The Tonight Show Starring Jimmy Fallon." Judging by the way she shaped the story as an embarrassing failure to deliver an adequately seductive performance instead of a traumatizing near-death experience, it fortunately appears that she's not too shaken by the incident these days. That's not to say that the mishap wasn't potentially life-threatening, though, seeing as Berry was genuinely choking. 
"One time I was doing a scene with Pierce Brosnan in 'Die Another Day'," she described the incident. "I was supposed to be all sexy and trying to seduce him with a fig, and then I ended up choking on it."
For obvious reasons, no one on set was physically closer to Berry than Brosnan at the time she started choking. As it turned out, he immediately knew what to do, and took control of the situation. "He had to get up and do the Heimlich [manoeuver]," Berry revealed. "It was so not sexy, like so not sexy!"
Perhaps unsurprisingly, Berry holds Brosnan in quite a massive regard, and quite happily framed her resourceful co-star as the hero of the story. "You should have seen it!" Berry said. "Like James Bond knows how to Heimlich. [Brosnan] was there for me. He will always be one of my favourite people in the world."
While Berry is clearly grateful for Brosnan's quick thinking and actions during the fig incident, there's a very good chance that she's not exaggerating when she deems him a favorite person, seeing as the pair appear to be on genuinely good terms. In fact, way back during a 2002 promo appearance on CNN's "The Larry King Show," Brosnan himself confirmed that he and Berry became great friends during the filming process.