Whitney Houston Ended Her Film Career With A Flop Instead Of A Bang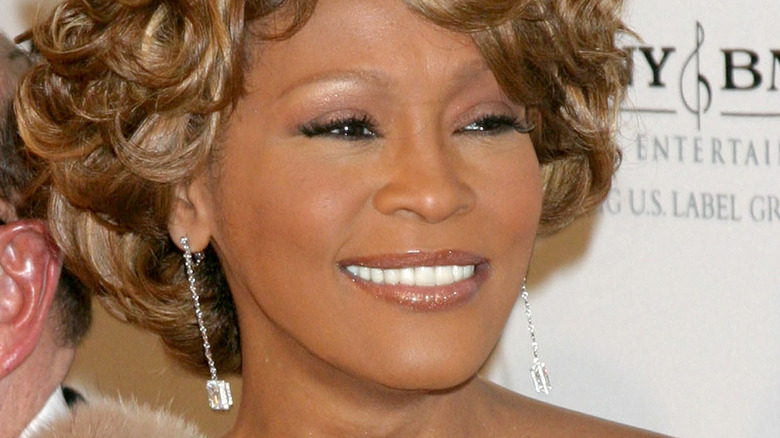 Kathy Hutchins/Shutterstock
Whitney Houston is so indelible to pop culture, it's hard to believe that her filmography only includes five movies. Of course, so much of Houston's fame stems from her singular voice, but her film and singing careers were inextricably linked. In her acting debut, 1992's "The Bodyguard," Houston plays a famous singer, and the film spawned a diamond-certified soundtrack with "I Will Always Love You" as the lead single, as well as a massive world tour.
Houston's subsequent projects were similarly rooted in music. She featured prominently on the soundtrack for 1995's "Waiting to Exhale," in which she starred alongside Angela Bassett, Lela Rochon, and Loretta Devine. Houston compiled the soundtrack with producer Kenneth "Babyface" Edmonds and advocated for a women-only lineup of artists (via Time). Houston also put her singing bona fides front and center in "The Preacher's Wife" and as the Fairy Godmother in the Brandy-starring remake of "Cinderella" in 1997.
Houston appeared in her fifth and final film, "Sparkle," in 2012, the same year that she tragically passed away. However, the movie was a major flop.
Sparkle was released posthumously in 2012 to middling reviews
Although it was released in 2012, "Sparkle" was delayed in developmental hell for years. Based on the 1976 film of the same name, Whitney Houston and her producing partner Debra Martin Chase acquired the rights to "Sparkle" under their BrownHouse Productions banner in the 1990s (via Vanity Fair). Houston had envisioned Aaliyah to play the title role, but the singer died in a plane accident in 2001. "This was [Aaliyah's] movie, when we brought it to her, she was so enthusiastic about it and she wanted it, to do it so badly," Houston said (via Vibe). "She was our Sparkle."
"Sparkle" finally came to fruition in 2012. The 1960s-set film stars Jordin Sparks, Carmen Ejogo, and Tika Sumpter as three sisters who start a girl group in Detroit. Houston plays their strict church-going mother, Emma, who once had singing aspirations of her own. Some fans and critics viewed "Sparkle" as a comeback for Houston, especially in an era increasingly defined by personal and legal problems. "To me, it's not like a comeback," the performer told Collider in 2012. "It's just it's innate, it's natural." She added, "I can't help it. It is something that God just said, 'This is what you do.' It's in me."
Unfortunately, Houston died that same year, and the film ended up being released posthumously a few months after her death. Indeed, Houston's death casts a chilling pall over the movie, especially when her character asks, "Was my life not enough of a cautionary tale for you?" Despite the singer's star power, the film received middling reviews. 
As fans continue to mourn Houston's loss more than 10 years later, other cinematic artifacts, like last year's biopic "I Wanna Dance With Somebody," remain a compelling reminder of her legacy.