Is Naomi Ackie Actually Singing As Whitney Houston In I Wanna Dance With Somebody?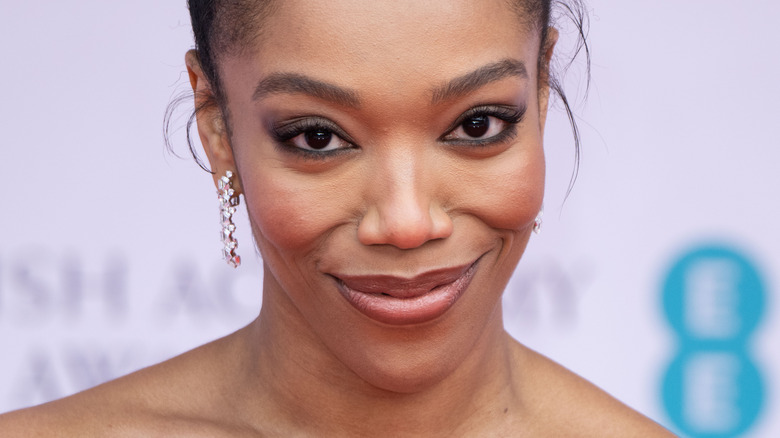 Jeff Spicer/Getty Images
Whitney Houston was a once-in-a-lifetime talent (via PBS). She was the iconic voice behind songs like "The Greatest Love of All," "I Will Always Love You," and "It's Not Right, But It's Okay," but Houston was also an actor. The songstress recorded seven studio albums over the course of her career, as well as two soundtracks for her movies "The Bodyguard" and "The Preacher's Wife."
Now Houston is getting the same biopic treatment that other legendary performers like Ray Charles, Johnny Cash, and Aretha Franklin have received with a new film based on her life. "I Wanna Dance With Somebody" is written by Oscar-winning screenwriter Anthony McCarten, who also wrote the Freddy Mercury biopic "Bohemian Rhapsody" and is directed by Kasi Lemmons.
Naomi Ackie is taking on the role of Houston in "I Wanna Dance With Somebody," and while she certainly looks the part of the late, great singer, fans might be wondering if Ackie has the vocal prowess to match one of the greatest singers of all time.
The voice you're hearing is 100% Whitney
Though Naomi Ackie will be lip-syncing and performing as Whitney Houston in "I Wanna Dance With Somebody," the voice you hear singing those chart-topping hits will be none other than Houston herself. This ought not to come as a surprise, as Freddy Mercury's voice was also used in the aforementioned "Bohemian Rhapsody," with star Rami Malek's voice being mixed in with Marc Martel's as well.
The film is being produced by Clive Davis, who had a pretty major hand in laying the groundwork for Houston's career, and the mogul confirmed that as good as Ackie is, no one can match that voice. "We were very impressed that Whitney's persona was being captured," Davis said. "The (singing) voice, of course, will be Whitney's. When it came to Whitney, we just didn't think anyone could capture her vocal genius, so it will be the Whitney voice in the film," Davis told USA Today.
Davis also said that "I Wanna Dance With Somebody" will strive to tell a "very realistic, very honest story." With the tragic passing of Houston at the age of 48 back in February of 2012, the film will be released close to the 10th anniversary of her death, and it sounds like it won't be leaving out the more troubling elements of the singer's life like her years of drug use or her tumultuous relationship with husband, Bobby Brown (via Biography). Still, even with the many struggles Houston faced in her life, her one-of-a-kind voice will live on forever.