Another Goonies Actor Helped Ke Huy Quan Land His Everything Everywhere All At Once Role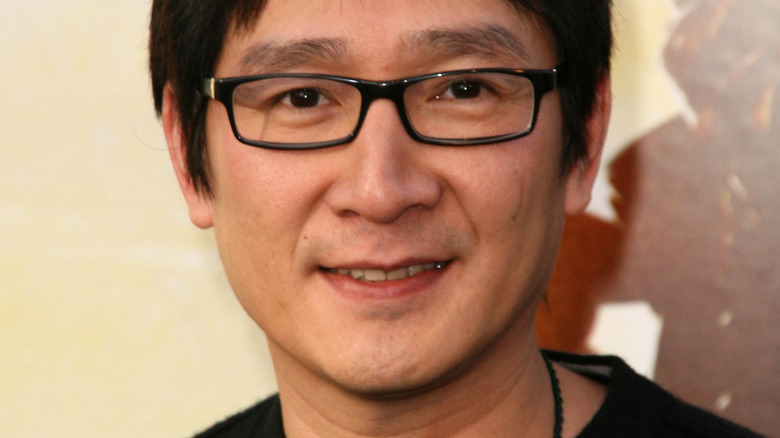 s_bukley/Shutterstock
When one finds themself being a staple cast member of two iconic franchises before they're even a teenager, some may think that guarantees them a long, continuous career in the entertainment industry; however, that's always not the case. For Ke Huy Quan, after playing significant roles in "Indiana Jones and the Temple of Doom" and "The Goonies," he unfortunately found himself back at the actor's starting line. 
"Opportunities for Asian actors at that time were just few and far between," Quan said (via EW). That unfortunate trend would take much of his lifetime to turn around in the other direction. Quan explained to fellow actors at The Hollywood Reporter's "Roundtable" that he thought he probably didn't have another shot at a successful acting career. However, that changed when one hit movie altered the industry for Asian actors. "[I] didn't think that one day I would revisit this dream of mine. It felt so distant and far away for the longest, longest time until the movie 'Crazy, Rich Asians' came out," Quan said. That was when Quan realized Hollywood had changed.
Before he knew it, Quan was once again represented by an acting agent and given a script to audition for. That script was for the film "Everything Everywhere All at Once." Of course, Quan would eventually book the role of Waymond Wang. Despite the long stretch of time in between career heights, there was a fascinating connection to a former co-star that would help him ink that deal. 
Need a Hollywood contract? Better call Chunk
After two decades since his last major role, Ke Huy Quan found himself standing in front of writers/directors Daniel Kwan and Daniel Scheinert, auditioning for the role of Waymond in "Everything Everywhere All at Once." After a grueling two months of waiting, Quan got the call he had been waiting for, learning he got the part. Of course, landing a major movie role requires signing contracts, and for that, he turned to Jeff Cohen, who played Chunk in "The Goonies."
Shortly after dancing the Truffle Shuffle in "The Goonies," Cohen altered his career path, receiving a law degree from UCLA in 2000. He used that degree to become an Entertainment Lawyer. When it was time for Quan to sign the contract to play his part in "Everything Everywhere All at Once," his former treasure-hunting co-star was there to help him, and this connection was something that seemed almost surreal.
As Quan explained, having to deal with two iconic Goonies was surely a surprise to some people. "When the producer of our movie was trying to make my deal, he said he never imagined that he'd have to talk to Chunk and Data for his movie," Quan said. Thankfully these Goonies stuck together, with Cohen helping nail down Quan's contract and his role as Waymond.