Patton Oswalt Thinks Bo Burnham Is The Future Of Comedy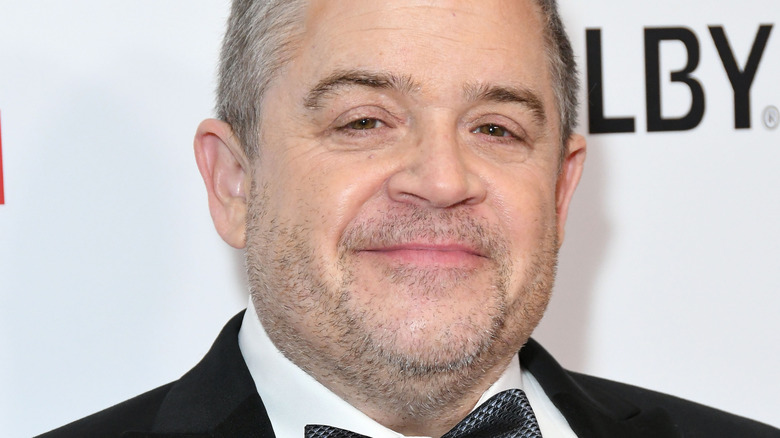 Quinn Jeffrey/Shutterstock
When Bo Burnham released his first comedy EP, "Bo fo Sho," in 2008, he was just a teenager with a YouTube account and a dream. Patton Oswalt, meanwhile, was already a comedy veteran by then, having been a fixture on screens and in comedy clubs since the 1990s.
While some nascent internet stars never quite break through to the IRL realm, Burnham has staked out a career for himself as a thoughtful satirist and director. In 2018, he helmed his first feature, "Eighth Grade," and in 2021, he released the Emmy Award-winning "Bo Burnham: Inside," a claustrophobic document from the early days of the pandemic.
Patton was an immediate and passionate supporter of the special, tweeting, "I'm so happy to be in a creative field that includes people like @boburnham. Someone who always fearlessly pushes the boundaries of the form, and gives everyone the breathing room to [be] creative & imagine better." Now, Oswalt has doubled down on his praise of the comedian.
Oswalt's daughter reignited his love of Bo Burnham's comedy
In an appearance on Justin Long's "Life is Short" podcast, Patton Oswalt credited his 13-year-old daughter Alice with reintroducing him to Burnham's older work–even if it means she's less interested in her old man's comedy. "Now, her big comedic hero is Bo Burnham," Oswalt said. "So I'm like, 'Bo's great, but some of daddy's shenanigans paid for this house!' She plays his albums all the time in the car," Oswalt continued. "I already loved them, but now I'm listening to them over and over again and I'm like, 'Oh, he is a freaking genius! Oh my God.'"
Ever the jokester, Oswalt couldn't help but rib Burnham just a bit. "He's one of those guys like Jon Hamm where you're like, 'Handsome or funny! Pick, you don't get both of those!'" Still, Oswalt had overwhelmingly positive things to say about the fellow comedian. "Selfishly, it feels really good to have somebody young doing comedy that's brilliant. And you realize, 'Oh, the form is going to keep getting better!'"
Ultimately, Oswalt praised his colleague for pushing the medium forward. "I can't think of anything more depressing than the art form that you're pursuing, that you are the last good thing in it. You want to feel like, 'No, there's people that are going to do even better with it. This is great!'"