Fans Are Thrilled To See Ari Aster Make A Grand Return In Beau Is Afraid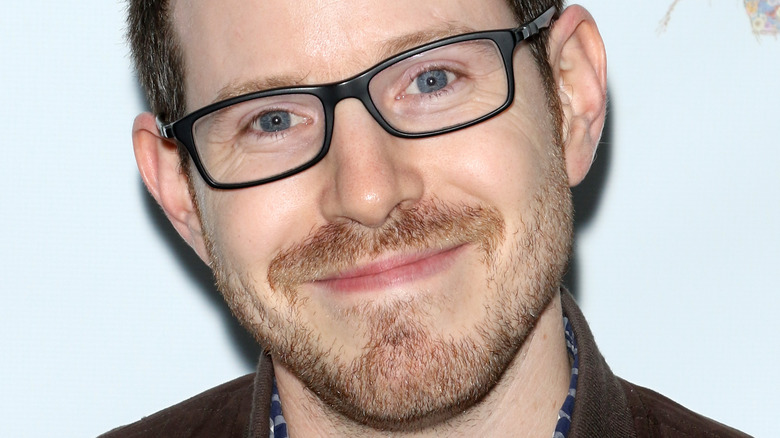 Jim Spellman/Getty Images
In the increasingly mechanical world of mainstream Hollywood, where it feels like directors' voices are being heard less and less, A24 has offered a haven for directors, both old and new, to unleash their unbridled vision with no apologies. From showing the world Robert Eggers' historic horrors such as "The Witch" and "The Lighthouse" to allowing Barry Jenkins to craft one of cinema's most tender love stories in "Moonlight" to the Daniels' rocking our socks off while making us bawl with "Everything Everywhere All At Once," the cinematic offerings from A24 never forget to honor the voices behind these movies. And amongst this crop of phenomenal filmmakers is successful horror auteur Ari Aster. 
Since sending shivers down our spines with his 2018 film "Hereditary," Aster became a hot name in the horror game, as the film became A24's highest-grossing title until 2022's "Everything Everywhere" (via Deadline).  With both "Hereditary" and his following 2019 folk horror effort "Midsommar," Aster has more than proven his ability to think outside the box while still honoring traditions, all while serving rich themes and ideas that audiences can identify with. Aster's next film, "Beau is Afraid," however, will see the horror master wear a very different pair of shoes as he tackles possibly his grandest cinematic venture yet — and fans are here for it all. 
Aster's comedic voice can finally be heard
On January 10, 2023, the first trailer was released of Ari Aster's "Beau is Afraid." The film's plot, according to A24, reads, "A paranoid man embarks on an epic odyssey to get home to his mother." But with its strange visuals and offbeat storytelling, it looks like Aster has more up his sleeves than a one-sentence description can provide.
Fans are giddy to see the horror maestro back in the director's chair. User arnemyggen exclaims, "Finally an Aster movie where his twisted sense of humor is a top priority. Love it." Others are also open to seeing how Aster handles this tone, such as Asher Schmutz, who comments, "Was not expecting Aster's new film to be somewhat of a comedy, but I am all in for it!"
Some believe that the film is shaping up to be a year-defining event, with Diego Perleche believing that "If in 2022 we had Robert Eggers and Jordan Peele with 'The Northman' and 'Nope,' now this year it's Ari Aster's turn ... I'm already excited about how he will do ... with Joaquin Phoenix." Others, such as user Water Hazard, are also thrilled to see how Aster works with the "Joker" star, saying, "Ari Aster and Joaquin Phoenix sounded like a match made in heaven ... "
We're thrilled to see how Aster's newest film performs. As commenter MagikarpUsedFly says, "Ari Aster must be protected at all costs."