Twitter Is Certain Scott Lang Is Dying In Ant-Man 3 After The Second Quantumania Trailer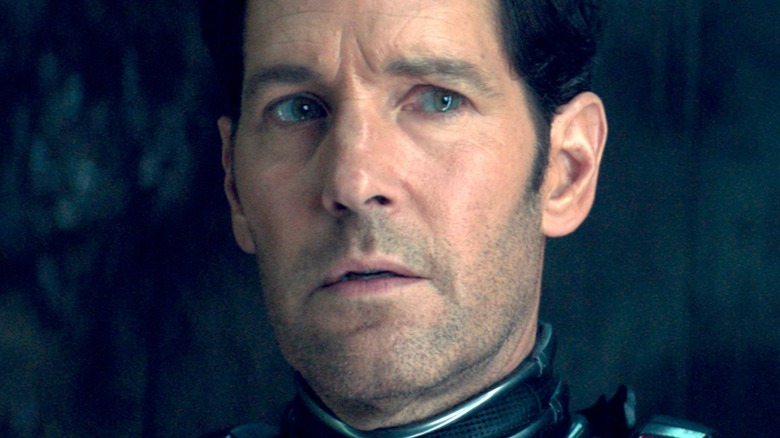 Marvel Studios/Disney
With 2023 officially underway, it's time to start looking forward to the year ahead. For Marvel fans, that means looking over which Marvel Cinematic Universe installments are due out between now and December 31, 2023. Per usual, Marvel Studios is pulling out all the stops, kicking things off with the third film in the "Ant-Man" trilogy, "Ant-Man and the Wasp: Quantumania." Suffice to say, based on what we know about the movie so far and have seen in promotional material, it won't be a fairly breezy heist movie like its two predecessors.
According to the first "Quantumania" trailer, Scott Lang's (Paul Rudd) daughter, Cassie (Kathryn Newton), makes a major mistake. While attempting to communicate with the beyond microscopic Quantum Realm, she ends up sucking her whole family into the itty bitty world. Once there, they're confronted with all kinds of fascinating creatures, in addition to the immensely dangerous Kang the Conqueror (Jonathan Majors). The recently released second trailer expands on his place in the story a bit, and in doing so, it only makes him more terrifying.
Based on what the second "Ant-Man and the Wasp: Quantumania" trailer had to show, MCU fans are both intimidated by Kang and convinced that this is Scott Lang's last run as Ant-Man. To put it more bluntly, fans think he's going to die.
Lang's fate doesn't look good based on Quantumania's advertising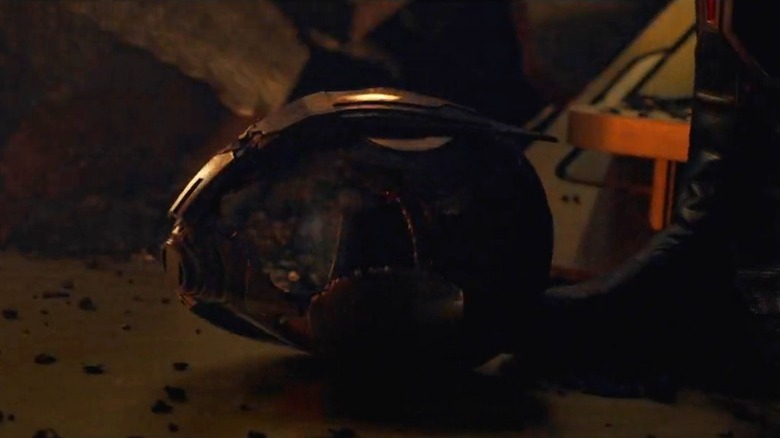 Marvel Studios/Disney
To say that Scott Lang is having a bad time in the second "Ant-Man and the Wasp: Quantumania" trailer is an understatement. Not only does he have to contend with all kinds of Quantum Realm body-doubling shenanigans while trying to get his loved ones out of there, but he engages in a brutal battle with Kang. The villain certainly brings the fight to the size-altering Avenger, even drawing blood and wrecking his helmet with his boot. Therefore, fans on Twitter have largely come to one pretty heartwrenching conclusion: Lang is almost certainly toast.
"scott lang is definitely gonna die in this and i will cry," wrote Twitter user @catboymythic, with @OwennZo tweeting, "I SWEAR SCOTT BETTER NOT DIE. PLEASE SCOTT WE NEED YOU." Clearly a big Ant-Man fan, @theBSboy went as far as declaring war on Disney if Lang doesn't make it out of "Quantumania" alive. @dorotheaivys plans to rope the timeline-disrupting Sylvie (Sophia Di Martino) from "Loki" into this mess should Lang die.
Meanwhile, @robin_wardle offered up an intriguing theory: "616 Scott is going to die. But before he does he tags in a variant Scott who lost his Cassie so that Cassie doesn't lose a dad and alt Scott gets his daughter back." On the other hand, @fixxxer2022 and several others believe Hank Pym (Michael Douglas) will be the Ant-Man that dies, not Lang. Also, @YESITSM1GU3L wonders if Hope van Dyne (Evangeline Lilly), aka the Wasp, could be on the chopping block.
"Ant-Man and the Wasp: Quantumania" premieres on February 17, 2023, so we have to wait until then to see the casualties — if there are any — of Kang's apparent destruction.