Why Netflix Canceled Inside Job After Just One Season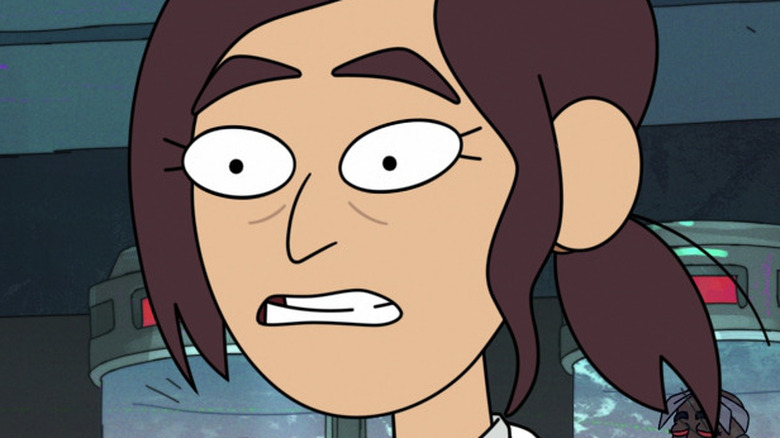 Netflix
Season 1 of Netflix original adult animated sitcom "Inside Job" premiered in two parts, its first half landing on the streaming service in October of 2021 and its second more than a year later in November 2022. "Inside Job" revolves around a secret branch of the government called Cognito, Inc., that effectively functions like a conspiracy theorist's fever dream, leading the world from the shadows in nearly every manner conceivable. Lizzy Caplan stars as the voice of Reagan, an engineer who hopes to advance in Cognito, Inc.'s ranks. Doing so means learning to work with her jockish partner Brett (Clark Duke).
Fittingly, "Inside Job" references plenty of real-life conspiracies, ranging from the existence of Bigfoot to the idea that 5G wireless networks are dangerous. In fact, Brett Gelman once proposed an "Inside Job" and "Stranger Things" teamup, revolving around the fact that he portrays a mushroom-like organism in the former and a conspiracy theorist in the latter.
While such a proposition may have once been theoretically possible given Netflix's stewardship of both properties, news that the streaming service is canceling "Inside Job" began circulating around January 8, 2022. Although Netflix has yet to share an official statement about this decision, some of the creative minds behind the show have weighed in with their thoughts on the unfortunate news, sparking widespread discussion among its numerous fans in turn.
Inside Job's cancellation is one of many at Netflix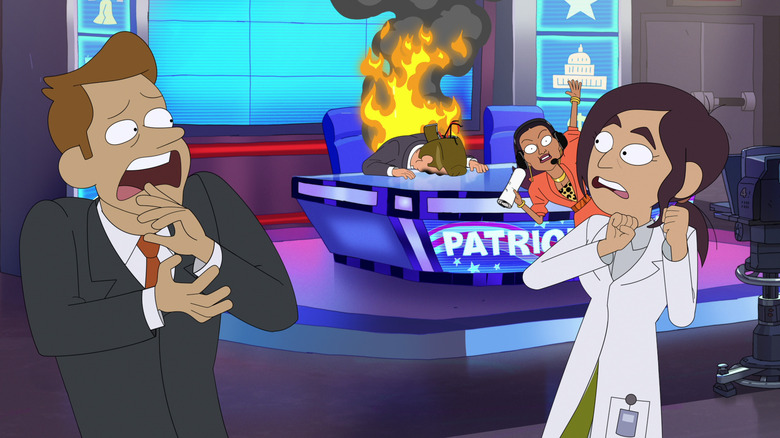 Netflix
The first proper confirmation that Season 1 of "Inside Job" will ultimately be its last came from series creator Shion Takeuchi, who tweeted a brief Notes app statement about the news on January 8. "I'm heartbroken to confirm that Netflix has decided to cancel Season 2 of Inside Job," Takeuchi wrote, before sharing her affection for its principal characters and their ongoing storylines. "To everyone who watched, thank you for coming along on the ride. Even though I'm sad, it helps to know that there's people out there who cared as much about these characters as me," she continued.
In June of 2022, Netflix announced that it had renewed "Inside Job" for a second season (via Deadline), meaning that the streaming service has since reversed course. Just how far along into production Season 2 may have been remains unclear.
Since Takeuchi's statement first began circulating, a number of news outlets reached out to Netflix for comment, but a representative has yet to respond. That said, as Entertainment Weekly notes, the premature end of "Inside Job" follows a string of Netflix series cancellations announced at the end of 2022, including "Midnight Club" and "Fate: The Winx Saga," among others. So, while there may not be a concrete reason available to the public for why Netflix singled out "Inside Job" in particular, its cancellation is but one of many amidst what appear to be company-wide cost-saving measures.
Plenty of Inside Job fans are unhappy about its cancellation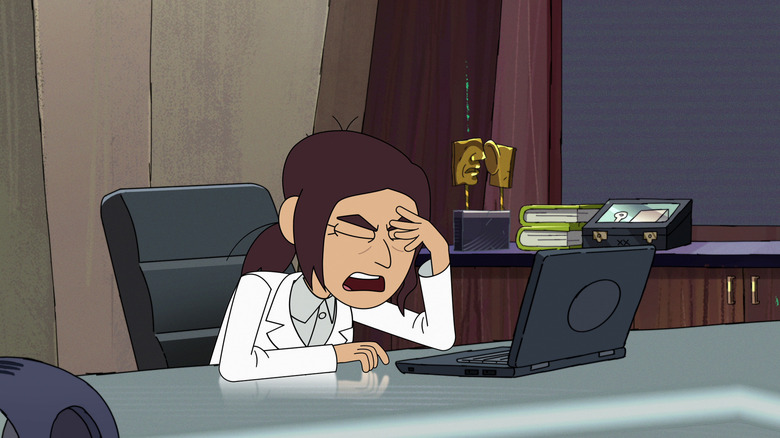 Netflix
Shion Takeuchi's post about the cancellation of "Inside Job" garnered countless responses from Twitter users including more than 20 thousand quote tweets, the majority of which seem to be upset about the news. Some of Takeuchi's peers likewise weighed in, including popular YouTuber Karl Jacobs, who wrote, "One of my fav shows of recent memory! VERY UPSET. Sending love!"
Meanwhile, the official subreddit dedicated to discussing "Inside Job" is full of posts both sad and angry about its cancellation in equal measure. User qvisenya, for example, started a thread proposing that fans of "Inside Job" unsubscribe from Netflix and cite the series' loss as their reason in the company's questionnaire. At least a couple of commenters shared that they support this effort. On a perhaps more optimistic note, another user shared their hope that "Inside Job" might follow the trajectory of "Futurama," which was canceled and revived a handful of times.
If "Inside Job" Season 2 was indeed partway into production before Netflix's reversal, the prospect of its revival may not be an impossibility. Nevertheless, until such an announcement, "Inside Job" can be considered a done deal.