Tom Hanks Named Turner And Hooch's Exhausting Production His Most Difficult Shoot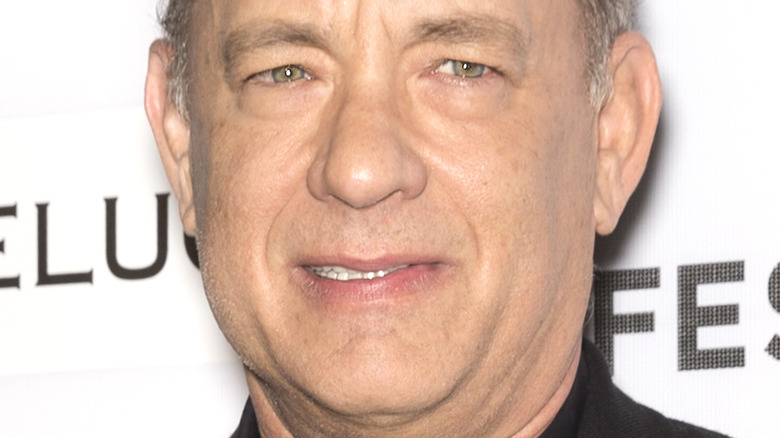 Ovidiu Hrubaru/Shutterstock
When you've spent as much of your life being in movies as Tom Hanks has, there are bound to be some days that are harder than others. But for long-time fans of the two-time Oscar winner, what Hanks considers the most difficult movie moment to pull off might come as a surprise. 
Tom Hanks needs no introduction. There's a good chance that at least one (or more likely several) of your all-time favorite movies star the California native, with the likes of "Sleepless in Seattle," "Apollo 13," the "Toy Story" franchise, "The Green Mile" and "Catch Me if You Can" becoming beloved big-screen gems in their own right and immortalizing Hanks as one of the industry's greatest talents. And as with all the greats, Hanks' reputation didn't come easily. No matter the project, the actor always puts his all into his performances, from taking several days to nail down Forrest Gump's character to nearly dying from infection on "Cast Away."  And that effort almost always shows when seeing the actor in action, elevating his performances as something worth remembering. 
But even more than running across the country in a pair of Nikes, fixing a toothache with a rock and an ice skate, or even re-enacting D-Day, the most grueling moment that Hanks recalls originates from an earlier period in his career, which saw the actor working alongside a very hairy co-star. 
Hanks had a hard time wrangling Hooch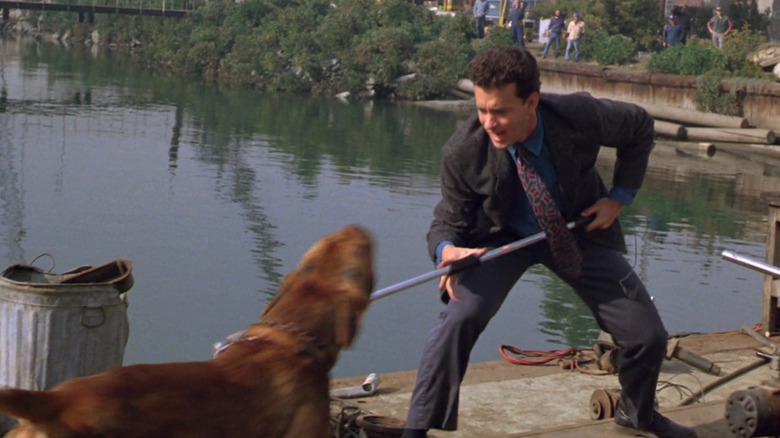 Buena Vista Productions
In the 1989 buddy cop comedy "Turner and Hooch," Tom Hanks stars as Detective Scott Turner, a police investigator who finds himself caring for an unruly French Mastiff who happens to be the only witness to a murder. The film received mixed critical reviews but was a box office success (via Box Office Mojo) and spawned a short-lived 2021 Disney + show. 
In an interview with Collider while promoting "A Man Called Otto," Hanks was asked what scene he remembers being the most arduous to pull off. Hanks recalls a moment in "Hooch" where "I first get that dog in a collar, in a car, or attached to a car, it was ... the most physical, exhausting, time-consuming thing ... this is not a moment of CGI to it, there's not a moment of a stuntman being involved in it. It was just me and Beasley, who was the dog who was playing Hooch ... my body was beaten to a pulp by the time we got to the end, and it was also full of energy the entire time ... it was 33 years ago, and yet I still have tactile memories of how hard that shot was to get." 
Knowing this, it's hard to watch the film without noticing the raw nature of the scene, which, whether intentional or not, adds to the development of the titular duo's relationship as a touchstone of where they start on their journey.