Mila Kunis Wasn't A Huge Fan Of Her That '70s Show Wardrobe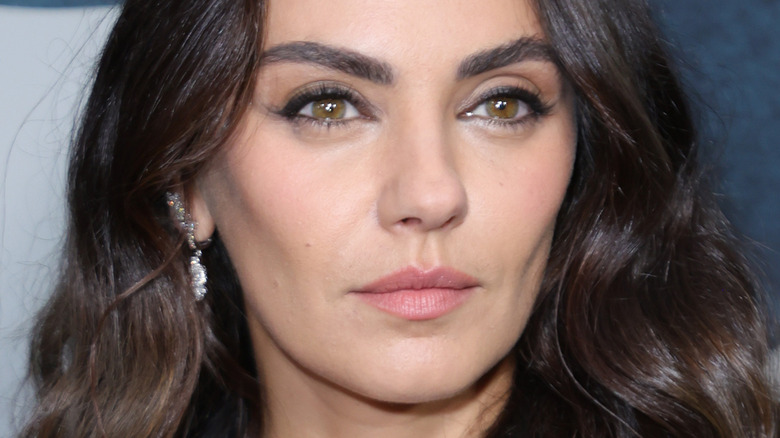 Michael Loccisano/Getty Images
The clothing on "That '70s Show" was extremely authentic, thanks to the efforts of costume designer Melina Root. According to a 2001 article in The Hollywood Reporter, Root put together the look for the show by scouring high school yearbooks in Wisconsin (where the show takes place) to find the perfect fashions of yesteryear. They were able to buy 19 racks of clothes from a warehouse sale at Sony. By the third season, they had an entire warehouse of vintage clothing, and Root made sure that they could recreate any '70s look. "I've been buying up a lot of vintage fabric, so whatever we don't have in stock or we can't find, we can manufacture," Root said at the time.
Some of the cast members seemed to enjoy their '70s wardrobes more than others. In an interview with First We Feast, Mila Kunis was asked about her husband (and co-star) Ashton Kutcher's interview on the program two years prior, in which he said he had just gotten rid of his entire "That '70s Show" wardrobe. Kunis set the record straight as she admonished her husband off-camera for lying. "The entire '70s wardrobe is downstairs," she confirmed.
Kutcher may have loved his look on the show enough that he kept his wardrobe, but Kunis wasn't nearly as thrilled about her retro costumes: She's admitted that she wasn't a fan of that '70s clothing.
Mila Kunis didn't find her '70s outfits very flattering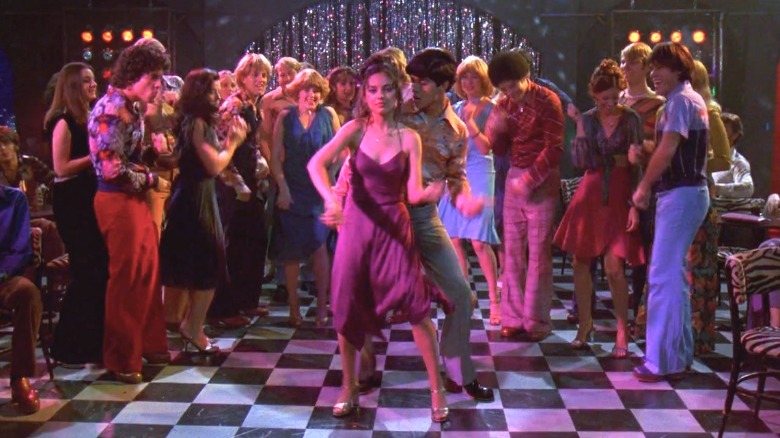 Fox
In an interview for the behind-the-scenes special that aired when "That '70s Show" ended, Mila Kunis gave her very frank opinion about the costumes that she had to wear on the show. "I love the wardrobe people, I adore [them] and I think that they do a fabulous job of putting outfits together. It's not their fault that these outfits are so hideous." She demonstrated her point with the outfit she had on, a polyester pantsuit with pants that she said made it up to her third rib. "It's not flattering, in my opinion," she said.
In the same special, Laura Prepon (Donna Pinciotti) explained that her own wardrobe was pretty simple because her character was meant to be a tomboy, so she was normally given jeans and a t-shirt. She felt sorry that Kunis had to wear all the complicated outfits, she added. Still, as much as she protested, the '70s seem to have worked their way into Kunis' fashion sense after so many years working on the show.
Pop Sugar put together a slideshow comparing some of Mila Kunis' casual outfits from her everyday life with some of the fashions from her character on "That '70s Show," and they do look surprisingly similar. So perhaps Kunis has come to terms with the clothes that she once found to be unflattering. According to Melina Root's Instagram account, the costume designer returned to do the wardrobes for "That '90s Show" as well. Kunis is back for the sequel series, so she has a whole new decade of fashion to explore. Hopefully she doesn't hate it quite as much.