Whatever Happened To Chirp Wheel After Shark Tank?
Back pain is never fun, and there doesn't seem to be any solution for getting rid of it right away. That's what was going through the mind of entrepreneur Tate Stock when he created the Chirp Wheel. Originally called the Plexus Wheel, the Chirp Wheel is an updated version of the typical back pain-alleviating foam wheels on the market. With its innovative design, the Chirp Wheel has the ability to hit even the most minute back muscles that other brands fail to access. Tate created a Kickstarter for the project in 2018 and saw a massive turnout, receiving over $1.5 million despite asking for just $10,000. But, even then, he still saw room for growth.
Tate appeared on Season 12 of the hit reality series "Shark Tank" with a wild investment ask, seeking $900,000 for a 2% stake in the company. Some of the sharks were skeptical, particularly Daymond John, who said that their money should be going to someone more in need of the resources. Several offers were eventually made, and Tate opted to partner up with Lori Greiner, who offered the $900,000 for 2.5% of the company. So, after such a monumental deal, is the inventor of the Chirp Wheel now rolling in money?
Chirp has rolled into new avenues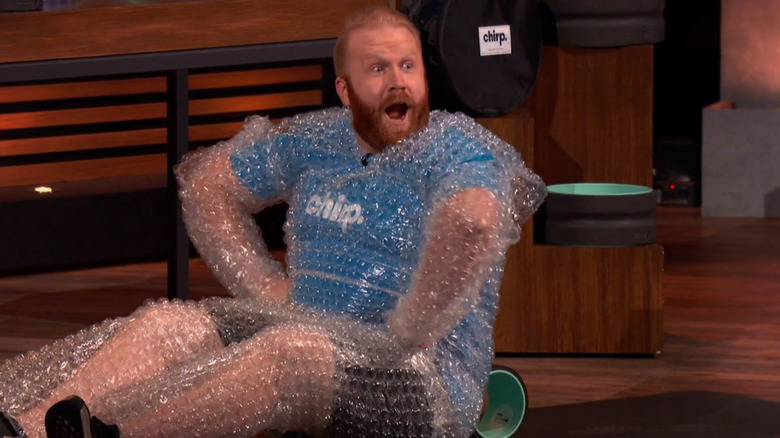 ABC
According to The Shark Tank Blog, the deal between investor Lori Greiner and entrepreneur Tate Stock never went through and it appears as though Tate was on the show for the exposure more than anything else. Tate found himself on the 2020 edition of the Forbes 30 under 30 list, the same year his "Shark Tank" episode aired, so the publicity he was seeking from appearing on the show clearly worked.
Since the episode aired, a variety of knock-off products have popped up online, clearly inspired by Tate's design and concept. Despite this, the business is still going strong. While there hasn't been anything concrete on the company's annual sales, the company was estimated (via Utah News) to be worth between $45 million and $50 million in 2022. Additionally, Chirp Wheel has continued to expand its line with accompanying products such as muscle rollers, back posture controllers, and more.