Kelsey Asbille Shares A Whole Tranche Of BTS Images From The Yellowstone Midseason Finale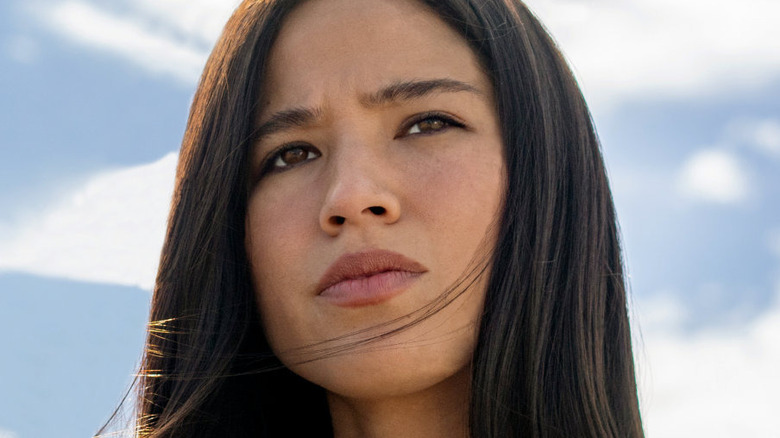 Paramount Network
Some may think that raising cattle and maintaining a ranch would be a simple life full of hard work with a satisfying payoff. Toiling the land, getting up when the sun rises and going to bed when it sets, taking care of animals — sounds pretty idyllic, no? Turns out, that isn't necessarily the case, at least when it comes to the mega smash hit television series "Yellowstone." Having just finished a mid-season finale, "Yellowstone" shows that a simple ranch can be anything but.
Normally, the politics and affairs of "Yellowstone" are taken care of by the Dutton family, which is led by John Dutton (Kevin Costner). His children, Beth (Kelly Reilly), Jamie (Wes Bentley), and Kayce (Luke Grimes), generally have a fairly interesting dynamic with their father, with Jamie, in particular, becoming a thorn in the rest of the family's side. Of all of John's children, Kayce is probably the most normal, though both he and his wife Monica (Kelsey Asbille) experience some incredibly potent trauma in Season 5. Luckily, both Kayce and Monica love each other, regardless of the outside influences that attempt to sway their opinions and manipulate their thoughts.
Despite the heavy-handed social interactions and relationships in "Yellowstone," it seems as if the production of the hit television show is quite different behind the scenes. 
Yellowstone's set looks like a lot of fun
Kelsey Asbille may play an outsider among the Dutton family in "Yellowstone," but after taking to Instagram and sharing some pictures, "Yellowstone" appears to be a completely different environment when the cameras aren't rolling. The star released nine different pictures, and captioned the post, "thanks for tuning in ! we love you , see yall in the summer," and punctuated the statement with a smile emoji. Asbille's first image shows off several cowboys and horses being spoken to and directed, while the second image shows off a group of people at the state fair with one cowboy holding a large pink bear and many of the extras on set have a big smile on their face.
The next image is a picture of a camera set upon Kayce and Jamie as they laugh, followed by another picture of the back of a camera that has Kelly Reilly's Beth looking somber and distraught, which is really the most serious picture out of the bunch. These pictures are then followed with a brief clip that shows the cast members goofing off and dancing while Asbille holds her camera and films, and the group definitely looks like they are having a lot of fun. The next pictures are of friends smiling in front of a barn, cups with positive messages directed towards Asbille, a quote involving Zach Bryan, and the final image is that of Asbille with a drastically different haircut.
Even though "Yellowstone" is ratcheting up its family drama and fans will have to wait till summer for the next part of Season 5, at least it is now known that the cast and crew of the popular series are having fun creating the next installment.