Why Gail McLeod From Chicago Fire Looks So Familiar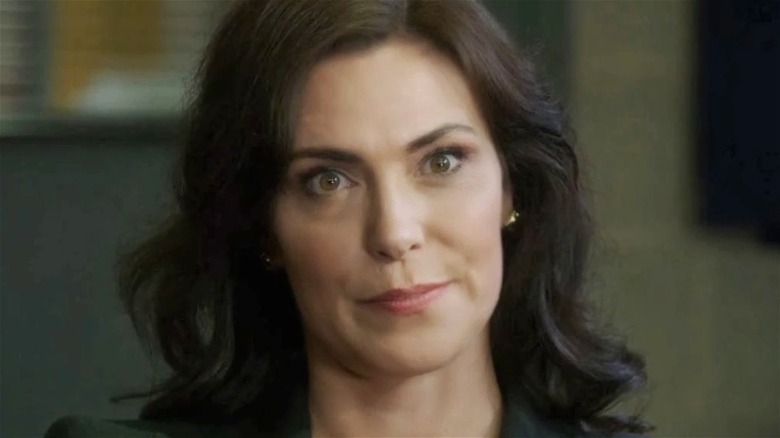 NBCUniversal Television and Streaming
Introduced as a new antagonist in "Chicago Fire" Season 2, Gail McLeod has an unenviable mission. As the Deputy Director of Finance for the State of Illinois, she has to reduce the budget of the Chicago Fire Department, and this puts her on a collision course with Firehouse 51's Chief Boden (Eamonn Walker). Played to perfection by Michelle Forbes, Gail is a character viewers love to hate, and that's down to the actor's compelling performance.
If you've ever watched "Chicago Fire" and wondered why Gail looks so familiar, that's because Forbes is a TV veteran with over 70 acting credits to her name. From medical dramas and cop shows to science fiction and fantasy, the Texas native has done it all over the years. She's picked up plenty of critical acclaim along the way, including a Primetime Emmy nomination for outstanding supporting actress in a drama series. Here's where you may have seen her in action before. Spoilers ahead.
Forbes joined the Bajoran Resistance in Star Trek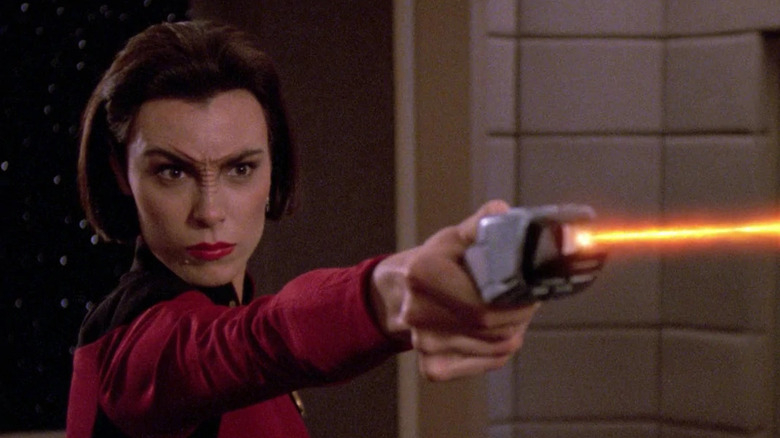 Paramount
"Star Trek" fans will likely recognize Michelle Forbes as Ensign (and eventual Lieutenant) Ro Laren from "Star Trek: The Next Generation." The character first appeared in Season 5's "Ensign Ro," in which the Enterprise crew is ordered to capture a Bajoran terrorist who is responsible for an attack on the Federation. As a Bajoran herself, Ro is assigned to the Enterprise to assist the crew in the capture of the terrorist, known as Orta.
Captain Picard (Patrick Stewart) is initially hesitant to have Ro on board. She was previously court-martialed and sentenced to prison for her behavior during an away mission — her actions resulted in the deaths of her team members. However, Ro quickly proves herself to Picard and becomes a valuable member of the Enterprise crew. That's why Picard takes it so personally when she opts to leave Starfleet to join the Maquis, a rebel group fighting against the Cardassian occupation. It's a cause close to her heart, though she does express regret for betraying Picard's trust.
Forbes was supposed to be involved in the next "Star Trek" series, "Deep Space Nine," but she turned down the chance to return. "If I'd gone on to do 'DS9,' I might not have had the variety I've been lucky to have in my career," she told TV Zone magazine (via TrekToday). "That's not to say I wasn't grateful for the opportunity; I genuinely was. However, I had to make a choice that felt right for me, which was a difficult one."
Forbes lost her father in Homicide: Life on the Street
NBCUniversal Television Distribution
Forbes portrayed Dr. Julianna Cox in the acclaimed crime series "Homicide: Life on the Street." Julianna was introduced in the Season 5 episode "M.E., Myself, and I," in which she returns home to Baltimore to be closer to her sick father. She takes on the role of Chief Medical Examiner and begins a romantic relationship with Detective Mike Kellerman (Reed Diamond). Julianna begins going off the rails when her father dies, regularly driving too fast and drinking her sorrows away to deal with her loss.
Forbes was a breath of fresh air for the series, which is based on the same nonfiction book as "The Wire." Her character refuses to budge when it comes to her morals, which ultimately led to her leaving the series. In Season 6, Julianna is pressured to fabricate evidence from a car crash. She refuses to do so and is fired as a result. Because of this, Forbes did not take part in Season 7. However, she did reprise her role in "Homicide: The Movie" in 2000. The plot sees Julianna return to help the team catch the person who tried to assassinate her former shift commander.
Forbes was severely injured in 24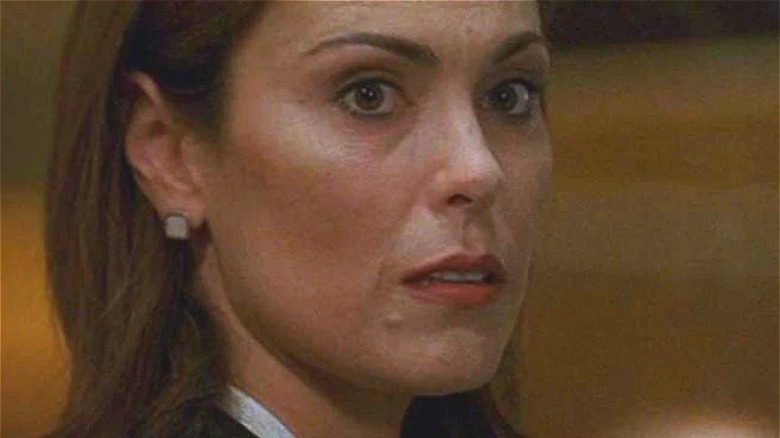 20th Century Fox
After a few small TV appearances in the early noughties, Forbes landed a recurring role on the hit Kiefer Sutherland-led series "24." She played Lynne Kresge, a Foreign Policy and Crisis Management advisor to the president. The character appears in the second and third season, featuring in 18 episodes. She is introduced during a briefing from NSA deputy head Eric Rayburn (Timothy Carhart), who explains to the room that he's been informed of a nuclear weapon currently in the hands of a terrorist somewhere in Los Angeles.
The terrorist was thought to have been killed in a previous attack, but intel has him alive and well. Lynne works with the team to try and avoid another terrorist attack but gets caught in the crossfire. She suffers a severe injury at the bottom of a staircase, with doctors suggesting that Lynne has suffered neurological damage. She does her best to warn the president of the danger he's in by pointing to her attacker, but she's unsuccessful. Lynne is driven away in an ambulance with her fate left unknown.
Forbes featured in two J.J. Abrams shows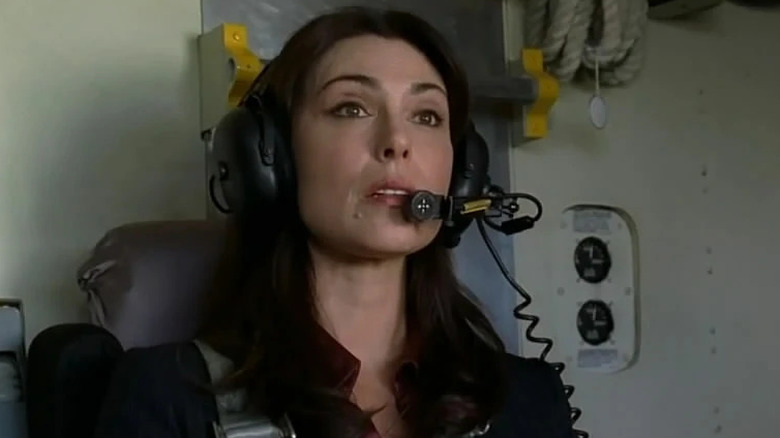 ABC
Before J.J. Abrams was known as the man behind the "Star Wars" sequel trilogy and the "Star Trek" Kelvin timeline, he was creating mind bending sci-fi shows. Michelle Forbes guest starred in two of them: "Alias" in 2005, and "Lost" in 2008.
Forbes appeared in Season 4 of "Alias," playing Maggie Sinclair. Maggie is a doctor who gets tortured by Arvin Clone, a man brainwashed into thinking he's Arvin Sloane. She is forced to build a device that will help him get one step closer to uncovering the mysteries surrounding renaissance creator Milo Rambaldi.
In "Lost," Forbes played Karen Decker, the PR manager of Oceanic Airlines. She works with the so-called Oceanic 6 during their press conference on how they survived the plane crash. Her guest role came in Season 4's "There's No Place Like Home," by which point the show was starting to attract some criticism — while it was a cultural phenomenon at the time, the general consensus is that the series lost direction. The ending still divides opinion to this day.
Forbes was a force to be reckoned with in Battlestar Galactica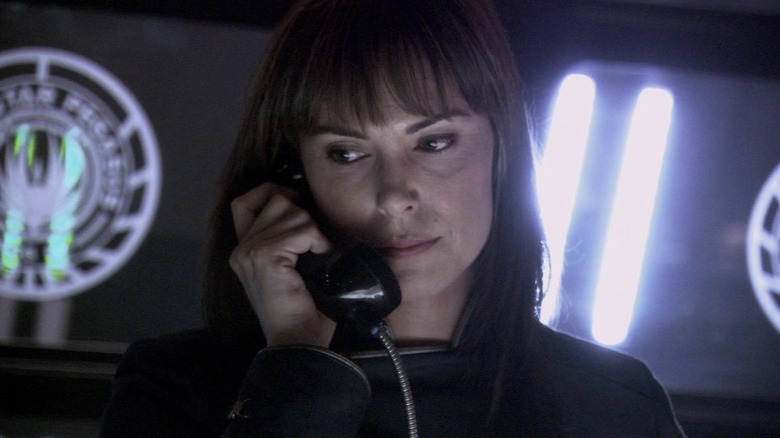 NBCUniversal Television Distribution
Forbes continued her streak of guest starring roles in the mid-00s, this time going back to her sci-fi roots with a part in the rebooted "Battlestar Galactica." Forbes took on the role of Helena Cain, the admiral of the Battlestar Pegasus. Her introduction is an exciting one as the Galactica and the civilian fleet thought they were the only human survivors in the entire galaxy. However, things quickly take a turn for the worse when the Galactica crew learns that Cain rules with an iron fist, witnessing her cruelty firsthand. Before long a full-blown war has broken out between the Pegasus and the Galactica, which results in Cain's death.
Forbes somehow manages to bring a likeability to a character that ought to be reprehensible, making audiences understand her point of view. She lives in a kill-or-be-killed state of mind, and as Lieutenant Kara "Starbuck" Thrace points out, the human race may have been safer with Cain alive rather than dead. Forbes had a great time working on the show, telling SFX Magazine (via GamesRadar) that the atmosphere on set was something special. "I can tell you that I've worked on a lot of shows and it's 100% genuine that there was great camaraderie on this one," she said. "It was a beautiful thing to witness the respect between the actors and writers."
Forbes worked for The Company in Prison Break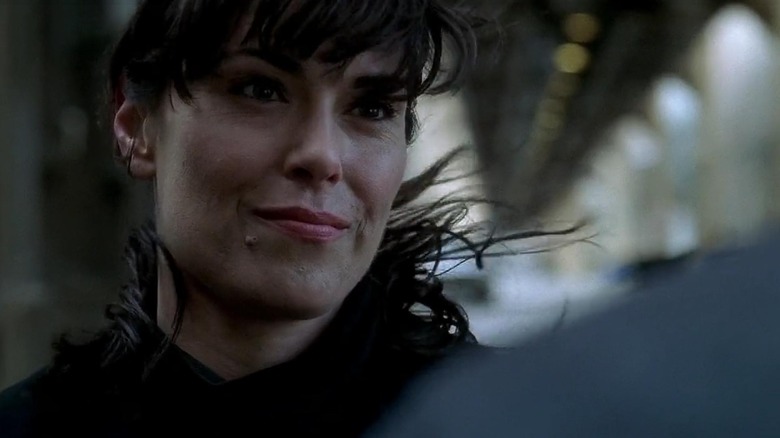 20th Television
Following her time on "Battlestar Galactica," Forbes had a recurring role on the hit show "Prison Break." She portrayed Samantha Brinker, an employee of the secret organization known as The Company. The Company is so powerful that they hold influence and control over major decisions that most countries make. They do this by controlling a country's economy — in other words, they're a superpower. However, one major downside of working for The Company is that they treat their employees as dispensable tools used to achieve their goals.
This is likely what happened to Samantha. After helping Richard Mills (Daniel J. Travanti) become president, she gets removed from her role and audiences never see her again. While it's never confirmed, it is likely that President Mills had her killed to tie up loose ends. Much like "Lost," "Prison Break" was a cultural phenomenon that went steadily downhill in the eyes of viewers and critics. Luckily, Forbes got to ply her trade on the show during its prime, appearing in seven episodes of the groundbreaking first season.
Forbes brought the mayhem in True Blood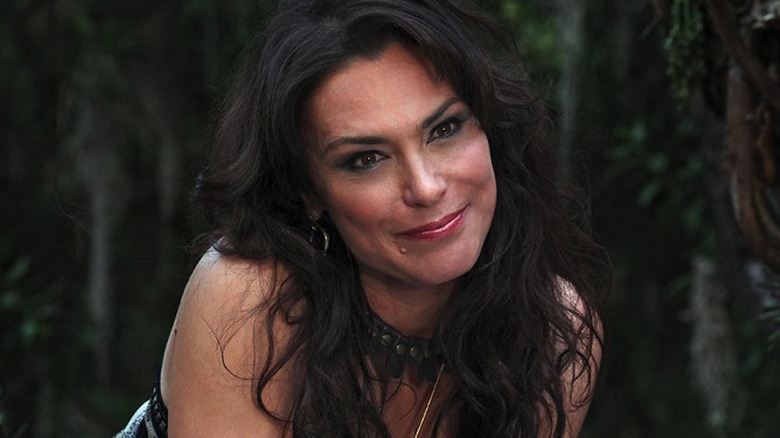 Warner Bros.
Forbes moved away from her traditional tough characters when she starred in HBO's "In Treatment," which follows therapist Paul Weston (Gabriel Byrne) and his wife Kate (Forbes) as they come to terms with their failing marriage. Critics loved it, but fans much preferred Forbes' other HBO show, "True Blood." Forbes portrayed Maryann Forrester in the first two seasons of the fantasy horror hit. Maryann is introduced as a friend for Tara (Rutina Wesley), who is looking to get away from all the supernatural drama in Bon Temps, Louisiana. However, it quickly becomes apparent that Maryann is anything but friendly: She becomes the main antagonist of Season 2.
Initially disguised as a social worker, Maryann actually worships a deity called Dionysus and is looking to sacrifice supernaturals in his honor. Her hope is that when enough souls are sacrificed, Dionysus will return to Earth and walk among them. By the end of Season 2, she is able to cast a spell to control most of the residents in town. Speaking to SyFy (via MTV), Forbes revealed that Maryann is one of the hardest roles she's ever taken on. "She has ultimate freedom, and strangely that's a very difficult thing to play," she said. "She has a different moral construct and a different construct altogether from the rest of us. She is not shackled by any of the things that we are shackled by."
Forbes lost her daughter in The Killing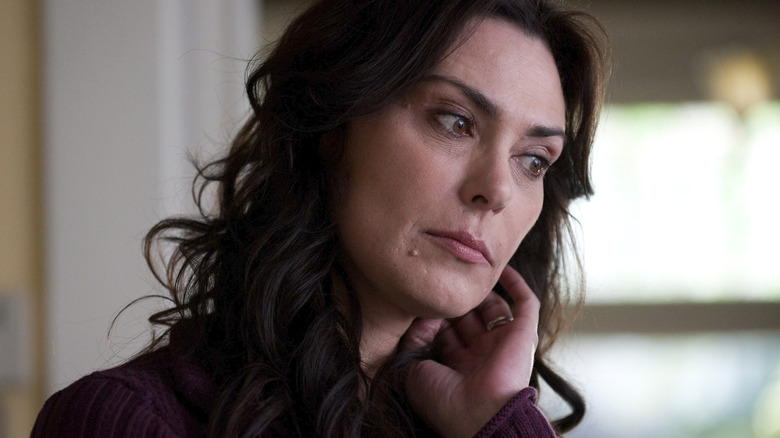 Fox Television Studios
In what is arguably her most famous role (it's the one she received her Emmy nomination for), Forbes starred as Mitch Larsen in "The Killing," based on the Danish television series "Forbrydelsen" ("The Crime"). Season 1 of this gritty AMC drama follows the case of murdered teenager Rosie Larsen. Forbes portrays Rosie's mother, who is so overcome with grief that she sees the perpetrator of the crime everywhere. The series depicts how the family copes with the loss of Rosie while unraveling the mystery surrounding her death.
On top of her Emmy nod, Forbes was nominated for a Critics Choice Award for best supporting actress in a drama series. In total, the show was nominated for 47 awards, taking home three of them. Playing a grieving mother took a real toll on the versatile actor. "There's a tiny bit of masochism in us actors to sort of voluntarily walk down that road," she said (via Gold Derby). "It's such a heightened circumstance, the loss of a child. It's not a pleasant place to go every day."
Forbes clashed with Katniss in The Hunger Games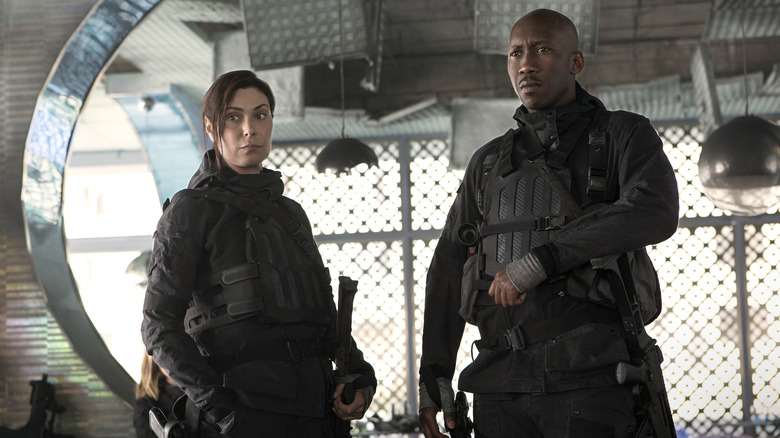 Lionsgate
Forbes said goodbye to the small screen for a bit when she was cast in the massive film "The Hunger Games: Mockingjay Part 2." She portrays Lieutenant Jackson, a soldier from District 13 who is second in command of Squad 451 — the squad that takes Katniss (Jennifer Lawrence) to the Capitol. After their commander, Boggs (Mahershala Ali), is killed, Jackson attempts to take over the squad, hoping to keep everyone safe during their mission. However, Katniss has other plans.
Katniss lies to Jackson, telling her that she has a secret mission to kill President Snow (Donald Sutherland) and that Boggs wanted her to be in charge. Jackson begrudgingly agrees to this and ends up being an ally for the team, sacrificing herself to ensure that they survive to carry out the mission. Even though the mission is based on a lie, she still believes in what Katniss represents for the rebellion — a symbol of hope, of change, and of freedom.
Forbes worked for the CIA in Berlin Station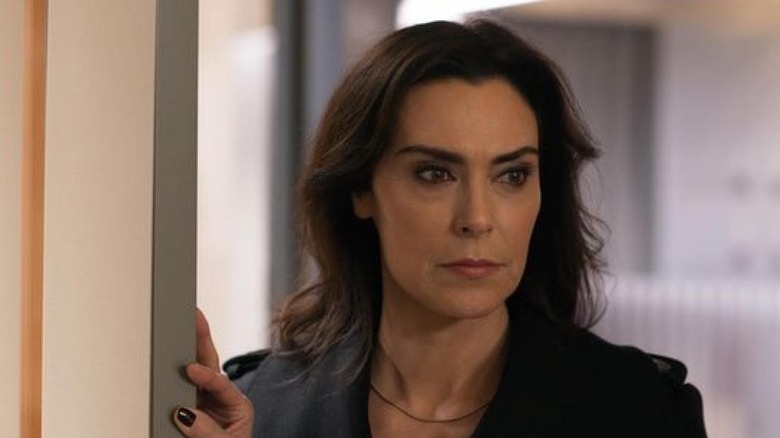 Paramount Television
"Berlin Station" is about a CIA station in Berlin, Germany. The series was actually shot in Germany, much to the delight of Forbes, who plays Global Affairs Branch Chief Valerie Edwards. The actor told IndieWire that Berlin is one of her favorite cities, which made her excited about the role. Her enthusiasm only grew once she saw the cast list: Richard Armitage, Ashley Judd, Rhys Ifans, and Keke Palmer also feature. "I always say there are so many different reasons you choose something," she said. "It could be actors you want to work with, or the material. ['Berlin Station'] was just all of those things together. Everything about it felt right."
Season 1 sees Valerie investigating a leak that's coming from her office. She's a moral character who's constantly being tested on how far she needs to go in order to get the job done. This is something that Forbes found intriguing about her character. "Because of Valerie's tenure and experience she is quite aware that it's very easy for people to lose their moral way, to switch their loyalties," the actor told Channel 4. "That's the beauty of this show and the beauty of the writing."
Forbes was a Medical Director in New Amsterdam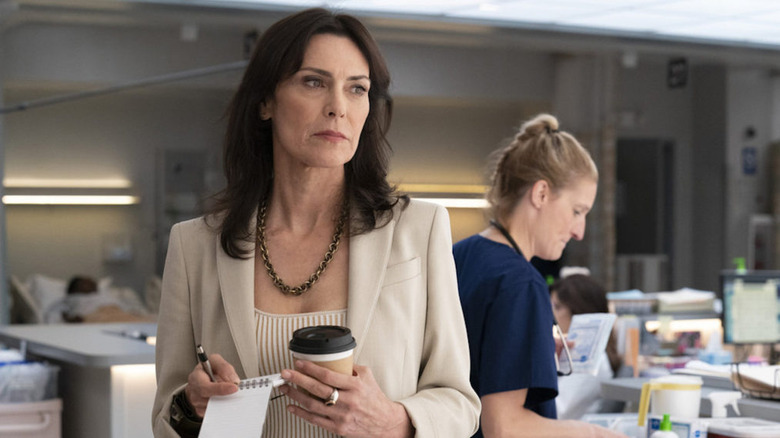 NBC
In 2021, Forbes made her debut as Dr. Veronica Fuentes in the NBC medical drama "New Amsterdam." Forbes really shook things up with her role as the Medical Director of New Amsterdam Medical Center. She's a force to be reckoned with, rubbing most of the staff up the wrong way. Most of Season 4 revolves around the takedown of Veronica due to her criminal negligence. Just when it looks like she's won and that she will never leave, the essential workers go on strike, fighting back against her insufferable policies. The strike works, and Fuentes is shown the door.
Veronica Fuentes is far from the only doctor character that Forbes has portrayed over the course of her career. Fans of "Orphan Black" will know her as Marion Bowles, a Dyad Institute employee. She was also Dr. Pen Verrity in "Durham County," Dr. Lyla Garrity in "Wonderland," and Dr. Sonni Wells in the soap opera "Guiding Light," her first ever small screen credit. Video game fans will know her as the voice of Dr. Judith Mossman in the "Half-Life" series. Whether she's playing a medical professional, a villain, or a mixture of the two, Forbes always brings her A-game, making her one of TV's most recognizable character actors.