Where Was Netflix's The Pale Blue Eye Actually Filmed?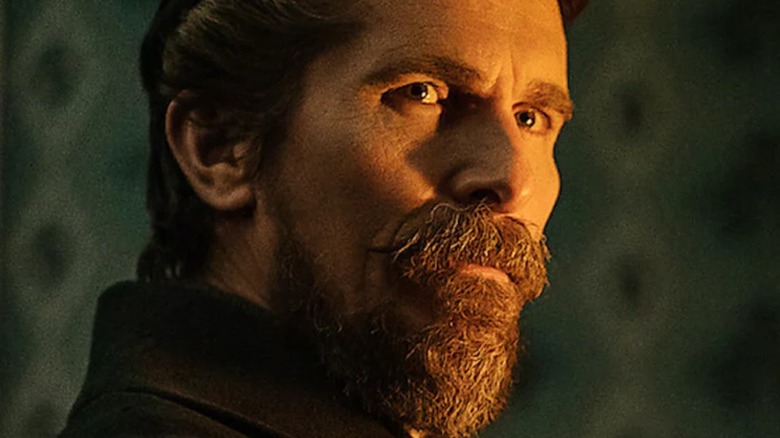 Netflix
Scott Cooper's "The Pale Blue Eye," like many of his movies, comes drenched in a sense of dread. In terms of cinematography, it's one of his darkest and most dreary cinematic projects to date — with countless gloomy shots and gothic themes that should have Edgar Allan Poe clapping in his grave. But are the locations and places we see in the Christian Bale-led mystery film actually real? 
Based on the 2003 book of the same name by Louis Bayard, "The Pale Blue Eye" takes place in West Point, New York, during the year 1830. The synopsis and logline released by Netflix describe Bale's character, Augustus Landor, as a "world-weary detective" who is hired to "discreetly investigate the gruesome murder of a cadet." With the cadets sworn to secrecy under a code of silence, Landor must team up with one of them in order to try and crack the case. The cadet turns out to be none other than Edgar Allan Poe — yes, that Edgar Allan Poe — played by "Harry Potter" star Harry Melling. 
Reactions to "The Pale Blue Eye" have been largely mixed since its December 23 release, with it garnering a 67% Tomatometer rating and 77% Audience Score on Rotten Tomatoes. The site's Critics Consensus describes it as lacking its source material's "piercing gaze," but notes how the movie's "well-cast mystery is just intriguing enough to investigate." Not to mention, its cinematography and tone "evokes the eeriness inherent in Poe's work, the thumbscrew tension of detective examinations, and the romantic despair of Gothic literature," as Den of Geek's Tony Sokol puts it. 
And a huge part of this comes from the excellent shooting locations that Cooper and his team chose to use for the film, which we discuss here.
The Pale Blue Eye was filmed entirely in Pennsylvania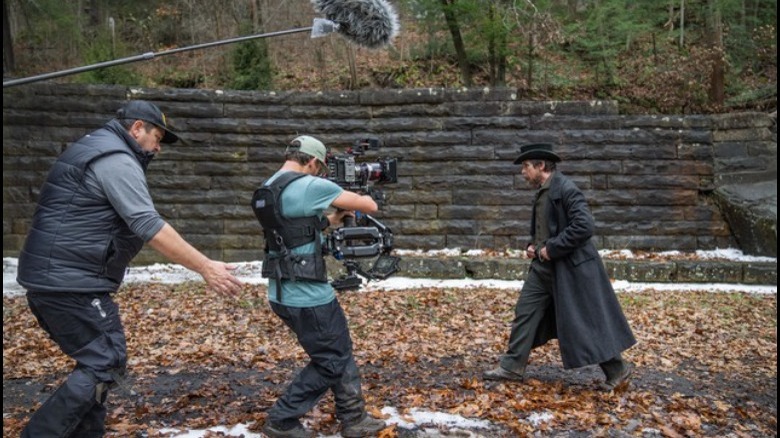 Netflix
According to the Pittsburgh Post-Gazette and other sources, Scott Cooper's "The Pale Blue Eye" was shot around Steel City and other parts of Pennsylvania (via Distracitfy). One popular location that Cooper and his team used was the Compass Inn Museum, which saw its historic blacksmith shop get transformed into an 1830s tavern, per Uncovering PA. In fact, newly-elected Pennsylvania Senator John Fetterman and his wife, Gisele, were reportedly used as extras for at least one scene inside the tavern. 
"John's got this fantastic face, hulking figure," said Christian Bale in November 2021 at an early screening (via Philly Voice). "So I said to Scott, 'We've got to have him in the tavern' ... That's a face that fits the 1830s."
In addition to the Compass Inn, some other popular Pennsylvania locations that were used for "The Pale Blue Eye" include McConnells Mill State Park, Westminster College in New Wilmington, Moraine State Park, Penguin Court in Westmoreland County, Old Economy Village in Beaver County, and Allegheny Cemetery in the Lawrenceville neighborhood of Pittsburgh (via Uncovering PA).