Christian Bale Meets Edgar Allan Poe In The Teaser For The Pale Blue Eye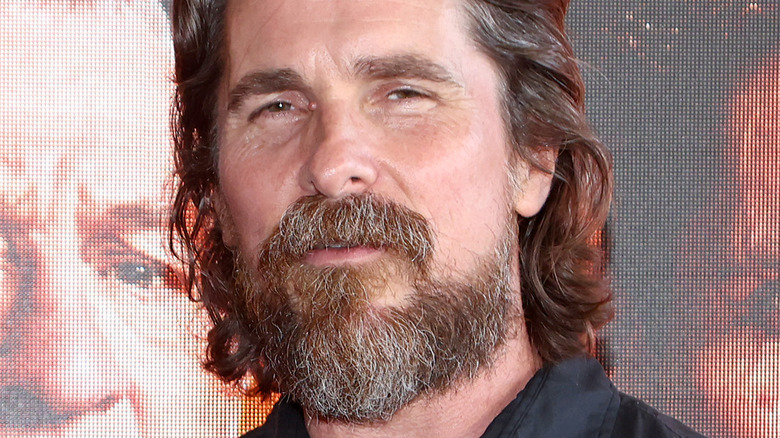 Tommaso Boddi/Getty Images
Origin stories are all the rage these days, and fans of the writer Edgar Allen Poe are in for a real treat. "The Pale Blue Eye," starring Christain Bale and Harry Melling as the infamous author, will delve into his past, and now, everyone has their first look at what the chilling endeavor has in store for viewers.
Oscar-winner Christian Bale has entertained audiences for many years in various fascinating movies. While he prefers to play the villain, looking at his extensive list of impressive credits quickly indicates the man can easily master any persona he takes on. Of the many titles he has contributed to, there are several collaborations with writer-director Scott Cooper, like "Hostiles" and "Out of the Furnace." According to a report from Deadline on February 26, 2022, the two would team up again for the scripted adaptation of the novel, "The Pale Bue Eye," written by author Louis Bayard. The story follows a young Edgar Allen Poe during his time at West Point as a young cadet aiding detective Augustus Landor, played by Bale, in a murder investigation in the year 1830.
The pair's third collaboration would turn out to be a rather big deal before fans even got to see it. The streaming powerhouse Netflix made a record-breaking global deal to attain worldwide rights for $55 million (via Deadline). There has arguably been a lot of hype surrounding the gothic horror feature, and the first teaser for the film previews what's in store for those that are willing to experience the haunting tale.
The Pale Blue Eye trailer teases a dark investigation into a heinous cime
Netflix released the first teaser for "The Pale Blue Eye" (via YouTube) and while it doesn't give away much, the few bits it does show are undeniably intriguing. A winter-ridden forest is the scene of, judging from everyone's reactions, a heinous murder. As detective Augustus Landor, Christian Bale sleuths and struggles his way to the truth while also charming ladies and getting into knife fights. Fans also get a glimpse of Lucy Boynton as Lea Marquis and Gillian Anderson as Mrs. Marquis. Bringing the entire unnerving tease together is Harry Melling's Edgar Allen Poe narrating one of his signature dread-inducing lines, who is also showcased in uniform in the video.
There is no denying viewers are in for an eerie experience when they check out "The Pale Blue Eye." According to Netflix, several movies such as "The Haunting," "Nosferatu," and "Bram Stoker's Dracula" inspired Scott Cooper when crafting his motion picture with Edgar Allen Poe before he became a legend. "Poe, at this young age, was quite warm and witty and humorous and very Southernly," the writer and director told Vanity Fair. "The experiences that I'm putting forth in this film led him down the darker paths that we have come to know him for."
Before "The Tell-Tale Heart," "The Raven," and "The Pit and the Pendulum," Edgar Allen Poe's first foray into darkness came in the form of a harrowing murder investigation, and fans will get to see that chillingly compelling story unfold in "The Pale Blue Eye" on Netflix on January 6, 2023.