Who Played Mike Sorensen On Chicago PD?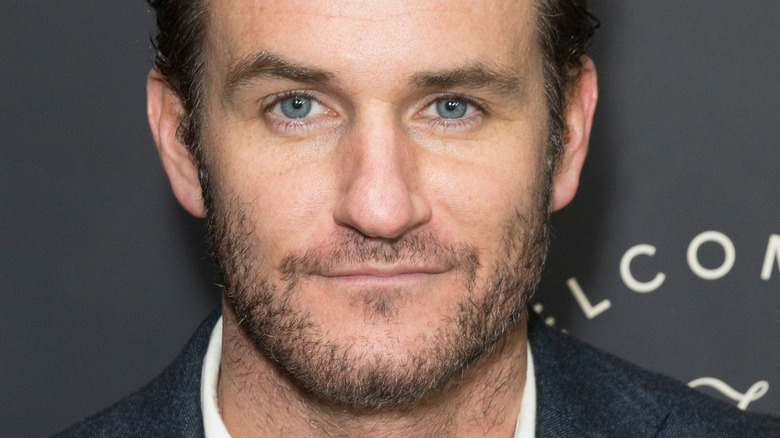 lev radin/Shutterstock
Appearing in a trio of episodes on NBC's popular police procedural "Chicago P.D.," Officer Mike Sorensen has a relatively brief but colorful tour of duty with the 21st District Intelligence Unit squad in this One Chicago hit. Introduced for the first time in the Season 4 episode, "Some Friend," Sorensen is teamed up with I.U. officer Kim Burgess (Marina Squerciati) on a call that leads to a bloody body and what appears to be a human trafficking ring. Later in the same episode, Burgess and Sorensen chase down a sandwich thief, which results in Sorensen breaking his nose before Burgess tases the culprit.
Sorensen's time on the force doesn't get much better for him in his next appearance in Episode 7 ("300,000 Likes"). In this installment, he and Burgess pull over a suspiciously weaving driver who turns out to be wearing a chastity belt. In an impulsive moment of poor decision-making, Sorensen uploads footage of the stop from his body cam and posts it on Facebook. Desk Sgt. Trudy Platt (Amy Morton) is not amused. And, after turning up for one more stint in Episode 8 ("A Shot Heard Round the World"), Sorensen is never seen again in the show.
So, who was the actor who briefly partnered up with Kim Burgess as Mike Sorensen on "Chicago P.D."?
Veteran actor, producer, director Kevin Kane played Officer Sorenson on Chicago P.D.
In addition to acting in a wide variety of film and TV productions, Kevin Kane's background includes work as a producer and director. Trained at the internationally recognized William Esper Studio school for the performing arts in Manhattan, Kane also co-founded The Collective NY, a theater and film production company where he both acted and directed (via AllAmericanSpeakers.com).
In addition to his three eventful episodes as Mike Sorensen in "Chicago P.D.," Kane can also be seen on screen in some hugely notable films, including Martin Scorcese's "The Irishman," as well as the 2011 film, "I'm Not Me." The actor's episodic series credits include playing Professor Charles in five episodes of Netflix's "Bonding," three different characters across six episodes of "Law and Order: SVU," Brendan De Rossi in "FBI: Most Wanted," and Joseph Farrell in "No Activity."
In addition to his time as a series actor, Kane also won a Peabody Award, TV Critics Award, and a Primetime Emmy as a producer on Comedy Central's "Inside Amy Schumer," but even here he ended up in front of the cameras as well, appearing as an actor for four seasons of the show. Kane has continued to work with Amy Schumer over the years, serving as an actor and special on-set consultant in 2015's "Trainwreck," and was both a producer and actor in her 2017 film, "Snatched" as well as playing "Cute Guy at Pharmacy" 2018's "I Feel Pretty."