Terminator Franchise Regular And Prolific Voice Actor Earl Boen Dead At 81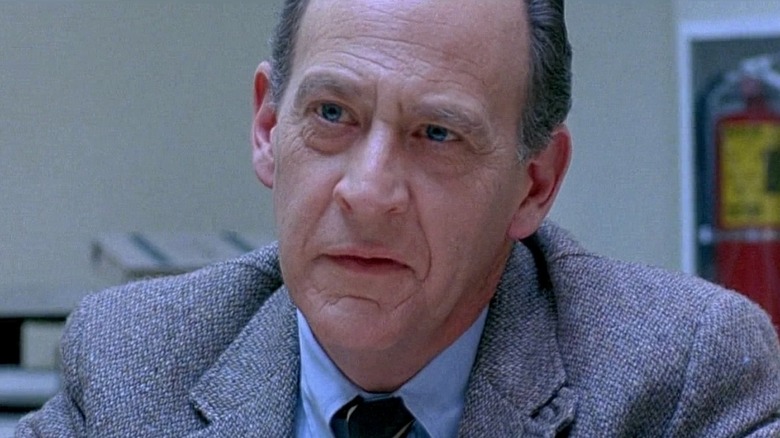 StudioCanal
Prolific voice and character actor Earl Boen –- best known for his appearances in the "Terminator" films –- died on January 5 in Hawaii. He was 81 years old. According to his family, Boen had been diagnosed with stage four lung cancer in 2022 (via Variety).
Born in New York City in 1941, Boen initially started acting in the New York's thriving repertory theater scene before moving to Los Angeles in the 1970s. His first screen credit was in a televised theatrical production of "Cyrano de Bergerac," produced as part of the "Great Performances" series on PBS.
After moving to Hollywood, he seemed to be constantly working on screen for a solid two and a half decades. His film work includes such varied projects as "9 to 5," "The Naked Gun 33 ⅓," and even playing sports broadcaster Howard Cosell in a television movie about Muhammad Ali. His TV series resume is even more impressive, including appearances on "Kojak," the original "Hawaii Five-O," "The Dukes of Hazard," "Tales from the Crypt," "Star Trek: The Next Generation," "The Golden Girls," "The West Wing," and many, many others.
Though he retired from on-screen acting in 2003, Boen had in the meantime also racked up an impressive resume in voice acting for animation and video games, which he continued until fully retiring in 2017. In that time he voiced characters for "World of Warcraft," "Johnny Bravo," and "Kim Possible," among others. In all, Boen had almost three hundred acting credits to his name.
Earl Boen was in the first three Terminator movies
Sci-fi and action fans will probably recognize Earl Boen most from his appearances in the first three "Terminator" movies. His character, criminal psychologist Dr. Peter Silberman, is a fixture in all three films, first examining the time-traveling Kyle Reese (Michael Biehn) in "The Terminator," then Sarah Connor (Linda Hamilton) in "Terminator 2: Judgment Day." He also appears in a single scene in "Terminator 3: Rise of the Machines," but this time – having seen first hand the future that Sarah and Kyle had warned him about — he's comforting Kate Brewster (Claire Danes) rather than trying to keep her locked up.
Interestingly enough, this wouldn't be the only time that Boen played a doctor on screen. Perhaps it was his look, or his air of someone able to keep everything under control, but Boen was frequently cast as a doctor in his roles, playing one in projects ranging from the nighttime soap opera "King's Crossing" (which also starred Linda Hamilton) to an episode of "Family Matters."
Boen happens to be the only actor other than Arnold Schwarzenegger to appear in all three of the first "Terminator" movies, given that Sarah is dead in "Rise of the Machines (later retconned in 2019's "Terminator: Dark Fate") and that a different actor is playing an older John Connor in "T3" (Nick Stahl) than in "T2" (Edward Furlong). "Rise of the Machines" was Boen's last live-action credit, though archive footage of him was used briefly in "Dark Fate."