Terminator Star Earl Boen Lent His Voice To Some Of The Most Iconic '90s Cartoons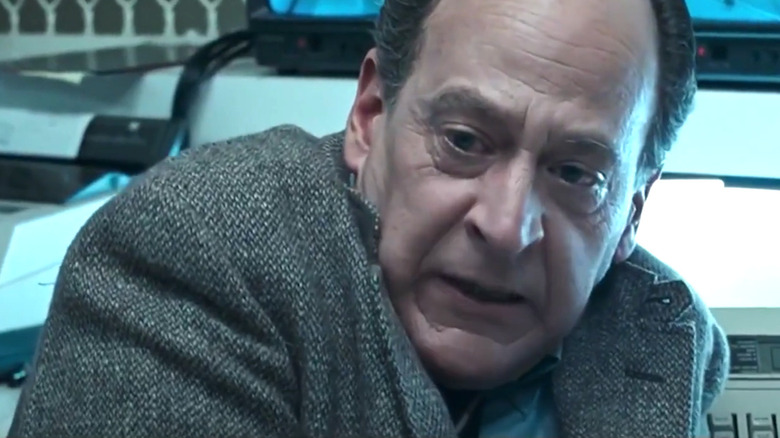 Paramount Pictures
One of the most memorable things about the "Terminator" franchise is its many great antagonists. Perhaps no other film in the series has as many great villains as "Terminator 2: Judgment Day," though. From Robert Patrick's sinister and indestructible T-1000 to Ken Gibbell's abusive orderly, Douglas, there was no shortage of characters to root against in James Cameron's sequel.
Still, "Terminator 2: Judgement Day" fans will recall that the smug, pretentious Dr. Silberman (Earl Boen) is an early vessel for the negative feelings of both Sarah Connor (Linda Hamilton) and the audience as well. As he repeatedly talks down to Sarah and belittles her story, which viewers know to be true from the original film, you can't help but despise him.
However, as much as Earl Boen might be known for appearing as Dr. Silberman in three of the six "Terminator" films, he has also had a prolific career as a voice actor in many cartoons and video games over the years.
Earl Boen might very well be the voice of your childhood
If you're a '90s kid, you'll definitely know Earl Boen's work from the utter smorgasbord of animated films and television shows that he lent his voice to across his career. From Dr. Forbes in "The Real Adventures of Jonny Quest" to Santa Claus himself in "Pinky and the Brain" to Red Skull in "Spider-Man," there's no shortage of memorable series that the voice actor has been a part of (via IMDb).
Boen took over the role of Rex from the "Toy Story" series in many of the video game adaptations of the series as well as that of Commander Lyle Rourke in two of the "Atlantis" video games, also from Disney. Still, the actor's biggest video game role is likely as Sergei Gurlukovich in "Metal Gear Solid 2: Sons of Liberty," though he's also appeared in the "Baldur's Gate," "Fallout," and "World of Warcraft" franchises.
Boen also appeared in several Hanna-Barbera cartoons in the early '00s too, with roles in "Dexter's Laboratory," and "Johnny Bravo," along with Nickelodeon franchises like "The Wild Thornberrys." So, while the actor has sadly passed away, there remains no shortage of places for fans of the performer to see and hear him throughout his vast career.