How Tim Burton Behaves On Wednesday's Set, According To The Cast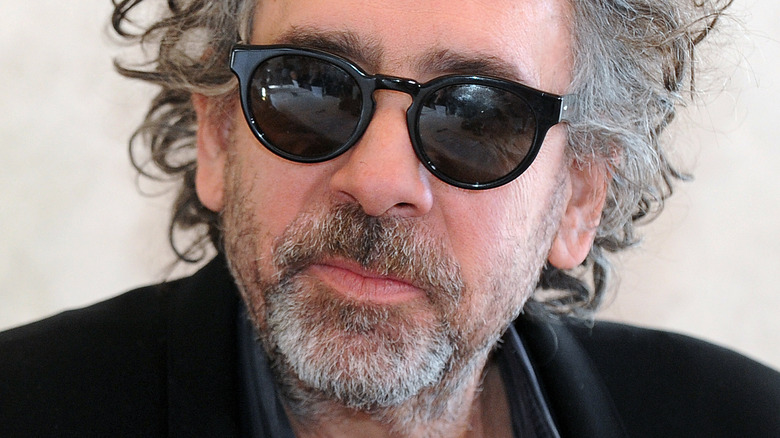 yakub88/Shutterstock
The suspense is killing us. 
Especially after the full trailer for Netflix's upcoming comedy horror series "Wednesday" was released this Saturday, October 8, and it not only showcased more of the TV show than we had seen so far, but it also teased the arrival of Fred Armisen as Uncle Fester, and Christina Ricci, who plays — not Wednesday, of course — but a sweet-looking Nevermore Academy Faculty member called Ms. Thornhill. But not only have we gotten a trailer for the highly anticipated Tim Burton-directed series this weekend, but "Wednesday" also had its own New York Comic-Con panel which revealed a bit more of the ins and outs of the creative process of bringing the Addams family to Netflix. 
In an hour-long video posted by Popverse, the NYCC panel had Tiffany Smith as presenter and included cast members Jenna Ortega, who plays Wednesday Addams, Luiz Guzman, who plays her father Gomez, and Gwendolyn Christie, who plays the Nevermore Academy headmistress Larissa Weems, as well as writers and showrunners Alfred Gough and Miles Millar. This was Ortega's and Guzman's very first Comic-Con experience, while it was Christie's first New York Comic-Con. Later, as a surprise — and after showing an exclusive clip from the series — Fred Armisen was also welcomed onto the stage.
These panelists had some words to share about how Tim Burton relates to the cast and crew and how he acts on set.
A truly unique character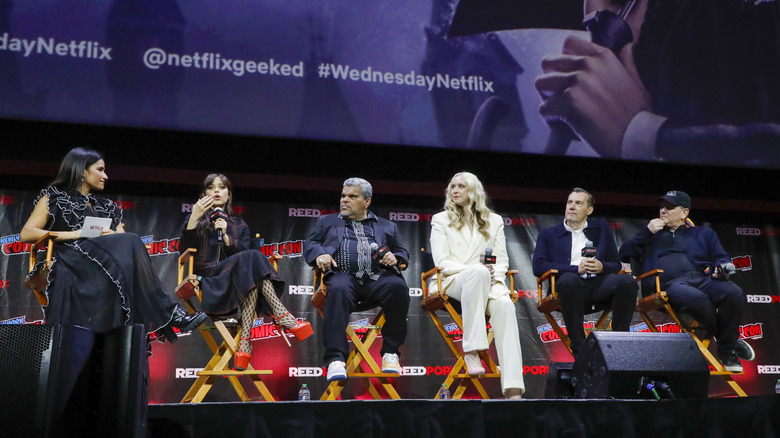 Astrid Stawiarz/Getty Images
When asked by the interviewer, Gwendolyn Christie described the experience of being cast on a Burton project as surreal, since she had wanted to work with the iconic director her whole life. She later added about the 64-year-old filmmaker: "Tim truly recognizes you as a person. He sees you and he liberates you and he is willing to collaborate with you. And the beauty and freedom of that, I believe, is all over the screen in this show."
Later in the interview, after Fred Armisen joined the other three cast members on the stage, the actor said that when he met Burton for the first time, he was surprised by how low his voice was — as he had imagined the filmmaker would have a higher-pitched voice. "He's got the vibe of a New Yorker," Armisen added.
When the line of questioning was redirected towards Jenna Ortega, she described Burton as "a man of few words." So much so, in fact, that sometimes one would have to lean in closer to be able to hear the director speak, as he has the tendency to mumble. Also, according to the 20-year-old actress, the filmmaker has the habit of pacing around like one imagines an eccentric and brilliant artist tends to. "It's one of the joys of working with him" Ortega continues, "because he's so authentic in his reaction always that, if he's unhappy about something you know, and if he's excited about something that he's watching on the monitor he's reacting like a child and clapping his hands." She finished her appreciation of the director by saying "He's very much in his own head, which I admire."
"Wednesday" will hit Netflix on November 23.