An Even More Bone-Chilling Version Of M3GAN Exists In The Archives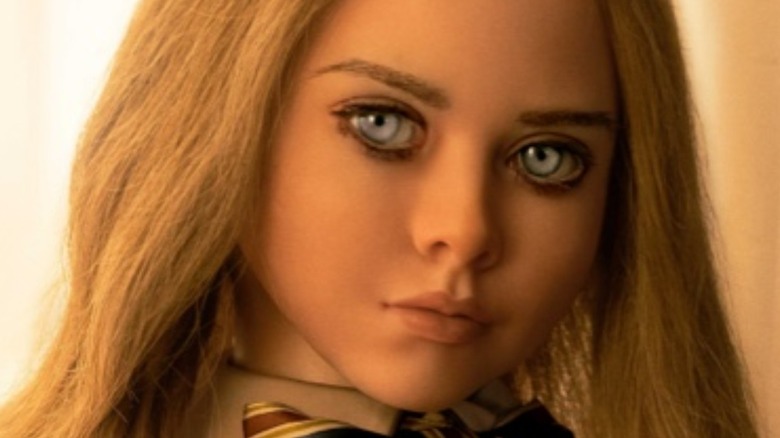 Universal Pictures
The 2023 film year officially kicks off with the campy horror thriller "M3GAN" from Universal Pictures and Blumhouse Productions. As horror fans are likely well aware, Blumhouse is now effectively a genre mainstay, thanks to engaging and provocative hits like "Get Out" and "Happy Death Day." The titular, stylish doll in "M3GAN" herself became a internet icon ahead of the movie's release thanks to the glee with which she kills as showcased in its first trailer. This preview particularly intrigued fans with a scene in which M3GAN (played by Amie Donald and voiced by Jenna Davis) sashays with a handcrafted machete toward her next victim, building anticipation for the horror comedy early on. 
"M3GAN" ultimately leans into its campiness, earning it a near-perfect 94% score on Rotten Tomatoes. This suggests an extremely promising start as the film premieres to enthusiastic theatergoers looking for a bloody good time. "M3GAN" is notably produced by genre veteran James Wan, whose recent work has helped usher in a new generation of horror.
Wan is credited with the story of "M3GAN" alongside Akela Cooper, who serves as its principal screenwriter. This duo previously collaborated on the mind-boggling action horror flick "Malignant" and is teaming up again for upcoming sequel project "The Nun 2." As it turns out, "M3GAN" in its final form is decidedly less bloody than in its initial screenplay, which Cooper revealed might manifest as in unrated cut viewers will hopefully see released before a possible "M3GAN" sequel.
An unrated cut of M3GAN might be forthcoming
The final trailer for "M3GAN" gave viewers a terrifying look at its titular doll's proficiency for killing and the deadly tactics she employs against a few unfortunate victims who threaten either her or her best friend Cady (Violet McGraw). In an interview published just before the film's release, writer Akela Cooper told The L.A. Times that an unrated cut of "M3GAN" may already be in the works, featuring even more violence.
"There should be an unrated version at some point. ... I heard it is on the books. But yes, it was way gorier," Cooper said of the film's screenplay. "Her body count in the script was higher than in the movie. It wasn't a Gabriel [in 'Malignant']-scale massacre, but she did kill a bunch more people." Cooper also revealed that James Wan's input spared several lives, as he credited her with writing compelling characters undeserving of their deaths as initially planned. "I was merciless, but again, that is me. My humor is extremely dark," Cooper continued.
The acclaimed writer also explained why the movie was eventually toned down to adhere to an intended PG-13 rating — once M3GAN's dance went viral, the teenage audience it developed online became central to its marketing campaign. That said, Cooper's interview hints that we may possibly see a bloodier, unrated cut released in the future, preserving M3GAN's rampage as initially conceived for future fans of the film.
Director Gerard Johnstone thinks a PG-13 rating improved M3GAN
In an interview GamesRadar published just prior to the January 6 premiere of "M3GAN," director Gerard Johnstone explained that, following a precedent set by Sam Raimi horror comedy "Drag Me To Hell," he decided to re-shoot certain scenes in order to secure a PG-13 rating. "Making it PG-13 was something that happened after the fact, but it was always so close to PG-13 anyway," Johnstone said. "What I was really stoked about is that when we reshot those scenes, they were more effective."
While Johnstone may be a firm believer in "M3GAN" as a PG-13 film, plenty of fans are nevertheless interested in the possible unrated cut that Akela Cooper floated. For example, in a Reddit thread about Cooper's comments, user SteveRudzinski proposed that one particular scene would have benefitted from a higher gore quotient. Meanwhile, Twitter user @KWEENOFlNSOMNIA shared that he wants to see a more detailed version of a certain character's death in an unrated release.
While Cooper may have mentioned the prospect of an unrated "M3GAN," there's not yet any official word from either Universal or Blumhouse. Of course, if fan interest remains high, this bloodier version of "M3GAN" could very likely see the light of day, despite Johnstone's claim that the film is superior in its PG-13 incarnation.