Here's How The M3GAN Trailer Is Creeping Out And Intriguing Horror Fans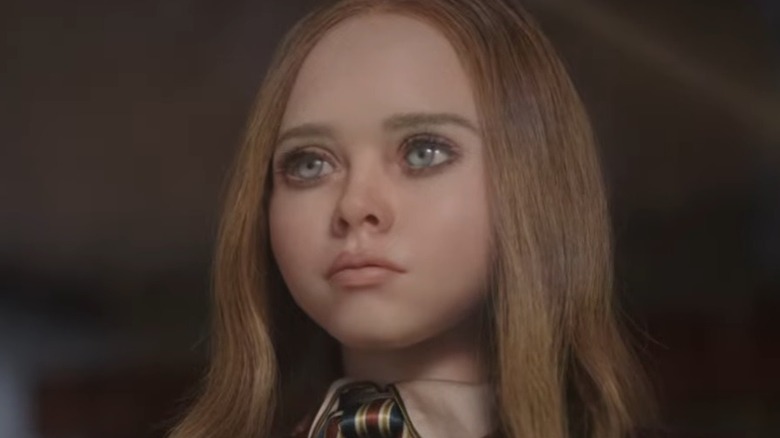 DFree/Shutterstock
Horror fans are rejoicing over a new movie coming from the masters of the genre, Blumhouse. The production company that also brought horror classics "Freaky," "The Purge," and "Paranormal Activity" is back with a new twist on a classic setup — and fans are delighted.
On October 11, 2022, Blumhouse and Universal Studios released the first trailer for their new film "M3GAN." This appears to be a modernized, female Chucky (from the classic horror film "Child's Play") for the Internet age. "Girls" and "Get Out" star Allison Williams plays Gemma, a robotics engineer and aunt to a suddenly-orphaned 8-year-old girl, Cady (Violet McGraw of "The Haunting of Hill House"). While trying to navigate her new role as Cady's guardian, Gemma introduces Cady to her new robotics breakthrough: an extremely lifelike and life-size AI doll named M3GAN who bonds with Cady ... leading to unintended consequences for Gemma. As M3GAN grows more attached to Cady, she becomes extremely overprotective, taking on a life of her own and doing whatever she deems necessary to protect her new friend. 
Produced by Blumhouse and horror maestro James Wan, who helmed "Saw," "Insidious," and "The Conjuring," among others, fans cannot wait to get their eyes on the film — and they're saying many of the same things about the trailer.
Fans love this new creepy dancing doll
Most fans are beyond excited for this new Blumhouse production, trusting their track record with films like "The Black Phone" and the Elizabeth Moss-starrer "The Invisible Man," which both did well with critics. One YouTube-using fan, Rhonn H., hopes for more. They commented on the trailer, "Hopefully the movie is good because [M3GAN] could become an icon for the horror genre."
Fans are also definitely picking up on the Chucky vibes that the "M3GAN" trailer is putting down, and they're here for it. "As a Chucky fan I'm living for a new doll in town that's actually evil!," MalibuDollface wrote in a YouTube comment. "Not a just a spirit possessing a doll... looking at you Annabelle!" Fellow YouTube commenter misterbigfish agreed, referencing a particular moment in the trailer (around the 2:03 mark) that others loved too: "i was expecting this to be like a chucky knock-off, but the fact that the doll has real human movement and can dance, im interested in this." This is the moment where M3GAN does a cool but creepy dance that takes the classic '80s robot to a new extreme. "That dance move is going to be a meme for sure," Jayden Amoncio replied.
Besides the titular character's dancing, fans are also loving the music in the "M3GAN" trailer: a gritty reboot of Taylor Swift's "It's Nice to Have a Friend." Twitter user @chucover2000 wrote, "how does a song about friends becoming lovers ended up in horror movies but still slay?"