Young Sheldon Fans Are In Agreement Over Missy's Cringe-Worthy Date In Season 6 Episode 9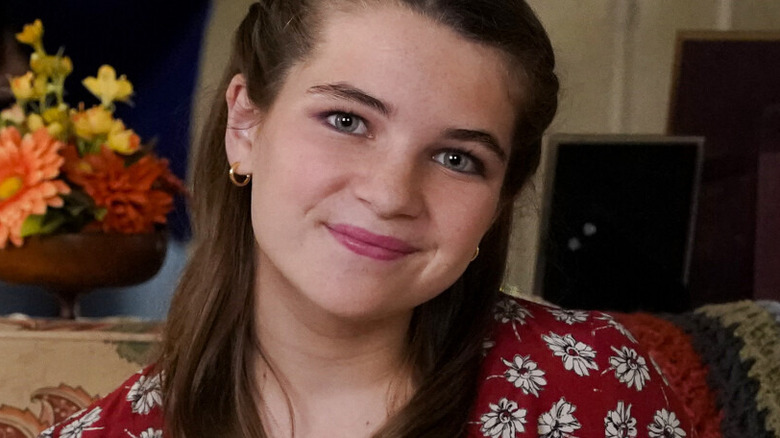 Robert Voets / 2022 Warner Bros. Entertainment Inc.
"Young Sheldon" Season 6 returns from the holiday break with an eventful episode that catches up with various members of the Cooper family in "College Dropouts and the Medford Miracle." Following the recent cliffhanger in Episode 8, "Legalese and a Whole Hoo-Ha," we learn that Sheldon (Iain Armitage) has found several interested parties willing to invest in his lucrative database idea. Additionally, George (Lance Barber) is hard at work coaching the boys' high school football team when an unexpected visitor (Pastor Rob, played by Dan Byrd) arrives to lead and motivate them spiritually. 
Meanwhile, Missy (Raegan Revord) is extremely excited about her date with a car-loving boy named Dean (Travis Burnett). However, once they finally get the chance to watch a movie alone together, Dean surprisingly suggests that Meemaw (Annie Potts) join them. Needless to say, Missy quickly grows tired of the odd situation, and fans are right there with her. Twitter was overflowing with fans sharing their thoughts on the awkward get-together, which even Meemaw herself found strange.
"Young Sheldon" fans often empathize with Missy and the way she is unfortunately overlooked as the intellectual's twin. She also shares a special relationship with her hip Meemaw, who she even takes after as a free-spirited and independent young woman. These elements came together in the most recent episode, where fans unanimously agreed that her movie date with Dean was uncomfortably cringey.
Young Sheldon fans agree Missy's date got weird quick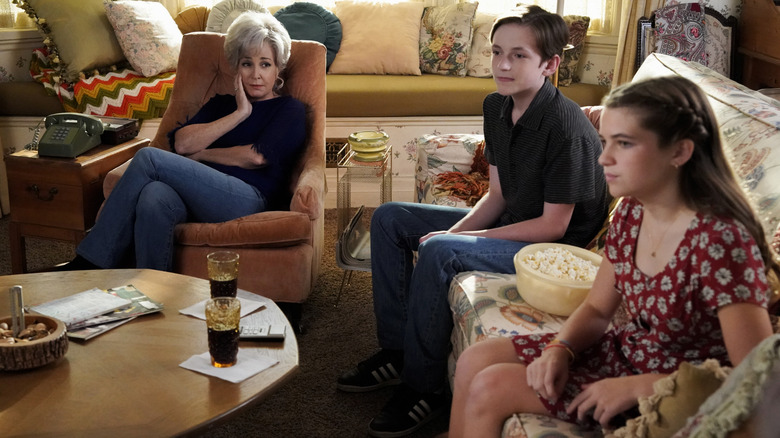 Robert Voets / 2022 Warner Bros. Entertainment Inc.
Missy's date starts off normal enough after Meemaw sets the necessary ground rules. The rebellious twin thought she was making a wise decision by avoiding her embarrassing parents. Unfortunately, she ends up creating an entirely new problem. Minutes into their date, Dean tells Missy that his grandma recently passed away and he'd give anything to watch another movie with her. This leads them to invite Meemaw to join the two and crash their date, which Missy — and "Young Sheldon" fans alike — found both disastrous and uncomfortably funny.
One fan with the username @AarionF was so stunned by the situation they simply commented, "Awkward #YoungSheldon." Another user, @Jayyoshi1, found the dynamic unbelievable and couldn't contain their excitement. "POOR MISSY DEAN WAS MAINLY INTO ME MAW INSTEAD OF HER LOL 'THATS IT WE ARE DONE HERE!,'" they expressed. LOL @YoungSheldon." They even included several crying-laughing emojis to accurately capture their reaction to the awkwardness. Other fans likewise felt that Missy's date could've gone much better, with @TonyaR18 tweeting, "Not sure about Missy's 'date'" and adding a slanted frown emoji.
@EarthFae306 took a different approach by tapping into Dean's perspective. "Yeah, I don't think that Missy's understanding that Dean's grieving," they wrote. "It is making it uncomfortably humorous though. #YoungSheldon." They ultimately agreed that the dynamic takes a funny turn when Dean latches onto Missy's Meemaw to help himself mourn the loss of his own grandmother.