Young Sheldon Star Raegan Revord Says This Is Her Favorite Part About Playing Missy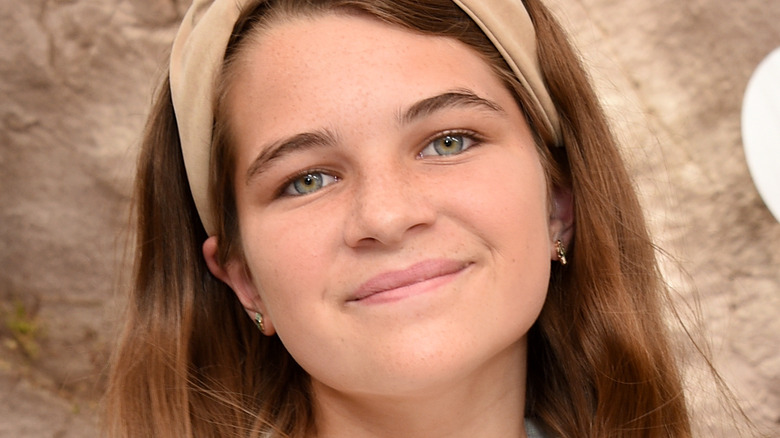 Gregg Deguire/Getty Images
Created by Chuck Lorre and Steven Molaro, "Young Sheldon" — the spin-off series to the long-running popular sitcom "The Big Bang Theory" — premiered in November of 2017, while its predecessor show still had two years left to go on the air. Set in the late '80s and early '90s, the series follows 9-year-old Sheldon Cooper (Iain Armitage, taking over from Jim Parsons in the original series) as he attends high school in Medford, Texas and navigates how to interact with his peers and family — aka those who don't quite understand Sheldon's intellect; Parsons narrates "Young Sheldon." Later in the series, 11-year-old Sheldon graduates from high school and moves on to East Texas Tech, a fictional university.
Aside from Sheldon, his family members are also main characters in the series — including Melissa "Missy" Cooper, Sheldon's fraternal twin sister (Raegan Revord), who was originally played by Courtney Henggeler in "The Big Bang Theory." Despite not sharing his intellect or quite understanding him, Missy still clearly loves her brother.
Revord has spoken publicly about enjoying getting to portray Missy on "Young Sheldon" — and has even revealed what her favorite part is. Here's what the young actress had to say about what she likes most about the role.
Revord loves experiencing new things through Missy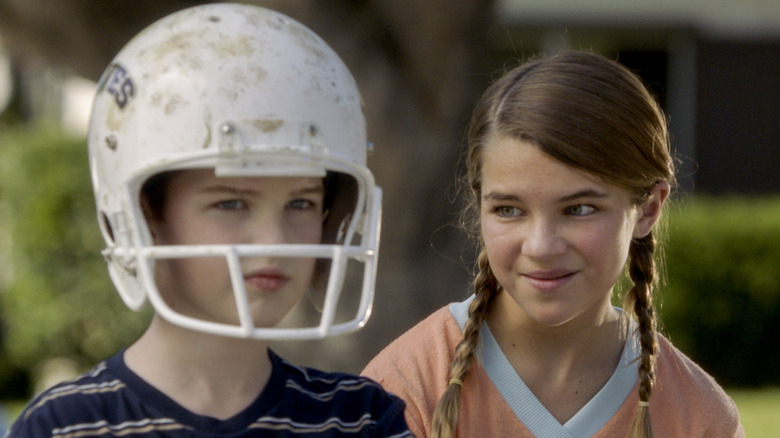 Warner Bros.
In April of 2021, Raegan Revord spoke with Glitter to discuss all things "Young Sheldon," playing Missy, and acting in general. During the discussion, interviewer Heather Riccio asked Revord to reveal what her favorite part about playing Missy is — and Revord had nothing but positives to say about it.
Mostly, Revord enjoys the fact that Missy allows her to experience a lifestyle that is different from her own perspective. Revord said, "Although I am older than Missy, I get to experience a lot of things through her, like what it is like to have siblings, grow up in a different era, go to middle school, play sports, and heartbreak." The young actress also noted that she admires the way that Missy handles situations and likes her confidence, adding that she feels as though she's learning a lot from Missy.
Further, her desire to get the chance to play Missy kept her fixated on "Young Sheldon" leading up to her landing the role. Revord explained, "When I got the audition, it was such a busy time. It was right in the middle of pilot season, and I was going out for other things, but I kept asking my mom about the Sheldon project. I just loved Missy so much ... She's very independent and strong-willed. She definitely made me laugh, and I just knew she'd be a lot of fun to play."
Revord also loves getting to act out Missy's firsts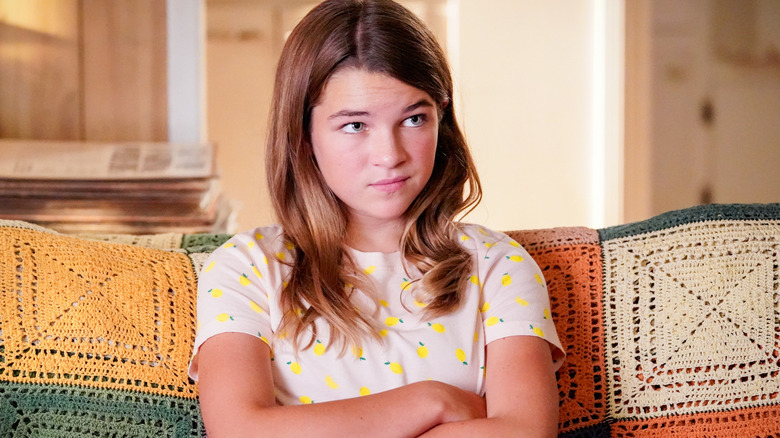 Bill Inoshita/Warner Bros.
Not only does Raegan Revord love getting to experience her own personal firsts through playing Missy — such as growing up in the late '80s for instance, as she mentioned — she also loves getting to act out Missy's firsts.
In a May 2021 interview with CBS New York, interviewer Matt Weiss asked Revord and her co-star Montana Jordan (who plays Georgie, Missy and Sheldon's older brother) to reflect on some of their favorite moments in the first four seasons. Revord had more than one moment for her answer — really, any time Missy experiences something for the first time is a favorite of Revord's.
Revord said, "I love Missy's first kiss, in Episode 15, I loved that. I love being able to portray a happy side of her. I love being able to do firsts with her. I love also, I think it was Episode 9, when Missy starts her period. I love that because it was super sweet seeing Georgie and Missy bonding about Missy taking control and Georgie basically having a panic attack and needing to lie down." Additionally, she noted that she loves any moment between Missy and Georgie, an opinion that Jordan quickly echoed.