David Harbour Just Wants Hopper To Be Happy At The End Of Stranger Things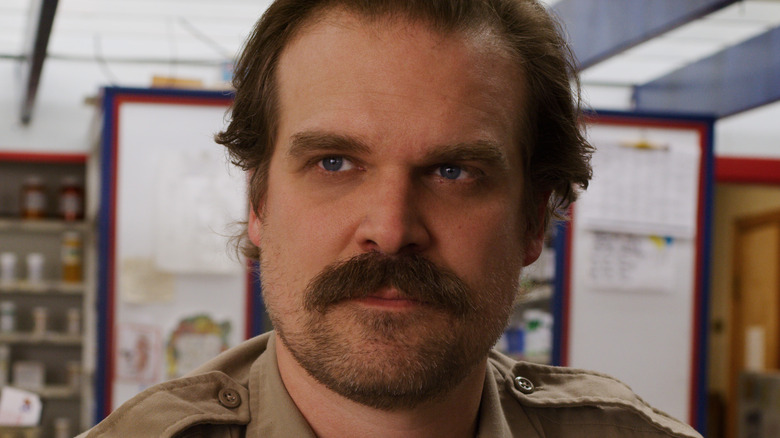 Netflix
"Stranger Things" is a show that has put its characters through the wringer over the years as the children of Hawkins, Indiana face off against the demonic forces of the Upside-Down. From the unpeeling, razor-toothed maw of Season 1's Demogorgon to the Machiavellian machinations of Season 4's Vecna (Jamie Campbell Bower), the hit Netflix show's villains, both supernatural and scientific, have raised literal hell against a group of kids who wish they could just go back to playing Dungeons and Dragons.
But perhaps no character has had it harder than the local chief of police, Jim Hopper. Played by David Harbour, Hopper starts the series mourning his only daughter before taking on custody of Eleven (Millie Bobby Brown) in Season 2 and adopting her in Season 3. But it's not long before he's nearly killed and accidentally transported to Russia. He spends Season 4 in a gulag-like prison camp where he and his fellow inmates are worked to the bone and fed to multiple Demogorgons. By the time he makes it home, Eleven is once more risking her life to prevent a Vecna-pocalypse.
"Stranger Things" will conclude with Season 5, the release date for which has not yet been announced — though it is currently in production and we know the title of its first episode will be "Chapter One: The Crawl," thanks to Netflix's Tudum blog. As for the final fate of Jim Hopper, Harbour has made his opinion clear regardless of the script: he just wants the poor guy to get a happy ending.
Hopper won't be happy unless his loved ones are safe, says Harbour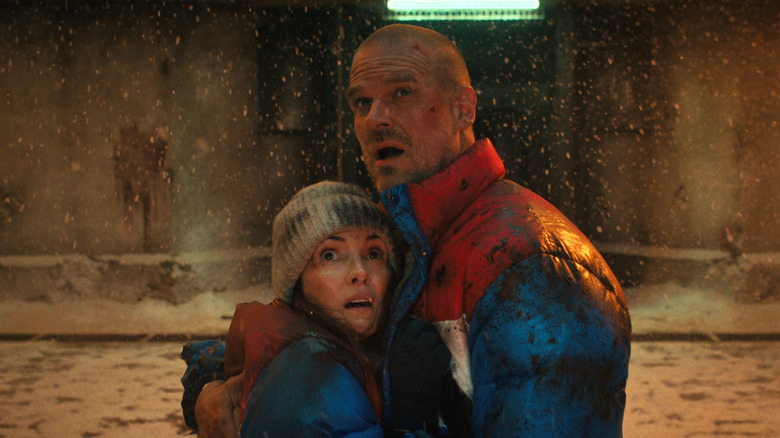 Netflix
While David Harbour is unable to offer specifics about what the Duffer Brothers have planned for the final fifth season of "Stranger Things," he knows what would constitute a happy ending for his character, Jim Hopper. Speaking to Den of Geek, the actor explained that Hopper's number one priority has always been to keep the people he loves from coming to harm. Over the existing four seasons of "Stranger Things," Hopper has grown attached to the main cast of kids, taken a paternal role in Eleven's life, and found love in Joyce Byers (Winona Ryder).
According to Harbour, Hopper's happiest ending would be making sure his loved ones are all right. "Whatever he could do to keep safe the people that he [cares about]," the "Black Widow" star said. "At the end of the day, he is a police chief and he got into it because he wanted to protect people who were vulnerable, and I think you see that throughout all the seasons. He's that guy. And I think what would make him happiest is to be able to see and protect the ones that he loves."
Of course, there are no guarantees Harbour will get his wish for Hopper. As the show's tone has skewed ever darker, the Season 4 finale ended with an ominous decay creeping across the landscape of Hawkins, proving that the Upside Down has finally begun to leak into the town just as Vecna planned. Hopper's loved ones are about to face their greatest threat.