Stephanie Hsu Sort Of Predicted The Success Of Everything Everywhere All At Once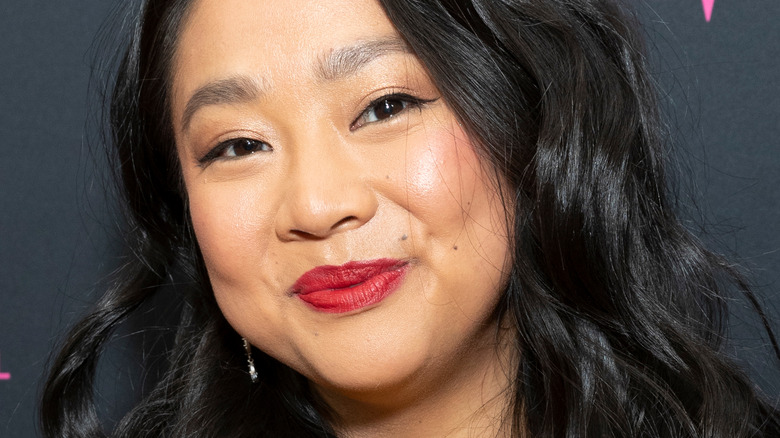 lev radin/Shutterstock
A movie like "Everything Everywhere All at Once" does not come along all that often. Daniel Kwan and Daniel Scheinert's unpredictable mash-up of surrealism, science fiction, fantasy, and martial arts flicks took just about everyone by utter surprise. IndieWire's David Ehrlich called the film a work of genius, citing the wildly inventive plot, the writing and direction of the Daniels, and the acting as utterly superb.
Though most commentary on the acting rightly homed in on the performance of Michelle Yeoh as Evelyn, the whole cast received praise as well. This included Stephanie Hsu, who played Evelyn's daughter Joy. Hsu had already established herself as a solid actor in TV series like "The Path," "The Marvelous Mrs. Maisel," and "Awkwafina is Nora from Queens" (via IMDb), but as RogerEbert.com's Marya Gates wrote, "Everything Everywhere" was her real breakout performance.
So yes, Stephanie Hsu is just one of the many people whose contribution made "Everything Everywhere All at Once" into the sensation it is. But as it turns out, Hsu possesses talents other than acting that may have contributed.
Stephanie Hsu is 'a witch'
Speaking with IndieWire, Stephanie Hsu jokingly claimed that she predicted that "Everywhere Everything All at Once" would be a phenomenal hit. "I do remember pulling Dan Kwan aside during filming," she told Kate Erbland, "and they like to joke that I'm a witch, it's the truth — and it's pre-pandemic, I didn't understand anything about the film industry whatsoever, I still have zero concept of what box-office numbers mean, but I pulled Dan aside and I was like, 'This movie is going to bring people back into the movie theaters.'"
"There was just something in me that could feel the scale of it, and that we were doing something that no one has ever seen before," Hsu elaborated. As we know, she was absolutely correct. "Everything Everywhere All at Once" did indeed put people back in theaters, becoming the first independent movie released during the pandemic to pull in more than $100 million globally, and the first ever from A24 to earn that amount of money (via Variety). During a year in which a great many prestige films struggled to keep their studios in the black, "Everything Everywhere All at Once" showed it was still possible. Perhaps more of these studios could use a soothsayer like Stephanie Hsu around.