Will Trent Fans Are Impressed With The New Procedural Series Thus Far
If you thought the age of crime dramas was over, think again. ABC just debuted its brand-new series, "Will Trent," adapting the best-selling book series written by Karin Slaughter. The aptly titled show follows Will Trent, a Special Agent in the Georgia Bureau of Investigation with the highest level of clearance. He grew up in Atlanta's foster care system, pledging himself to ensure that no one suffers the same abandonment he did.
"Will Trent" is one of the many exciting book to TV adaptations of 2023, and it's off to a hot start. The Hollywood Reporter noted that while the show falls into the typical traps that plague network dramas, Ramón Rodriguez's performance as the Sherlock-esque Special Agent bodes well for a bright future. Although the trade publication also has a major issue with the show's bland title, they're interested in seeing it tackle a new mystery every week. The AV Club states that "Will Trent" diverts from its source material in more ways than one, but those changes allow it to carve its own path in ABC's jam-packed schedule. The New York Post predicts the show to be a fun ride driven forward by its interesting characters.
Two things are certain: Critics definitely think "Will Trent" is worth the watch so far, and they think Rodriguez is on the verge of becoming a network star. In another win for the new series, audiences seem to share a similar opinion of the show.
Will Trent is off to a good start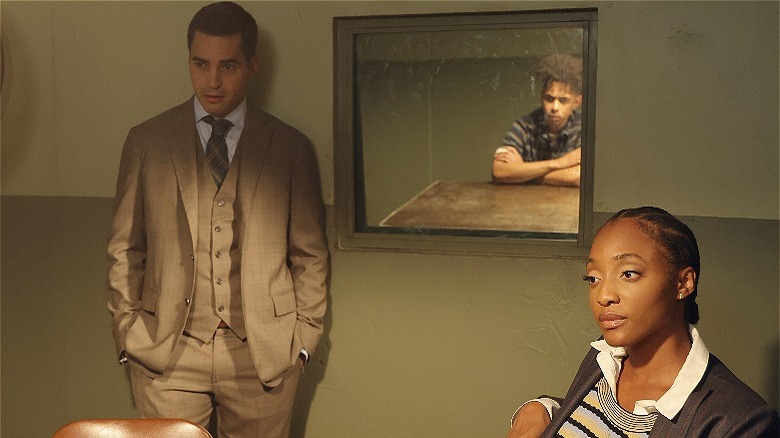 Kim Simms/ABC
"Will Trent" premiered its first episode on January 3, 2023, putting the latest network detective in the middle of a murder mystery. While media outlets received the first two episodes to review, "Will Trent" treated audiences to only a single-episode premiere. But it was enough to get some people invested.
On Twitter, @notmiransgirls1 expressed their enjoyment of the series premiere, writing, "Okay ... what a beginning." Similarly, @hannahbrokaw said "Will Trent" had a "Solid first episode," while @rkbentley simply called the show "enjoyable." @AbdullahLina, a longtime fan of the books, replied to series author Karin Slaughter's tweet, and called the show "a pleasure." 
Episode 1 really hit the spot for some fans who are eager to see more of Will and the rest of the cast, which includes Iantha Richardson, an actress who will look familiar to many TV viewers. @SecretErik said the episode hooked him immediately, writing, "I'm loving ["Will Trent"], and I'm already intrigued with Will Trent's character." @KatB_Wolfe broke down precisely what they enjoyed from the episode, saying, "Okay, verdict about 'Will Trent:" good writing and storyline for the pilot. [It] set everything up nicely. [I] loved the cinematography. I hope [they] keep the slo-mo shots for future episodes. I also like the film noir tone, hope that comes back too. Excited to see future episodes!"