Michelle Williams Was In Disbelief When Steven Spielberg Asked Her To Join The Fabelmans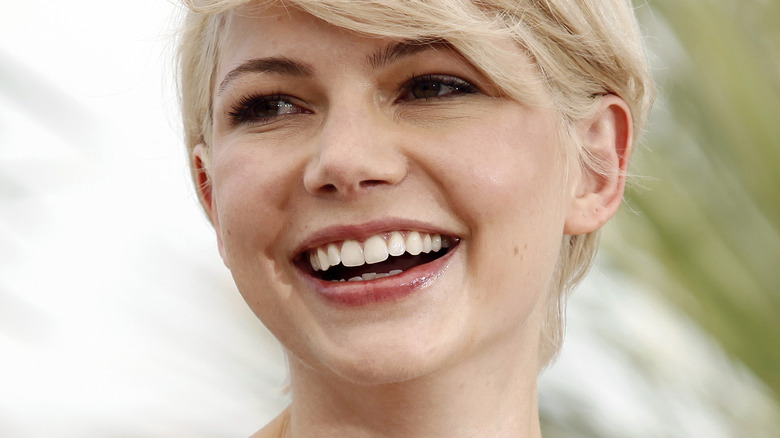 Andrea Raffin/Shutterstock
Michelle Williams rose to prominence thanks to her poignant and empathetic portrayal of Jen Lindley — the complicated girl-next-door turned Dawson Leery's love interest — on the WB's television series "Dawson's Creek." Williams also made a name for herself as an accomplished actor in film thanks to her Oscar-nominated work in "Brokeback Mountain," "Blue Valentine," "My Week with Marilyn" and "Manchester by the Sea" (via IMDb). Her most recent role, however, might be her most challenging as she portrays the family matriarch Mitzi in Steven Spielberg's "The Fabelmans."
Spielberg's directorial follow-up to 2021's "West Side Story" is a semi-autobiographical account of the filmmaker's youth, and Williams is tasked with the responsibility of playing a dramatized version of Spielberg's mother. Williams made sure she brought her own uniqueness to Mitzi Fabelman while remaining true to Spielberg's real-life mom, Leah Adler. 
"I don't think anybody's ever looking for a photocopy of the thing," Williams said in an interview with Entertainment Weekly. "Otherwise, why make it? It's already been made. To recreate something exactly might not be as interesting."
Her mindful method for bringing Mitzi to life, which left Williams feeling bereft once they wrapped, pays off exquisitely. The actor gives a riveting performance as the free spirit who juxtaposes her scientific-minded husband Burt (Paul Dano) in their tumultuous marriage. While she has an amazing reputation in film, Williams was flabbergasted to learn Spielberg wanted to cast her in "The Fabelmans."
Williams was astonished Spielberg wanted to cast her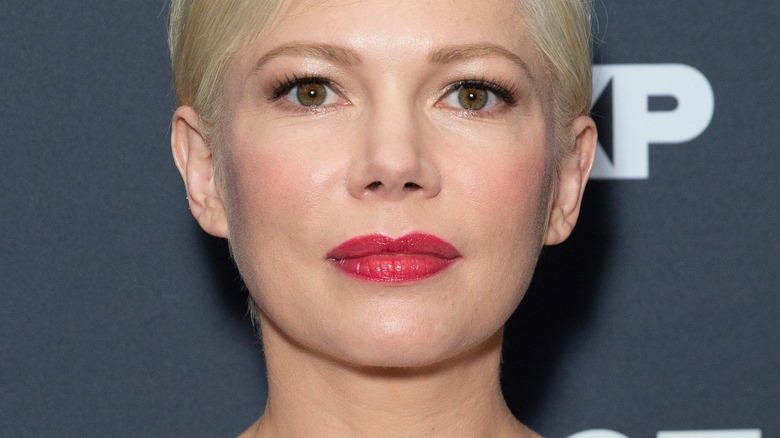 lev radin/Shutterstock
Even with her three decades of experience in showbusiness, Michelle Williams felt blindsided when Steven Spielberg wanted to cast her in "The Fabelmans." "I could not allow myself to think that he [Spielberg] wanted me to be in one of his movies," Williams said in an interview with Vanity Fair. "I really thought he just wanted to ask me a question about something. I couldn't even really imagine what because it just didn't make any sense. Like Steven Spielberg wants to talk to me?"
According to the same interview, Spielberg made arrangements for them to chat about "The Fabelmans" via Zoom. The surreal conversation started with Spielberg and Williams discussing the filmmaker's childhood, and he gave Williams some insights into what his formative years were like growing up with his mom. As their heart-to-heart continued, Williams slowly realized that Spielberg was trying to sell her on the idea of playing a character inspired by his mother.
"I can't even believe that I had the nerve to ask him if I understood correctly what I thought he was saying," Williams said. "Because even that seems audacious to imagine that he was in fact asking me to play his mother. And he said, 'Yes that is in fact what I'm asking you to do,' and I just am still shaking my head in disbelief."