Michelle Williams Was Worried About Getting Upstaged By One Of Her Animal Co-Stars In The Fabelmans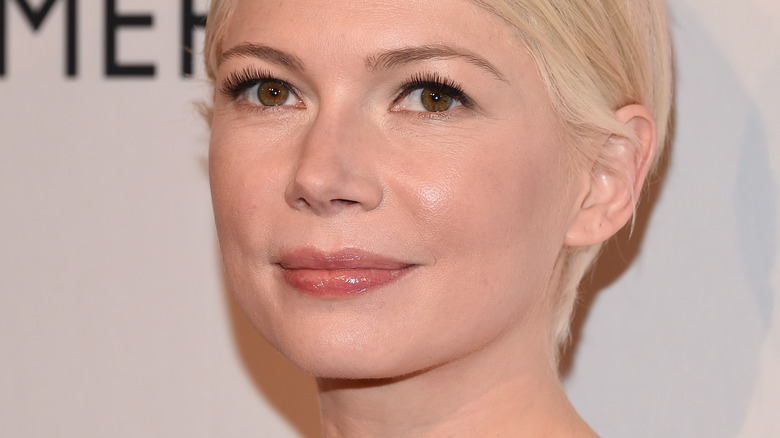 DFree/Shutterstock
Steven Spielberg's "The Fabelmans" is a semi-autobiographical drama showing how one of the most famous living directors fell in love with making movies. Premiering at the Toronto International Film Festival to rave reviews (via Rotten Tomatoes) and more than a few misty eyes, the crowd-pleasing film went on to win the festival's People's Choice Award, a reliable signal of future awards season success (via Variety).
Beginning in post-war America, the film follows the titular Fabelman family, as seen through the eyes of Sammy Fabelman, played by Mateo Zoryan as a child and later as a teenager by Gabriel LaBelle. Sammy, who is playing a version of Spielberg in his childhood, develops a love of moviemaking that his father (Paul Dano) doesn't approve of, but he is encouraged by his mother Mitzi (Michelle Williams) to continue pursuing his passion.
Williams' role as Sammy's mother in the film has earned significant praise since the movie's debut, so far earning her Critics Choice and Golden Globe Award nominations (via IMDb). Even as good as her performance is in the film, there was one co-star that she jokingly said she was worried about upstaging her in the film.
Michelle Williams was impressed by her monkey co-star in The Fabelmans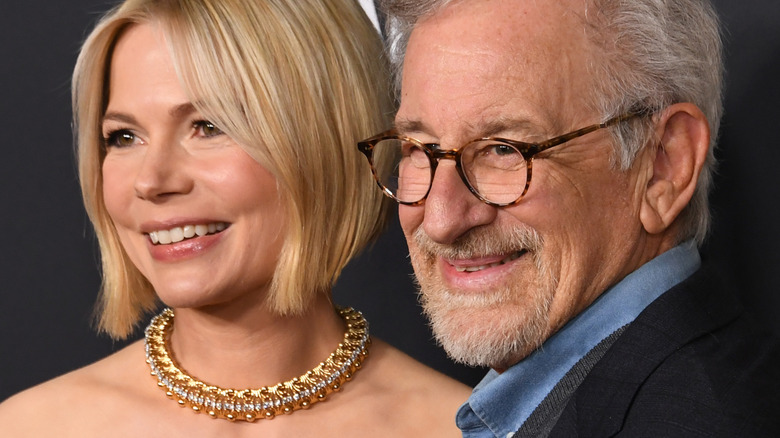 Jon Kopaloff/Getty Images
In a sign of her eccentric and spontaneous spirit, Mitzi Fabelman brings home a capuchin monkey in the movie, claiming that she "needed a laugh." According to Steven Spielberg, his mother actually did bring home a monkey, claiming that she was "their household's Peter Pan" (via The Hollywood Reporter). True to life, "The Fabelmans" shows just how free-spirited Mitzi could be, often defying how women are presumed to act in the roles of wife and mother.
Michelle Williams was amused by the creature on-set. "That monkey was so impressive. I was like 'I want to go to monkey acting school.' There is nothing she can't do," Williams said to Vanity Fair in a career retrospective. "You really gotta be careful or that monkey's gonna upstage you."
The monkey also provided some lighthearted moments as well. According to Williams, the monkey taught her toddler how to give high-fives, and she said it was "the cutest thing I've ever seen."
When she was initially asked to meet with Spielberg, Williams told Vanity Fair that she almost couldn't fathom why he would want to talk to her. "I didn't know why Steven wanted to talk to me. I could not allow myself to think that he wanted me to be in one of his movies," Williams told the outlet. Given the buzz and praise around her performance, it's clear Spielberg made the right choice, and not even an adorable monkey could steal her spotlight.