Eddie Murphy And Jonah Hill Hilariously Butt Heads In The Trailer For You People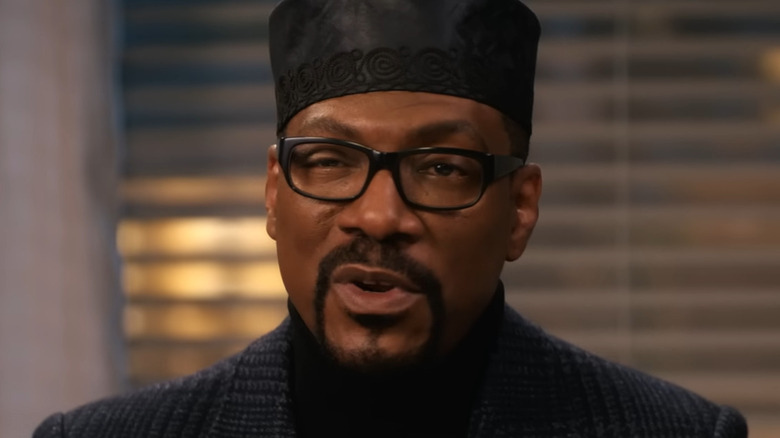 Parrish Lewis/Netflix
Take a second to remember the 2017 tentpole of modern horror, "Get Out." Now, envision an alternate dimension bizarro version of the film that isn't scary or remotely subtle about its social commentary, and we think you'll land pretty close to what to expect from Netflix's "You People" — arriving on the streamer on January 27. 
Directed by "Black-ish" creator Kenya Barris and penned by Barris and Jonah Hill, who also plays the lead, the story of "You People" follows a young man named Ezra (Hill) falling head over heels for Amira (Laura London), who he initially mistakes for his Uber driver in what rom-com academics refer to as a "meet cute." All's going well for the couple until Ezra encounters his future poppa-in-law Akbar (Eddie Murphy) who, to put it mildly, does not appear entirely comfortable with his daughter marrying a white dude. Meanwhile, we can infer that Ezra's comparatively well-meaning parents (immortal television demigods, Julia Louis-Dreyfus and David Duchovny) are a little too eager to tell Amira that, in their estimation, Obama was the best president of their lifetimes by a mile.
It looks like a story about cultures and families merging alongside the ever-changing times, which would make "You People" part of a cinematic tradition that includes classics like "Get Out" and 1967's "Guess Who's Coming to Dinner."
You People looks like the edgiest Hallmark movie ever
Judging by the bits and pieces we can glean from the trailer, "You People" is basically aiming to be a heartwarming comedy about millennials in love clashing with the narrow-minded and antiquated baby boomer sensibilities of their progenitors. It also hopes to tackle profoundly uncomfortable political and historical topics with some degree of irreverent abandon.
In other words, this appears to be a movie that meshes anti-PC ambitions with a presumably wholesome "love conquers all" narrative, which means it has the potential to alienate just about everybody ... except for those who only care about seeing Elaine Benes married to Agent Mulder, because "You People" definitely has that. It also has Eddie Murphy — the onetime Nutty Professor and Axel Foley — playing the straight man while Jonah Hill flails around attempting to gain the glowering Akbar's approval. And while there are no gags referencing "Get Out" in the trailer, we'd be willing to bet this movie has at least three of those.